Atiku Blasts Wike, Says Rivers Governor Can't Deliver His State to Tinubu
Atiku Abubakar has expressed confidence that Governor Nyesom Wike can't convince Rivers people to vote for Bola Tinubu
The PDP presidential candidate stated that Tinubu's candidacy does not appeal to the average Rivers resident
Atiku noted that Wike is aware of Tinubu's unpopularity in the state, hence his refusal to publicly endorse the APC presidential candidate
FCT, Abuja - The presidential candidate of the Peoples Democratic Party (PDP), Atiku Abubakar, has said Governor Nyesom Wike can't deliver Rivers state to the presidential candidate of the All Progressives Congress (APC), Asiwaju Bola Ahmed Tinubu in the forthcoming election.
Atiku made the comment via his special assistant on public communications, Phrank Shaibu, who addressed the press in Abuja on Tuesday, February 21.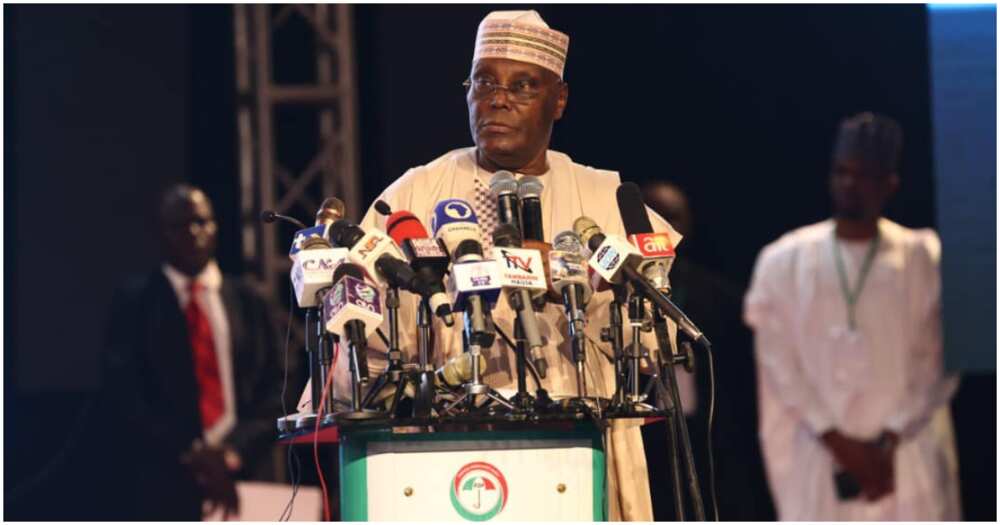 Rumours have been rife that Wike has instructed his foot soldiers to ensure Tinubu wins Rivers state.
Shaibu said:
PAY ATTENTION: Follow us on Instagram - get the most important news directly in your favourite app!
"Even the dead know that the APC can never win in Rivers state. Wike cannot deliver his polling unit to Tinubu.
''He is aware of this, and that is why he is not bold enough to come out with his full chest to ask the people of the state to vote for Bola Tinubu. Instead, he is chasing shadows, making innuendos.
"At least Rotimi Amaechi was brave enough to dump the PDP and defect to the APC in 2015 and openly campaigned for President Muhammadu Buhari against his kinsman, President Goodluck Jonathan. This is what real men do when they have the conviction.
''Wike said he would announce his preferred candidate in January 2023. Three weeks have passed, but he is not brave enough to do so."
He alleged that Wike's only strategy would be to give some miscreants money to incite violence on election day to suppress the voter turnout.
He further said Rivers had become the most volatile state during elections since Wike began running for office.
Shaibu called on the Nigeria Police Force, the military and other security agencies of government to give special attention to Rivers state by deploying additional boots on the ground during and after elections.
Presidency: Southwest political technocrats endorse Atiku
Meanwhile, ahead of the February 25 presidential elections, Southwest Political Technocrats endorsed Atiku as their candidate on Tuesday, February 21.
Vanguard reports that the technocrats insisted that Atiku's manifesto was the best among other candidates' policy programmes.
Director, contact and mobilisation of the group, Hon. Mustapha Adegboyega Lateef said that the forthcoming presidential election is a matter of competence and the ability to deliver.
Atiku to Nigerians: Tinubu is hopelessness renewed, frying pan to fire
Atiku had earlier called on Nigerians not to elect Tinubu, stressing that doing so would represent a transition from frying pan to fire.
The PDP presidential candidate said Nigerians must be aware of Tinubu's message of renewed hope, stressing that it is a scam.
He further described Tinubu's message of renewed hope as "hopelessness in disguise."
Pro-Atiku group says Atiku will release Nnamdi Kanu if elected
On his part, the leader of the South East Grand Cohesion Alliance for Atiku, Kenneth Uzumaki Austin, has revealed that the PDP presidential candidate will release Nnamdi Kanu if elected.
Kanu, the leader of the Indigenous People of Biafra, is currently in the custody of the Department of State Services.
Austin assured southeasters that Atiku if elected president, will ensure that Kanu is released unconditionally within the first 100 days in office.
Source: Legit.ng