Apostle Suleman Finally "Breaks the Table," Announces Who He and His Family Will Vote as President
Apostle Johnson Suleman has said that he, his family and all his pastors are entirely in support of Peter Obi
The fiery preacher, while lamenting the challenges many Nigerians are facing across the country, called for critical action by voters
Suleman noted that Nigerians should avoid candidates who have shown signs of bigotry and religious intolerance
Apostle Johnson Suleman, the founder of the Omega Fire Ministries, has announced his preferred presidential candidate for the 2023 election.
Speaking to worshippers in his church on Sunday, February 19, Suleman said his family and key members of his ministry are fully Obidient.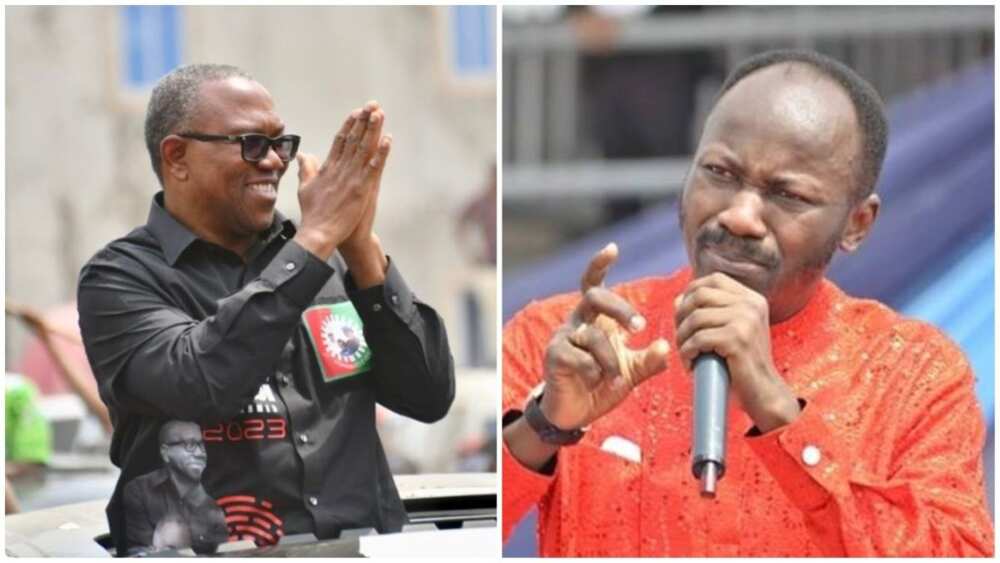 Obidient is the term used to describe supporters of the 2023 presidential candidate of the Labour Party. It is a word coined from the former governor's last name, Obi, and the English word, obedience.
Boasting, Suleman said he is not part of the people who speak loudly about their actions, but he would do what he can to ensure Peter Obi wins the 2023 presidential election.
PAY ATTENTION: Follow us on Instagram - get the most important news directly in your favourite app!
The controversial preacher added that he would use Nigerians' pain, hunger and sufferings due to bad leadership to cast his vote in favour of Obi.
His words:
"I will use this anger to vote against this wickedness; my wife, myself, my children, we are fully Obidient. Listen, fully Obidient. Fully, 100 per cent.
"We are not part of those who make noise on social media, no, we work in the background, we support, we are fully Obidient."
Warning members of his church not to vote for candidates who have shown signs of bigotry and religious intolerance, among others, Suleman called for voters to apply wisdom during the polls.
He said:
"If you like vote for something else. See me, I hardly stay in Nigeria, a whole year I can only spend 80 days, if you vote nonsense, I will be going and coming and be looking at you. Vote insecurity, tribalism, bigotry, ethnicity. But I am telling you the truth, my wife is here.
"I have friends across the divide, they are my friends but most of them are supporting them because of what they want to get. They know that who they are supporting is bad. For you to support a man knowing that you have nothing to gain, shows that you are honest. Because it is about the country.
"Someone sent me a message and said Apsotle I am waiting for your candidate to lose so I can call you out. Ans I said, una no dey tire. Do you think the big men or celebrities who are supporting Peter Obi are doing so because we don't have anything to do? We are supporting because of the masses.
"Win or don't win, it doesn't reduce us, it doesn't change us. There are some of us that can never come down, it's too late. I am telling you, me, I am voting Peter Obi, my wife, Peter Obi, my pastors, Peter Obi, those that love me, Peter Obi.
"If you are not tired, no money anywhere and you want to continue like this, all of them are part of the people that destroyed the country, the one that is not part of them is who we will vote for."
Video shows moment Obidients "changed it" for PDP supporters in Abuja's popular mechanic village
Some members of the Obidient movement took over the political campaign rally of the Peoples Democratic Party's supporters.
The Obidients - major supporters of Peter Obi and the Labour Party - took over camapaign activites at the popular Apo Mechanic Village in Abuja.
Peter Obi's supporters chanted "Obi kere-nke" repeatedly as PDP supporters visited the mechanic village, forcing them to leave the area earlier than planned.
Ortom causes high-level confusion among PDP ranks, announces preferred 2023 presidential candidate
Peter Obi, the 2023 presidential candidate for the Labour Party received a major boost for his ambition to become president of Nigeria.
The former governor of Anambra state has been endorsed by one of the Peoples Democratic Party's G5 governors.
Governor Samuel Ortom urged Nigerians across the country to ensure they take back their country by supporting Peter Obi's presidential ambition.
Source: Legit.ng