2023 Election: Thousands of Obidients Stage Global Match for Obi Ahead of Polls
Massive support has begun to pour in for Peter Obi, the presidential candidate of the Labour Party, with few days to the presidential polls
Thousands of Obidients trooped out in their numbers to further foster the campaign of the former Anambra state governor
Leading the global march in Abuja, Marcel Ngogbehei urged electorates to refrain from selling their votes at the presidential polls
FCT, Abuja - With less than a week to the much-anticipated presidential elections, supporters of Labour Party presidential bannerman Peter Obi hit the streets of Abuja to drum support for his presidential bid.
As observed by Legit.ng on Saturday, February 18, the global march kicked off at the legendary Unity Fountain in Abuja with music playing to the delight of Obidients at the venue.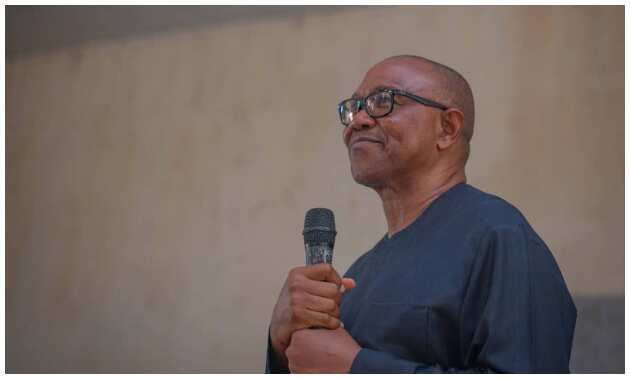 Speaking to journalists at the event, Marcel Ngogbehei, the Head of Strategy, revealed that a last-lap approach had been deployed across the 774 local governments of the federation.
He said:
"Today, we are deploying what we call the last approach, which is value optimization, we have positioned Peter Obi, and we have raised resources to bring him, up to this stage, now we need to do what is called the last lap.
"The last lap means in the next six days, the Obidient movement is going to press and march on every grain and sand of this country. We are going to go to every local government, every ward and every polling unit. We will take the message down there, and we will tell Nigerians that they should know that this country belongs to them and they have the right and will to choose whoever they want as president. They should not sell their votes."
Similarly, Nina Atalor, the focal person for support groups at the Labour Party Presidential Campaign Council (PCC), revealed that women had been an integral part of the Obidient movement since its inception.
Atalor stated that female representation has been the core of the Obi campaign and would continue to be an integral part of the former Anambra state governor's campaign if elected.
She said:
"This is our time, not just the youth this time. It's the time for the female gender.
"Our principal, Peter Obi, has always said that he is very interested in the female gender, in positioning and strengthening us."
London-based publication tips Peter Obi to 2023 presidential election
In another development, the popular London-based newspaper, The Economist, has picked a side in Nigeria's 2023 presidential election.
In a recent article, the newspaper picked Peter Obi, the Labour Party (LP) presidential candidate, as the best choice for the country.
The Economist also predicted what will happen if the APC and the PDP presidential candidates win the forthcoming polls.
Confusion Hits Eko City as PDP Members Campaign for Peter Obi, Jandor in Lagos
Meanwhile, a member of the Peoples Democratic Party was caught in a video campaigning for Peter Obi, the flagbearer of the Labour Party.
The PDP members urged residents of Lagos state to vote for Peter Obi during the 2023 presidential elections.
In a twist of the event, the PDP supporter appealed that while residents should vote for Obi for president, they should also vote for Abdul-Azeez Adediran, the PDP guber candidate in Lagos.
Source: Legit.ng