Video Shows Moment Obidients "Changed It" for PDP Supporters Inside Abuja's Popular Mechanic Village
Some members of the Obidient movement took over the political campaign rally of the Peoples Democratic Party's supporters
The Obidients - major supporters of Peter Obi and the Labour Party took the action at the popular Apo Mechanic Village in Abuja
Peter Obi's supporters chanted "Obi kere-nke" repeatedly as the PDP supporters visited the Mechanic Village forcing them to leave the area earlier than expected
On Saturday, February 18, some supporters of the Peoples Democratic Party (PDP) were at the Apo Mechanic Village as part of the activities lined up for the 2023 general election campaign.
However, when the campaign train got to the popular mechanic village in the Federal Capital Territory, the unexpected happened.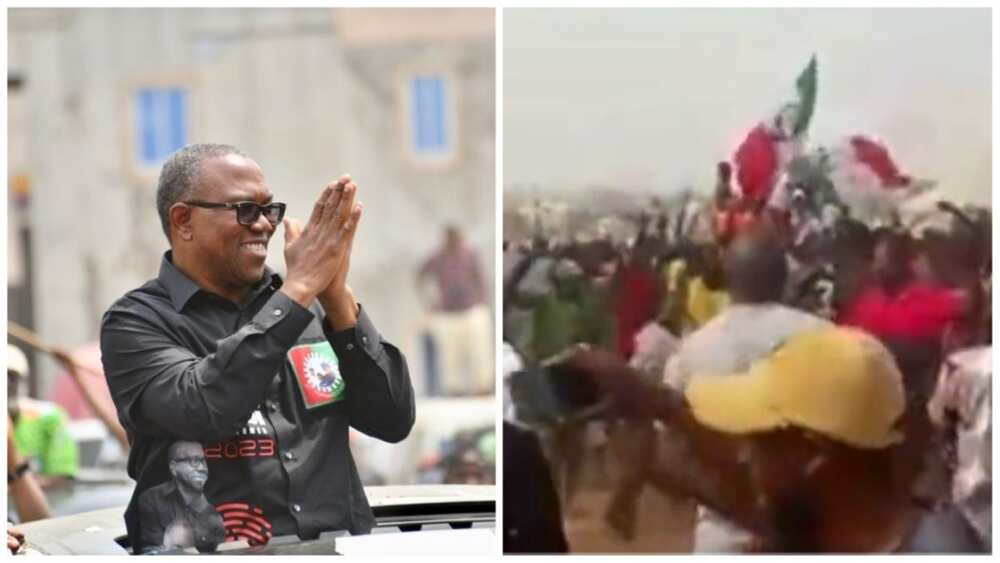 The PDP supporters who entered the highly populated mechanic market wearing their branded t-shirts and guarded by some security operatives were resisted with chants from the Obidient team in the area.
The Obidients, majorly supporters of the 2023 presidential candidate of the Labour Party, Peter Obi, kept on chanting the popular "Obi", "Obi", "Obi" local songs.
The commentator who spoke in a mix of Igbo and English Language in a video seen by Legit.ng repeatedly said that even the police officers who accompanied the PDP supporters are shocked.
Identifying himself as Onye Ijaw, the commentator said:
"Obidients everywhere, Obi movement everywhere.
"We are tired of them, no be small thing, Obidient everywhere, like craze. I never see this kind of anywhere. See their convoy."
See the video below:
Ortom causes high-level confusion among PDP ranks, announces preferred 2023 presidential candidate
Peter Obi, the 2023 presidential candidate for the Labour Party received a major boost for his ambition to become president of Nigeria.
The former governor of Anambra state has been endorsed by one of the Peoples Democratic Party's G5 governors.
Governor Samuel Ortom urged Nigerians across the country to ensure they take back their country by supporting Peter Obi's presidential ambition.
"Peter Obi will make a very good president": Influential Nigerian writer boasts in new video
Nigerians have been urged to vote for the 2023 presidential candidate of the Labour Party, Peter Obi.
The call was made to Nigerian eligible voters by Chimamanda Adichie who described Obi as the best 2023 presidential candidate so far.
The renowned writer said Obi has awakened some kind of hope in the hearts of Nigerians and that this has never happened in the nation's political space.
Source: Legit.ng