"Peter Obi Will Make a Very Good President": Influential Nigerian Writer Boasts in New Video
Nigerians have been urged to vote for the 2023 presidential candidate of the Labour Party, Peter Obi
The call was made to Nigerian eligible voters by Chimamanda Adichie who described Obi as the best 2023 presidential candidate so far
The renowned writes said Obi has awakened some kind of hope in the hearts of Nigerians and that this has never happened in the nation's political space
Award-winning writer, Chimamanda Adichie has called on Nigerians across Nigeria to ensure they vote for Peter Obi of the Labour Party in the forthcoming 2023 presidential election.
Adichie in a video post made on her Instagram page reeled out her reasons for supporting Peter Obi's presidential ambition.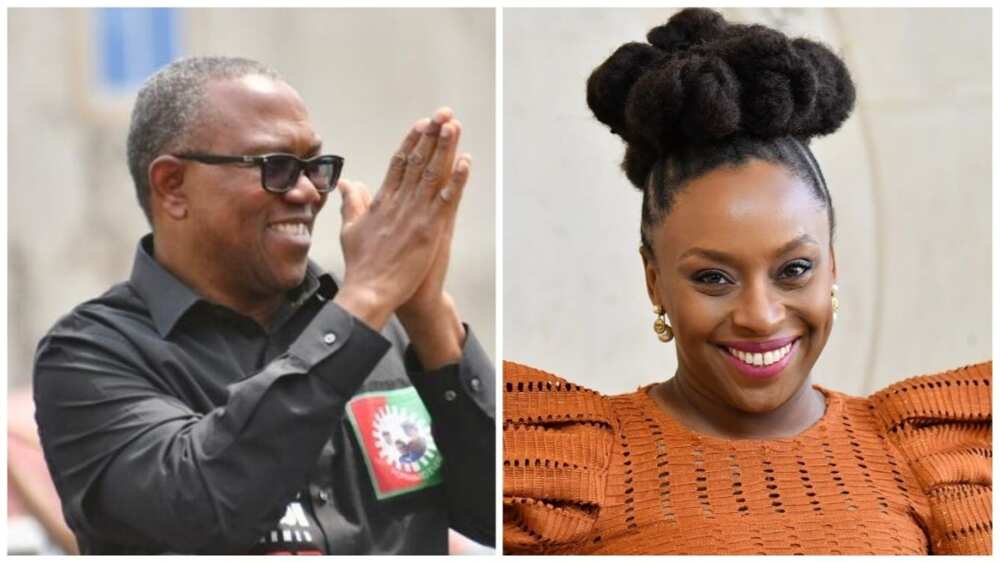 Noting that her basis for supporting Obi is nothing but his capacity to lead Nigeria and her people out of the challenges facing the country, Adichie said the former governor of Anambra state will make a good president.
She stated that a close assessment of all the 2023 presidential candidates contesting for Nigeria's number elective seat shows that Peter Obi has all it takes to become the president the people desire to have.
PAY ATTENTION: Share your outstanding story with our editors! Please reach us through info@corp.legit.ng!
Her words:
"The basis of my support for Peter Obi is because I think that he would make a very good president, I am an Igbo woman and I am very proud of him in a way that one is proud of a person who has achieved something and who also happens to be from one's place.
"But there are also many other Igbo men who I admire or respect or I am proud of but I will never vote for them for president because I don't think they would make good presidents
"And so, the basis of my support for Peter Obi is because I think he would make a very good president. I think it's unfortunate that we often turn our opponents into caricatures and I don't think that's necessary."
Avoid demonising candidates - Chimamanda tells Nigerians
Adichie also noted that while there could be constructive discussions on the candidate seeing to be elected as president under one platform or the other without demonising or making a caricature of anyone.
She, however, said that Peter Obi is the best presidential candidate so far since the commencement of the 2023 campaign ahead of the polls.
She added:
"What is important to think about is not how can we demonise any opponent but rather who is the best and Peter Obi is by far the best.
"And one thing that is so significant is how he has changed, completely changed the political landscape in Nigeria, we have never had this organic grassroots enthusiasm from people all over the country.
"And most of all we've never had this sense of hope, I've always believed that there is not more essential to the human spirit than hope."
Adichie also said that while people might say she is cynical and that hope does not win an election it actually does because what happens is that hope propels people, hope gets people out to vote and feel carried along by their leaders.
She further added that Peter Obi is unique and has shown the ability to go all out for the people of Nigeria who she believes have suffered enough from bad leadership.
Ortom causes high-level confusion among PDP ranks, announces preferred 2023 presidential candidate
The governor of Benue state, Samuel Ortom, endorsed the 2023 presidential candidate of the Labour Party, Peter Obi.
Ortom, a member of the Peoples Democratic Party's G-5 governors endorsed Peter Obi in Benue on Thursday, February 16.
Members of the G-5 governors of the PDP include Governors Ortom, Nyesom Wike, Seyi Makinde, Okezie Ikpeazu and Ifeanyi Ugwuanyi of Benue, Rivers, Oyo, Abia and Enugu states.
PDP G-5 leader, Ortom finally reveals why he is working with APC governor Dave Umahi
Meanwhile, the governor of Benue state, Samuel Ortom, has shed light on his relationship with his Ebonyi State counterpart, Dave Umahi.
Ortom, on Sunday, disclosed they are both working to end the ongoing conflicts between the Ezza community of Ado local government and Ebonyi State.
Ortom also revealed that a peace meeting would be held between the two states to stop the crisis and return the people to their homes.
Source: Legit.ng