Abuja People Go 'Gaga' as Peter Obi Storms FCT, Begs Residents for 1 Major Thing
The 2023 presidential candidate of the Labour Party, Peter Obi, has called on Nigerians living in Abuja to join him in building a nation they will be proud of.
Speaking during the Labour Party's mega rally in Abuja, Nigeria's capital city, Obi said he expects Nigerians to hold him and his running mate accountable for a better Nigeria.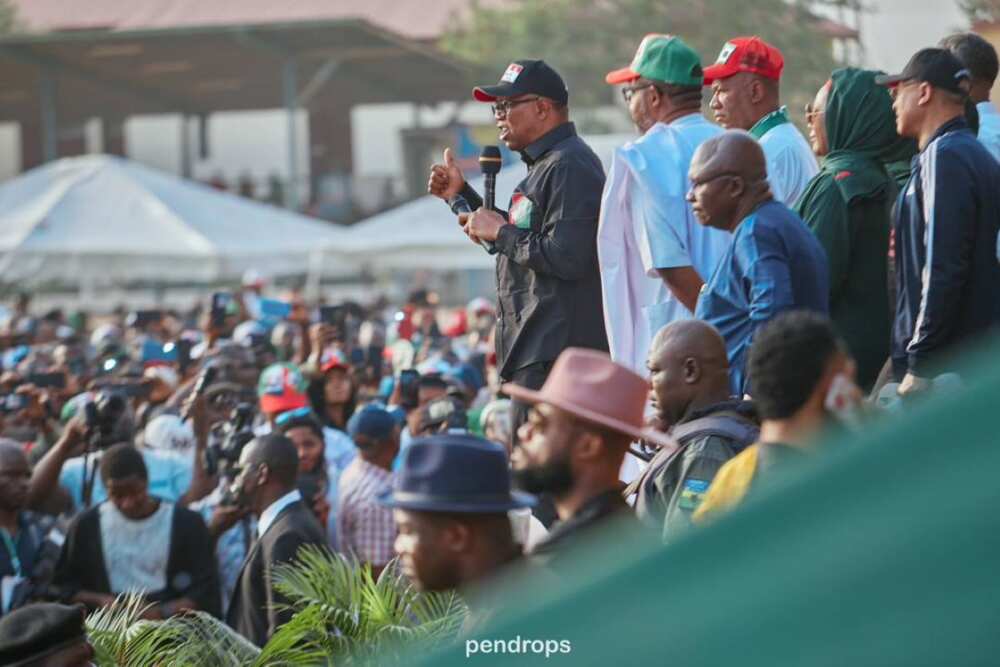 Obi while promising to provide a revolutionised governance and run an all-inclusive government said Nigeria has only provided vices for the people.
The former governor of Anambra state said his team if elected in the forthcoming presidential election will ensure that Nigerians will have no reason to suffer.
His words:
"Nigeria in the past 20 years have produced insecurity; Nigeria in the past 20 years have produced poverty and unemployment. We are offering you security and prosperity. We are going to fight insecurity.
"We will start with agrarian revolution, which will reduce the price of food, inflation will come down, then we will push it to industry, as they are manufacturing, they will employ labour.
"From there they will do export, exchange will stabilise, we have finished running everything, we are only awaiting execution, give us power and you will see that a new Nigeria is possible."
"Peter Obi can't win 2023 presidential election," Ekwunife denies endorsing LP, tells Nigerians what to do
Peter Obi had earlier been described as a force to reckon with in the build-up to the 2023 presidential election.
This description of Peter Obi was given by Uche Ekwunife, the 2023 Anambra Central senatorial district candidate for the Peoples Democratic Party.
Ekwunife said Obi lacks the capacity to win at the polls unlike Atiku Abubakar, the flagbearer of the PDP who she believes will emerge president with a wide margin.
"Peter Obi is the light, APC, PDP is darkness," Former SGF drops bombshell, begs Nigerians for forgiveness
Meanwhile, the former Secretary to the Government of the Federation, Babachir Lawal, pleaded with Nigerians for asking them to vote for the ruling All Progressives Congress (APC) in the past elections.
Lawal said he has seen the light and is sorry for leading Nigerians to the current challenges they are facing post-2015 and 2019 polls.
He has, however, been very vocal against the APC's Muslim-Muslim ticket for the 2023 presidential election.
Source: Legit.ng