Atiku, Tinubu or Obi? Lagos Traders Reveal Preferred Presidential Candidate They Will Vote for and Why
Traders in the popular Lagos market have revealed the candidate that will get their major support and votes ahead of the 2023 presidential election
In a chat with Legit.ng, most of the traders threw weight behind the Peter Obi candidacy and ignored Bola Tinubu of APC, Atiku Abubakar of PDP, and Rabiu Kwankwaso of NNPP
They are of the opinion that a new breed should be allowed rule the country and a new region be given the office of the presidency
The traders in a popular market in Lagos state are giving a different vibe ahead of the nation's presidential election, which is slated for Saturday, February 25th, 2023.
While reacting to the recent happenings that have rocked the discussion of most Nigerians in the polity, the scarcity of the new naira notes and the price hike of fuel and scarcity of the product, traders in a popular market maintained they would vote wisely in the coming poll.
Speaking with Legit.ng, a trader who sells foodstuff items and food items such as rice, beans and garri, revealed the presidential candidate he will support and vote for and why.
He noted that Peter Obi of the Labour Party (LP) has his votes hundred percent because as a former governor of Anambra state, he performed excellently well and if given an opportunity, he would perform even better as a new breed.
PAY ATTENTION: Share your outstanding story with our editors! Please reach us through info@corp.legit.ng!
His words,
"I will vote for Peter Obi and not Bola Tinubu of the APC that has brought us to the present condition we are in at the moment in the country.
"The APC brought untold hardship into the land and they are doing all they can to make sure we wallow in more pain as citizens, hence, the party cannot get my vote at all."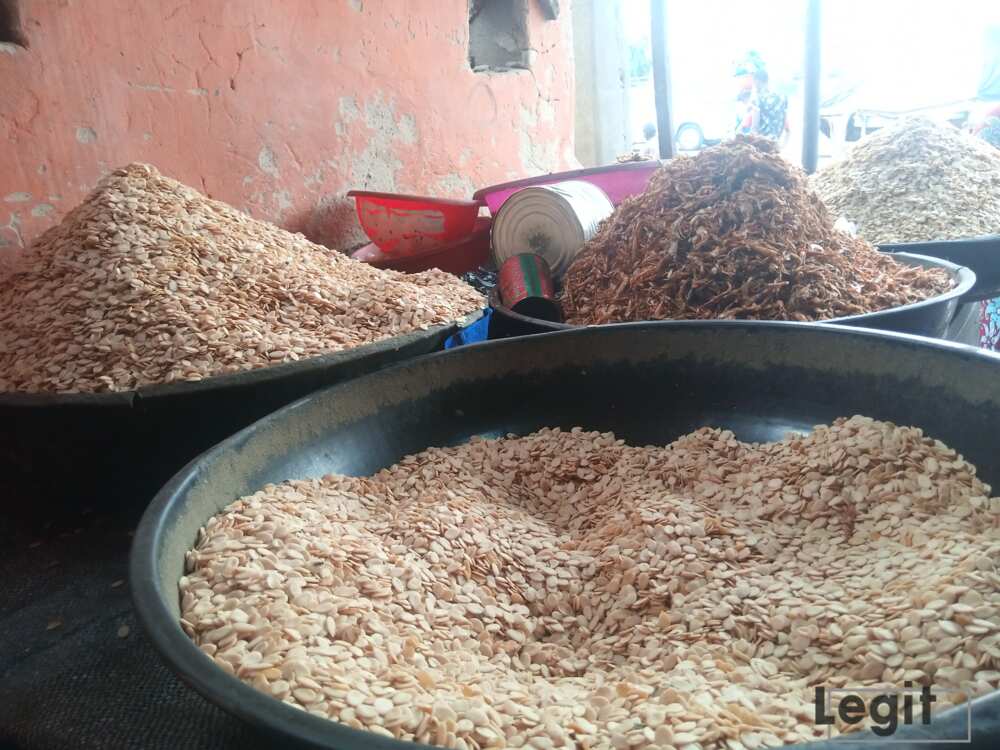 Speaking further on why the LP candidate would get his votes instead of Atiku Abubakar of the Peoples Democratic Party (NNPP) or Rabiu Kwankwaso of the New Nigeria Peoples Party (NNPP), the trader added;
"I want a new breed to be given power, an opportunity to rule the country and Peter Obi represents well.
"When Obi was governor of Anambra state he did a whole lot to change the narrative in the land and everyone in the state can attest to this fact till this day.
"I would love for Obi to win because he has the experience and would bring his A-game to play to see that Nigeria is rescued and rebuilt for the greater good of all."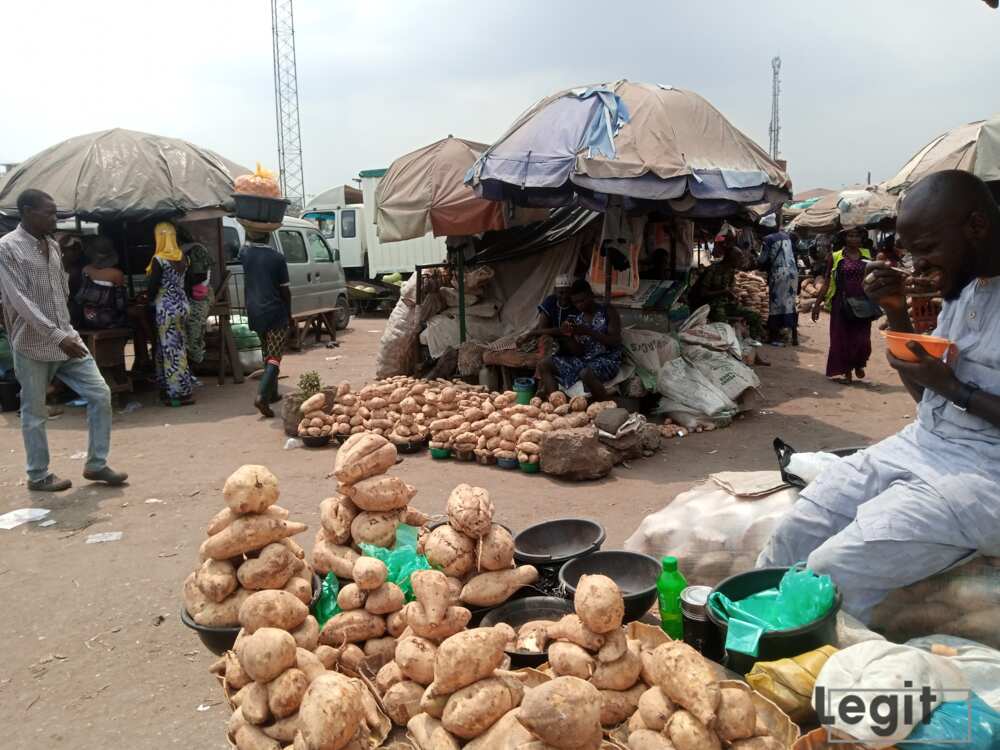 I want Kwankwaso to win, Potato seller gives reason
At the popular market, a potato seller is of the opinion that Rabiu Kwankwaso is better off than Bola Tinubu and Atiku Abubakar.
According to him, Kwankwaso as a northern candidate would get his vote because he has a lot to bring to the table.
While highlighting just one major reason why Kwanwaso would get his votes, the potato seller stated thus:
"I would love to vote for Rabiu Kwanwaso because he is very passionate about what he plans to do for Nigerians if elected president.
"He has tasted power and is loved by most northerners but he will get my votes because he is very interested in the education of all, especially the northerners if voted for; this is why he will get my vote."
I may change my mind and vote for Obi but never APC or Tinubu
The trader who seems to have a double mind about voting for his preferred candidate added thus;
"I can change my mind on the election day and vote for only Peter Obi, because he is very well prepared and ready to make a change, a genuine one and he is lived by most Nigerians."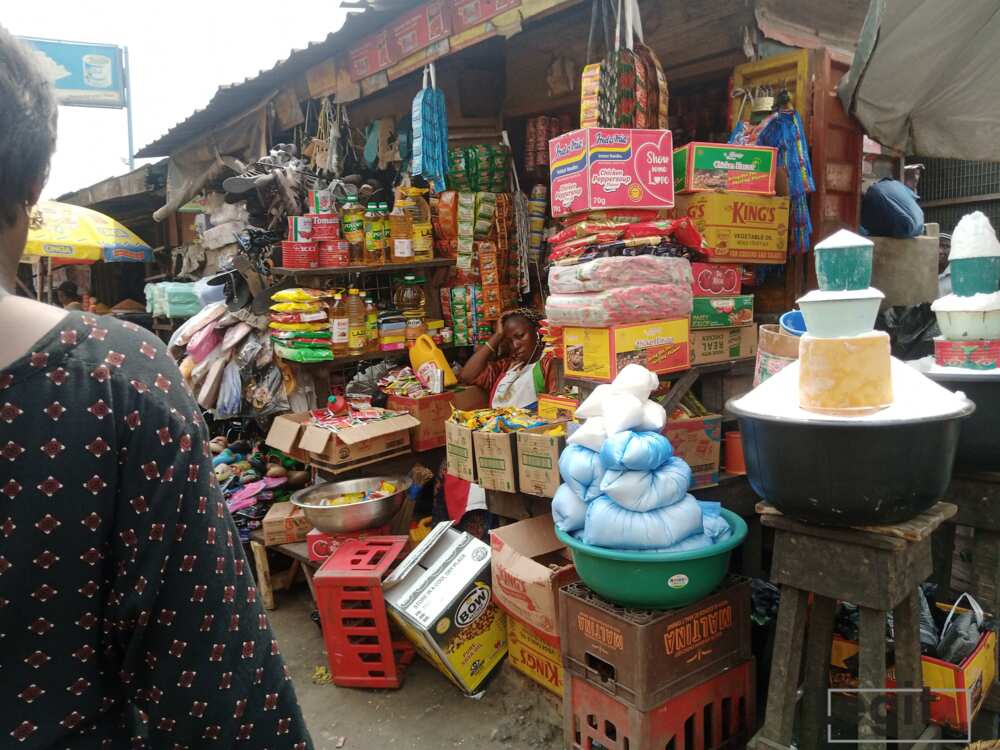 My choice candidate remains hidden until election day, a trader noted
Another seller who sells items such as tomato paste, Maggi, salt and other food spices revealed Vice President Yemi Osinbajo would have gotten her vote but now that he lost out, she is undecided about who she would vote for in the presidential election.
The trader who hailed from one of the southwestern states in Nigeria noted that peradventure if she changes her mind to vote in the coming poll, she would vote massively for a candidate who would do well for Nigerians and bring back the nation's lost glory.
Speaking further, she noted that the candidate remains anonymous until election day.
"VP Osinbajo was my preferred candidate for the 2023 presideltla election but when he lost out in the primaries last year I felt bad and don't want to vove again. But looking at the situation of things now in the country and how important our votes count, I have gotten my PVC ready and would come out to vote on election day.
"I cannot say it out loud who I will vote for but the candidate that will get my vote would be one who understands the graoning of the people in the land and is ready to make a change, that one person will get my vote because our votes will surely count."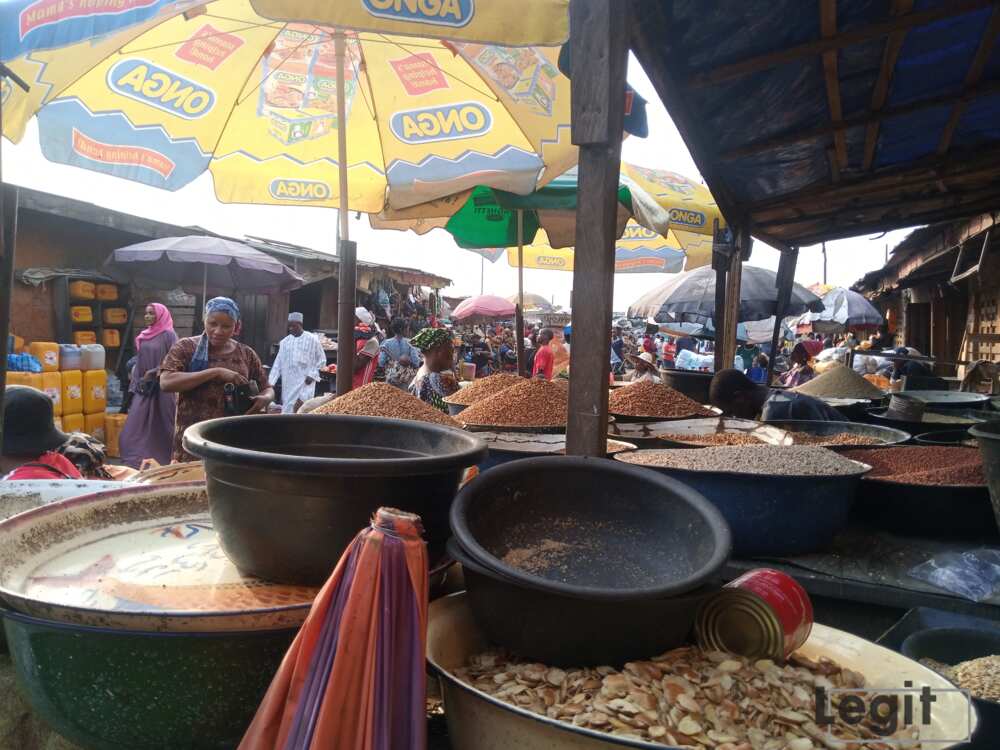 The southeast region should be given the presidency, foodstuff dealer said
For another trader who sells only food items such as Ogbono, Egusi and crayfish, the Igbo presidency should be considered hence Peter Obi has his votes.
According to him, a new man should take over from President Muhammadu Buhari because that is only when Nigerians can get the desired change they are yearning for.
"Every other region has tasted power except for the Igbos, so the southeast region should be considered for power this coming election.
"Because I want a new hand in the system of the country and I also want Igbo presidency, Peter Obi of Labour Party will get my vote," the trader maintained.
Deadline for old naira notes: How is it affecting you? Lagos traders voice out their frustration
Lagos traders expressed deep worry over the current hardship they are faced with in recent times.
According to businessmen and women, the Central Bank of Nigeria's (CBN)'s recent policy is affecting their businesses, especially the recent redesign of the nation's currency, the N200, N500 and the N1,000 notes.
This week, Legit.ng had a chat with some of the traders at Mile 12 international market, Lagos state and they expressed their opinion on the burning issue in the polity.
Source: Legit.ng