"Buhari Has No Succession Plan": El-Rufai Reveals 3 Steps That Led to Tinubu's Emergence as APC Candidate
Governor Nasir El-Rufai of Kaduna state has disclosed that President Muhammadu Buhari said he had no succession plan when he asked him after the 2019 elections
According to El-Rufai, the first step that led to the emergence of Bola Tinubu as APC's presidential candidate was to ensure that Buhari had no succession plan
The governor further said that the second step was the zoning, adding that Buhari insisted that their earlier agreement to zone the presidency to the south must not change
Mallam Nasir El-Rufai, the Kaduna state governor, has disclosed the 3 steps taken by the northern governors of the All Progressives Congress (APC) that led to the emergence of Bola Tinubu as the party's presidential candidate.
El-Rufai disclosed the details when he was featured on a TVC programme on Thursday evening, February 2 and clips of the videos were shared on Twitter by a netizen with the handle, @ayekooto.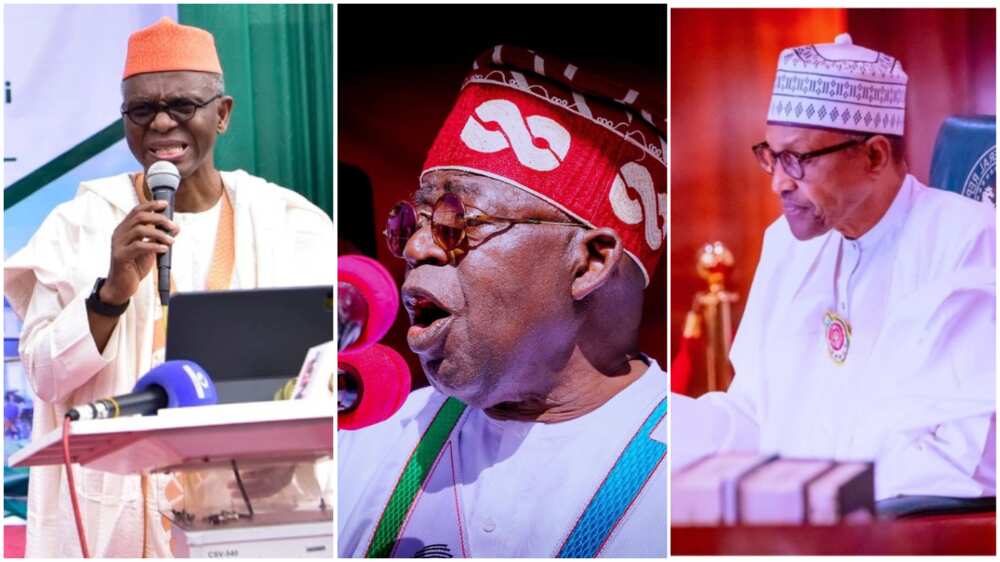 How Tinubu emerged as APC candidate in 2023, El-Rufai reveals
The governor revealed how he went to meet President Muhammadu Buhari immediately after the 2019 election and asked him about his succession plan for 2023.
According to El-Rufai, the President disclosed that he has no plan as he hoped that people will contest for the party's ticket since it is a democracy.
El-Rufai disclosed that the first step the northern governors of APC made was to ensure they accepted that he wants his successor to emerge from a democratic process.
Latest about Bola Tinubu, Nasir El-Rufai, APC, President Muhammadu Buhari, 2023 election
He disclosed that the second step was to ask him which region he would like his successor to emerge from, and the president said the party had earlier agreed that the next president should be zoned to the south
El-Rufai added that that was why he was the first northern APC governor who said the south would produce the party's next presidential candidate.
He revealed that the third step was the process that produced Abdullahi Adamu as the national chairman of the party.
See the videos below:
El-Rufai revealed age bracket that should not contest for President
Legit.ng earlier reported that Kaduna state governor, Nasir El-Rufai, has said that some presidential candidates in the 2023 election are a joke.
While sharing his experience, the governor said the work of the president is not what someone between the age of 40 and 50 should apply for.
El-Rufai said he has had the privilege of working with at least three presidents and he understood the difficulties around it because of the complexity of the country.
Source: Legit.ng