Atiku, Tinubu, Obi: El-Rufai Reveals Presidential Candidates Who "Are a Joke", Says Why
Kaduna state governor, Nasir El-Rufai, has said that some presidential candidates in the 2023 election are a joke
While sharing his experience, the governor said the work of the president is not what someone between the age of 40 and 50 should apply for
El-Rufai said he has had the privilege of working with at least three presidents and he understood the difficulties around it because of the complexity of the country
Governor Nasir El-Rufai of Kaduna state has posited that some presidential candidates in the 2023 election are nothing but "a joke".
El-Rufai made the position while appearing on the Channels Television programme, Sunrise Daily on Wednesday, February 1.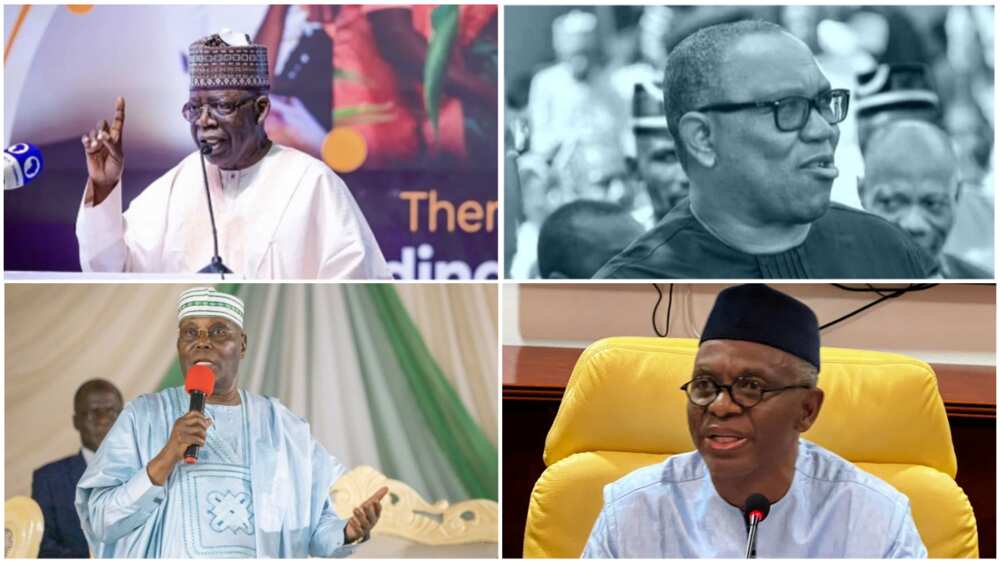 El-Rufai releases age that should not contest for Nigeria's president
Some of the leading presidential candidates in the 2023 election are Bola Tinubu of the All Progressives Congres (APC), his counterpart in the Peoples Democratic Party (PDP) and Labour Party's Peter Obi.
According to the governor, it is very difficult for someone who is between 40 to 50 years old to convince Nigerians, particularly those in the political sphere, that he or she has the experience to manage Nigeria because it is a complex country.
His words:
"And some of the people running, frankly, are a joke, as far as I am concerned. Every job looks easy from the distance but I have had the privilege of working with at least three presidents, very closely and I have seen the demands of the job and what it is."
Latest about Nasir El-Rufai, APC, Bola Tinubu, Atiku Abubakar, Peter Obi, 2023 election, PDP
El-Rufai further stated that even being a governor is a tough job but people don't know, they think it is easy.
He said people can always say the government should have done it in a particular way but they start complaining the moment you ask them to come and do it.
He said:
"Oh you should have done this, that, get them to do it, then ngbati, ngbati start."
See the video below:
Tension Erupts As El-Rufai Reveals Saboteurs Around Buhari
Legit.ng earlier reported that Governor Nasir El-Rufai of Kaduna state has revealed that there are saboteurs around President Muhammadu Buhari in Aso Rock.
El-Rufai disclosed that the saboteurs have their preferred presidential candidate who failed to clinch the APC presidential ticket but failed to win at the primary.
According to the governor, the naira redesign by the CBN has inflicted more hardship on the people, particularly in the rural area and could turn the people against Tinubu.
Source: Legit.ng