"Unlike El-Rufai, I'm Not Afraid": Confusion as Tinubu's ex-Lead Campaigner Names Key Player in Aso Rock Cabal
Aisha Buhari, the First lady of Nigeria has been named as part of the "Aso Rock cabal" who call the shots in President Buhari's government
This revelation was made by a former director-general of Bola Tinubu's 2023 presidential campaign council
Naja'atu Muhammad also claimed that Governor Nasir El-Rufai of Kaduna state have always longed to be a member of the cabal
Naja'atu Muhammad, the former lead campaign in the Bola Tinubu presidential campaign council has said listed Nigeria's First Lady as a member of the dreaded Aso Rock cabal.
Speaking on Arise TV's Morning Show which was monitored by Legit.ng on Monday, February 6, Muhammad said Aisha Buhari is a member of the cabal in the Presidential Villa.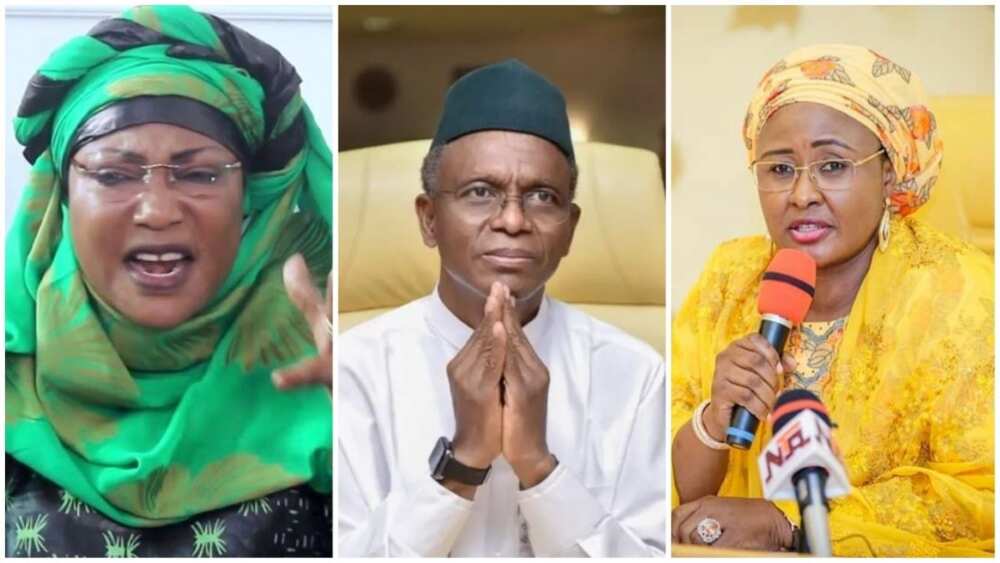 There have been claims that the "cabals" are responsible for key decisions being taken within the presidency by Nigerians in various quarters, including the governor of Kaduna state, Nasir El-Rufai.
El-Rufai claimed that the cabals are putting all measures in place to frustrate the emergence of Bola Tinubu, of the All Progressives Congress as president in the 2023 presidential election.
The governor, however, did not mention those who might be part of the cabals he described.
However, Muhammad has spoken firmly on the matter and said she is not afraid to mention the names of the members of the cabal like El-Rufai.
Her words:
"Let me tell you one of the cabals is Aisha Buhari. Aisha that is talking is part of the cabals. We knew the cabals of the late Abba Kyari.
"When she started talking of the cabals, she didn't have the guts to come and name names. For the first time in Nigeria, I started to mention names.
"She (Aisha) reinforced what El-Rufai said. El-Rufai said 'the cabals in the villa', she confirmed it. She is also part of the cabals. I am trained not to say the details. We are trained to leave names. You have to have the guts to give names."
Governor El-Rufai wanted to become part of the Aso Rock cabal - Muhammad
Continuing, Muhammad also noted that a leaked memo by El-Rufai following the passing of President Buhari's former chief of staff showed that the Kaduna state governor hoped to replace Abba Kyari.
Naja'atu said:
"He did all he could to replace Abba Kyari. He said, "Otherwise some people are already boasting that they will choose petroleum minister, they will do this, they will do that.
But he (El-Rufai) wanted to be part of the cabal, so what are we talking about."
2023 elections: Keyamo leaks top secret, airs Tinubu's ex-lead campaigner's 'dirty laundry' in public
A former chieftain of the All Progressives Congress had earlier been accused of spreading disinformation about the party and its presidential candidate.
Festus Keyamo alleged that Naja'atu Muhammadu travelled all the way to London to meet with Bola Tinubu in order to lobby for a position.
According to Keyamo, the APC directorate for the presidential election has always known that Muhammad was a mole within the party.
Source: Legit.ng