Newspaper Review: Tinubu Or Atiku Way? Wike, Rivers PDP Destination Revealed
A viral story that made it to most Nigerian dailies over the week is the revelation from one of Nyesom Wike's allies on who the Rivers governor and the PDP chapter in the state will vote for in the coming presidential election.
Trouble for Atiku as Wike's Strong Ally Finally Reveals Presidential Candidate Rivers PDP Will Vote For.
Hon. Samuel Nwanosike, the chairman of Ikwerre local government area, has said the Rivers state chapter of the Peoples Democratic Party (PDP) had made up its mind to dump the party's presidential candidate of the party, Atiku Abubakar.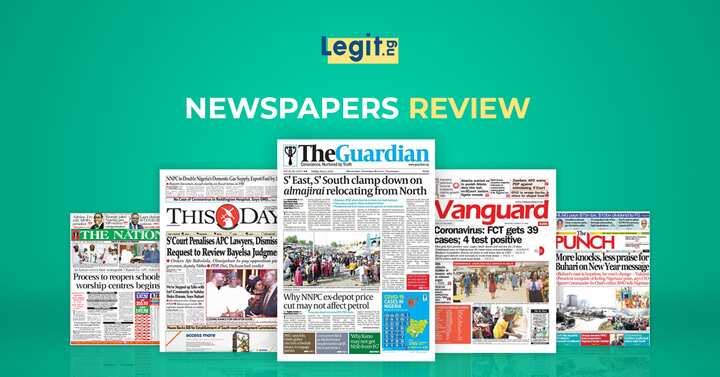 Nwanosike who is a strong ally of the Rivers state governor, Nyesom Ezenwo Wike, said the Rivers PDP has pitched its tent with the presidential candidate of All Progressives Congress (APC), Bola Ahmed Tinubu.
Throwback: Nigerian Who Solved a 30-Year Mathematical Problem in Japan, Now Makes Electric Cars for Nissan
Nigerians are known for their academic brilliance and exploitation when they cross the Atlantic to study overseas.
On several occasions, we've seen Nigerians come out tops with amazing grades, research and innovation across some of the A-list universities in Europe, North America and Asia.
"Daddy You'll Win," Goosebumps as Nursing Mother Stops Peter Obi's Convoy, Make Declarations Amid Tears
On Saturday, January 21, the campaign train of the 2023 presidential candidate of the Labour Party, Peter Obi hit the southern part of Kaduna state.
During the tour of the state, Obi met with several Nigerians from all walks of life in his campaign to become Nigeria's next president.
Reconciled with Atiku? Wike Releases List of Candidates He Is Supporting
Governor Nyesom Wike had insisted the Peoples Democratic Party (PDP)'s campaigns in Rivers state do not include the party's presidential candidate, Atiku Abubakar.
Governor Wike said he would not campaign for Atiku because there was no understanding to warrant such support in Rivers.
2023 Presidency: Heartbreak for Kwankwaso as NNPP in Northern State Endorses Another Candidate
According to Dele Momodu, the New Nigeria Peoples Party (PDP) in Bauchi state has endorsed Atiku Abubakar of the Peoples Democratic Party (PDP)'s flagbearer for the coming presidential election.
Momodu, a member of the PDP's presidential campaign council stated this via Instagram on Friday, January 20.
2023: Tension, fear as deadly prophecy predicts death of prominent politician Nigerians will vote for
Primate Elijah Ayodele, the leader of the INRI Evangelical Spiritual Church, has said politicians with health challenges should step down from running in the 2023 election.
The cleric also predicted that a prominent candidate that Nigerians will be voting for will die.
Tears, Blood Flow As Local Government Boss' Head Is Cut Off
Chris Ohizu, the sole administrator of the Ideato north local government area in Imo state, who was abducted by unknown gunmen has been killed.
The council boss was killed on Sunday, January 22, after a ransom of N6 million was paid to his abductors.
Source: Legit.ng