2023 Presidency: Tinubu Gets Tough Call to Withdraw From Race
Dumebi Kachikwu, the ADC's presidential candidate, on Wednesday, January 25, said Asiwaju Bola Ahmed Tinubu has no business contesting the presidency
Kachikwu stated that at his age, Tinubu should not be talking about his turn to lead a country as complex as Nigeria
The ADC's flagbearer added that Nigeria may find itself in the same position it was at the beginning of the current government when the president was sick
Abuja - The presidential candidate of the African Democratic Congress (ADC), Dumebi Kachikwu, has called on Asiwaju Bola Ahmed Tinubu of the All Progressives Congress to withdraw from the coming election.
Kachikwu, during a press conference in Abuja on Wednesday, January 25, noted that although old age is something everyone should look forward to, when it involves leading a nation as complex as Nigeria, it is not a good criterion because of the rigours of leadership.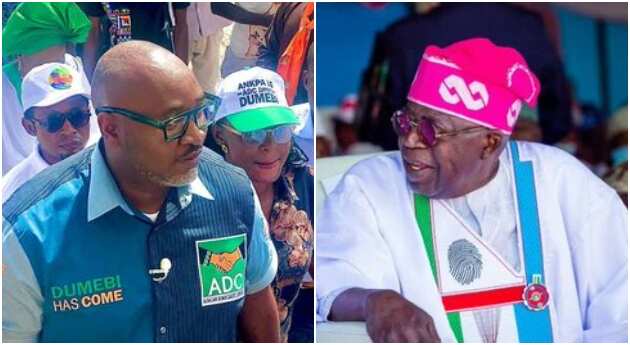 For this reason, Kachikwu stated that Tinubu has no business contesting for the presidency at his age, Nigerian Tribune reports.
He added that instead of Tinubu saying it is his turn to lead, he should know and declare that it is his turn to do the needful - step down from the race.
His words:
"There is nothing wrong with being old or sick as we will all get old someday. We also all get sick at some point or the other. I have a problem with a candidate with significant cognitive disabilities embarrassing my nation and making a mockery of the entire political process.
"Senator Ahmed Bola Tinubu has no business being in this race or continuing this race. He has said it is his turn and I agree: it is his turn to do the honourable thing and withdraw from this race.
"I call on his family, his party, the APC, and President Buhari to prevail on him to do the right thing."
In his opinion, Nigeria may find itself in the same position it was in 2015 when the health of the current president affected his office.
He said:
"We are in this mess because we don't question anything as a people. We are apathetic to politics and governance. We fail to see the connection between government, governance and our lives because the Nigerian Government has merely existed in name of the Nigerian people for too long.
"I believe that President Buhari had some good intentions in mind when he ran for office but alas when his health failed, his government also failed.
"Today, the same APC that failed the Nigerian people monumentally with a sick president has presented another sick candidate to the Nigerian people."
2023: At last, Tinubu reveals his real age
During the 70th birthday celebration of Bishop Matthew Hassan Kukah of the Catholic Diocese of Sokoto, Asiwaju Bola Ahmed Tinubu personally gave a revelation of his actual age.
Tinubu, who hailed Bishop Kukah during the event attended by a lot of prominent Nigerians, noted that just like the celebrant, he is also 70 years old.
The All Progressives Congress (APC) presidential candidate saluted the outspoken cleric for building an institution (The Kukah Project) in honour of his birthday.
Source: Legit.ng