3 Major Challenges Nigerians Expect Buhari's Successor to Tackle Once He Assumes Office on May 29, 2023
On Saturday, February 25, eligible Nigerians will hit the polls to vote for their preferred presidential candidate in the 2023 general election.
Among all the candidates contesting to succeed President Muhammadu Buhari, there are three major candidates who have more or less become the leading contestants in the forthcoming polls.
These candidates - Peter Obi of the Labour Party, Bola Tinubu of the All Progressives Congress and Atiku Abubakar of the Peoples Democratic Party have over time highlighted their plans to tackle some of the challenges facing Nigeria as a country.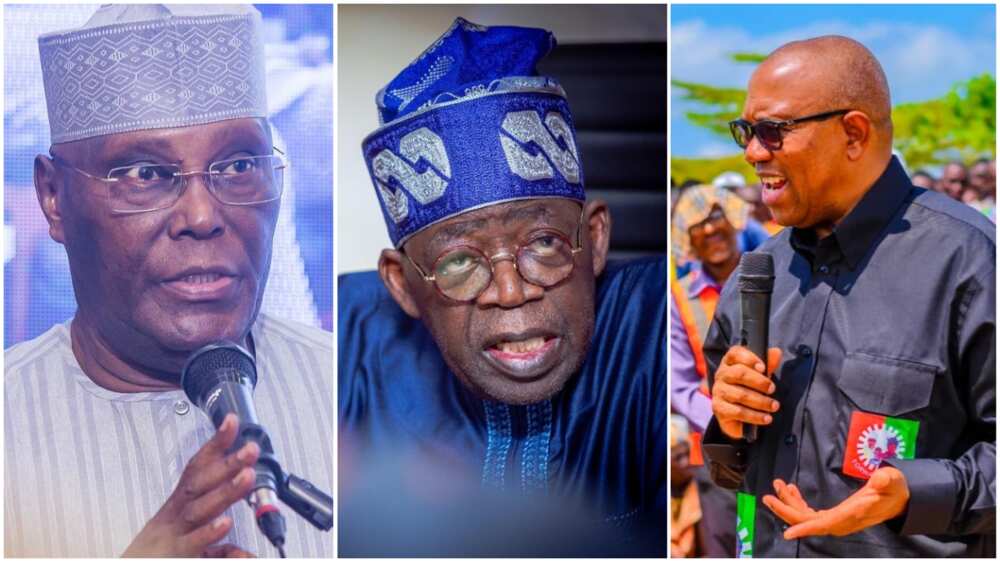 Security
Since 1999, terrorism, one would say has continued to undermine the development plans in the northeastern part of Nigeria.
These acts of terrorism - carried out by two major groups, Boko Haram and the Islamic State of West Africa Province (ISWAP) have also begun to spread to other regions - including a recent attack on a Kaduna-bound train on March 28.
Over time terrorism in the country has metamorphosed from attacks on government facilities, schools and public spaces to kidnapping, and banditry among many others, increasing the spate of insecurity in the country.
While Peter Obi noted that tackling insecurity is his first responsibility and critical for him as a president so that farmers can go back to their farms, Tinubu promised to redefine Nigeria's counter-insurgency doctrine and practice and Atiku said he will ensure that peace prevails across the country.
Electricity
Poor electricity transmission and distribution have continued to be a bane to Nigeria's development for a long time.
While many leaders have campaigned with promises of fixing Nigeria's electricity challenge, the problem persists.
Sunday Oduntan, the executive director, Research and Advocacy of the Association of Nigerian Electricity Distributors(ANED), the umbrella body of Electricity Distribution Companies, (DisCos) said the country since 1960 has not generated up to 6,000 megawatts of electricity despite needing 30,000 megawatts to meet its demand.
To end this, Peter Obi while speaking on a Channels TV programme, 'The People's Townhall 2023', said his administration if elected would generate nothing short of 20,000MW of electricity in four years.
His words:
"Within four years, we will be able to generate and distribute not less than 20,000MW".
For Atiku, his team will first remove the entire electricity value chain from the exclusive list and give states the power to generate, transmit and distribute electricity for themselves.
The former vice president said this approach is the most proactive plan to lead Nigeria out of the darkness.
In addition, Tinubu said he will remove the estimated billing system and that by all means, Nigerians will have steady electricity should he become president.
Education
Speaking at a town hall meeting at the University of Nigeria Nsukka over the weekend, the former governor of Anambra state assured that there will be no strike by the members of the Academic Staff Union of Universities should he become president.
According to Obi, that will be one major way of improving Nigeria's education system. He also promised to take education to children in the northern region.
For Atiku Abubakar, he will ensure an educational reform in Nigeria to help youths across the country prepare for the private sector which he described as the engine of any economy.
His words:
"The most important thing is education to get our kids educated. And not only educated but rightly educated.
"And then they can make themselves available to the private sector for growth—which is the engine room of the economy."
In addition, their colleague in the APC said to improve Nigeria's education sector, he will overhaul the whole system by employing teachers who would tinker with some areas with the philosophy that no one would be left behind.
He said:
"There will be student loans for all. We are going to reform the Almajiri system, We are equally going to build more schools, recruit more teachers and train them."
"Do the Right Thing, Resign Now," Youths Lead Protest Against CBN Governor Emefiele
In other news, Nigerian youths have trooped out in their numbers to protest the immediate resignation of CBN boss, Godwin Emefiele.
Emefiele has been a trendy topic over the past few weeks following a series of allegations levelled against him.
Most recently, he was alleged of sponsoring terrorism and also being involved in stamp duty fraud.
Emefiele set for legal battle, warns Kazaure to retract allegation of N89trn stamp duty fraud
The governor of the Central Bank of Nigeria, Godwin Emefiele has reacted to the alleged N89trn stamp duty fraud levelled against him.
Emefiele in a letter sent to the Gudaji Kazaure, the lawmaker who made the alleged claim wants to go to court.
According to Kazaure, the letter contained a three weeks ultimatum to retract his statement or face a legal battle.
Source: Legit.ng