Nigerian Military Speaks on Fresh Plans for Over 600 Repentant Terrorists
Over 600 repentant terrorists will be transferred back to their states the chief of defence staff, General Lucky Irabor has said
Irabor said that the terrorists are currently undergoing deradicalisation and rehabilitation and the transfer will be made once that is done
According to the CDS, each of the repentant terrorists will be given starter-packs to start a trade before their release into the society
Legit.ng is celebrating business personalities of 2022. See top entrepreneurs of Fintech, Startup, Transportation, Banking and other sectors!
The Nigerian Military has said that over 600 low-risk repentant terrorists will be transferred to their various state governments for reintegration into the system.
PM News reports that the Chief of Defence Staff (CDS), General Lucky Irabor while speaking at the fifth Stakeholders' Meeting of Operation Safe Corridor (OPSC), on Thursday, January 5, confirmed that 613 repentant terrorists are currently undergoing deradicalization and rehabilitation.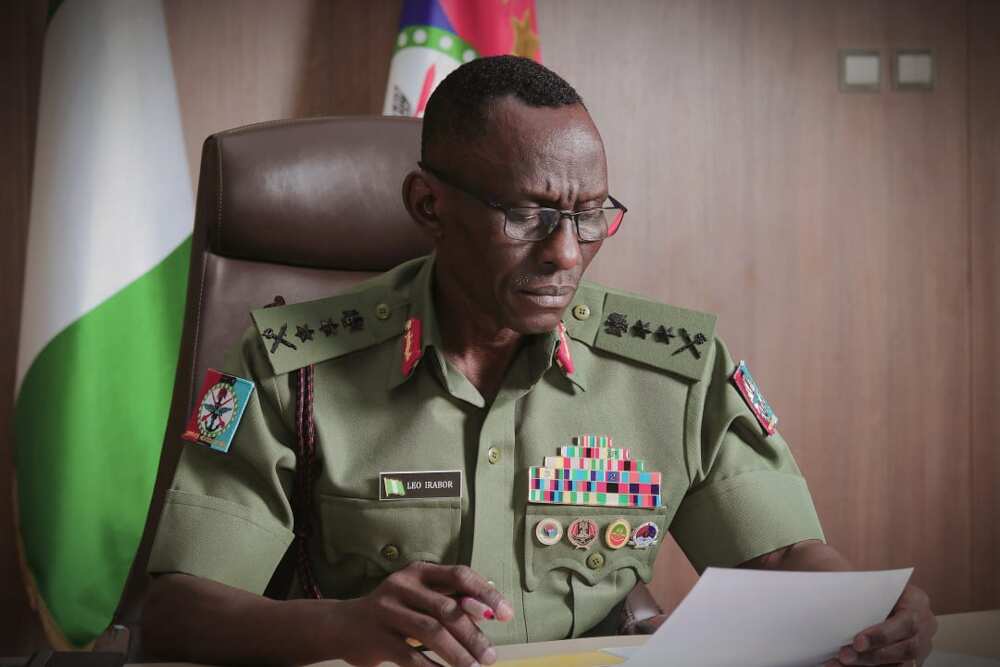 Irabor represented by the Chief of Defence Training and Operation, Major General Adeyemi Yekini, noted that low-risk insurgents are being rehabilitated by the OPSC.
The OPSC was established by President Muhammadu Buhari in September 2015 as a window for willing and repentant terrorists to lay down their arms and undergo a structured DRR programme.
Irabor admitted that the successes of OPSC had continued to resonate within the region and in the diaspora.
According to him, it has also attracted the interest of researchers from across the globe.
His words:
"It is also important to mention that upon graduation from the programme, each client will be provided some food and personal items, as well as a start-up pack according to the trade learnt during training to enable them to set up small businesses and start a new life."
"We are optimistic that working closely with local and traditional authorities, the states can deploy security apparatus at their disposal to effectively track and evaluate the re-integrated ex-combatants."
Terrorist kingpins Abba Tukur, Bakura Jega, others confirmed killed in Nigerian Military air strikes
Bombardments from the Nigerian military have killed some terrorist kingpins in the northeast region.
The terrorists had converged at a location with motorcycles and bicycles when a military strike smoked them out.
Both air and ground troops in the region have sustained their clearance operations in the enclaves of the terrorists in recent times.
Recent report on Nigerian military aimed at undermining national security - Group
Meanwhile, the Northeast Advocacy for Peace and Justice described a report by Reuters alleging forced abortiion of unborn babies in facilities run by the Nigerian military as a conspiracy to derail peace efforts and the fight against insurgency.
Ambassador Abdullahi Gambo, the convener of the group, insisted that the report was a calculated, high wired and international attempt to thwart the successes recorded in the battle to finally eliminate Boko Haram/ and The Islamic State in West Africa Province in Nigeria.
The group also stated that sponsors and international groups funding the activities of terrorists are responsible for such damming reports.
Source: Legit.ng