Chatham House: Tinubu Dodges Security Question, Asks Top Northern Governor To Respond
The APC presidential candidate, Bola Tinubu, has directed the question on security to the governor of Katsina state, Nasir, El-Rufai
El-Rufai further outlined 3 approaches that the Bola Tinubu administration will tackle the insecurity menace confronting the country
Tinubu and his entourage were in Chatham house in London, where they dissected the manifesto of the APC presidential candidates to international media personalities
Chatham House, London - Bola Tinubu, the All Progressives Congress (APC) presidential candidate, delivered his address at the Chatham House in the United Kingdom.
After his speech, which was monitored by Legit, journalists were allowed to ask questions, and some of the questions bordered on security issues.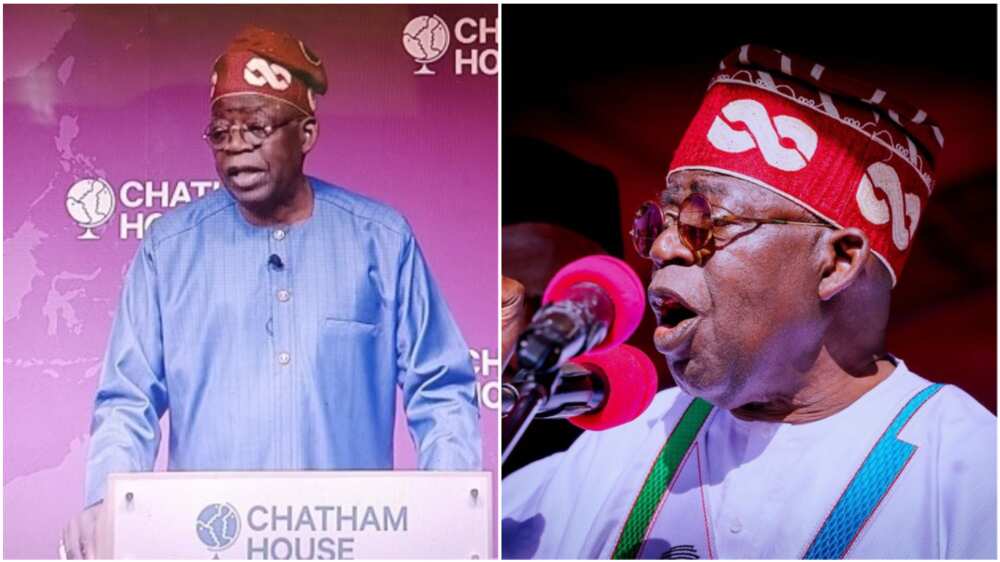 All you need to know about Bola Tinubu's speech at Chatham House in London
The questioner noted that though Tinubu had talked about the country's insecurity, he had not talked about how to reduce insecurity in the country.
But the presidential hopeful directed the question to the governor of Kaduna state, Nasir El-Rufai.
In responding to the question, El-Rufai said the APC blueprint for solving the security challenges in the country involved three major steps.
Latest about APC, Bola Tinubu, Chatham House, 2023 Election, Lagos, Nasir El-Rufai
The first in the ruling party blueprint is policing. The Nigerian governor said there is a need for the country to adopt state police, and the party is planning to achieve that through constitutional reviews.
El-Rufai further stated that the second plan is to look into the military architecture, adding that the Nigerian military, both in the army, airforce, and navy, personals are not up to 200,000.
The Kaduna state further stated that the ruling party's approach is to look at the proliferation of small arms in the country.
2023 Presidency: PDP knocks Tinubu hard, sends strong warning to Arise TV
Legit.ng earlier reported that the PDP has alleged that the APC presidential candidate, Bola Tinubu, ran to the UK to dodge the Arise TV town hall meeting.
The opposition claimed that the ruling party candidate in the 2023 election avoids questions about his plan to relocate the FCT from Abuja to Lagos.
The PDP also warned Arise TV to desist from using its presidential candidate, Atiku Abubakar picture to promote the town hall meeting.
Source: Legit.ng