BREAKING: INEC Declares Winner of Ekiti 2022 Governorship Election
Nigeria's electoral body, INEC, has declared Biodun Oyebanji of the APC as the winner of the 2022 governorship election in Ekiti state
The APC governorship candidate polled a total of 187,057 votes to defeat his closest challenger, Segun Oni of the Social Democratic Party (SDP
With his victory at the polls, Oyebanji, a former SSG, will replace the outgoing governor, Kayode Fayemi, in October
Ado-Ekiti, Ekiti state - The Independent National Electoral Commission (INEC) has finally declared Biodun Oyebanji, the governorship candidate of the All Progressives Congress (APC), winner of the 2022 governorship election in Ekiti state.
Oyebanji polled a total of 187,057 votes to defeat his two closest challengers, Segun Oni of the Social Democratic Party (SDP) and Bisi Kolawole of the Peoples Democratic Party (PDP).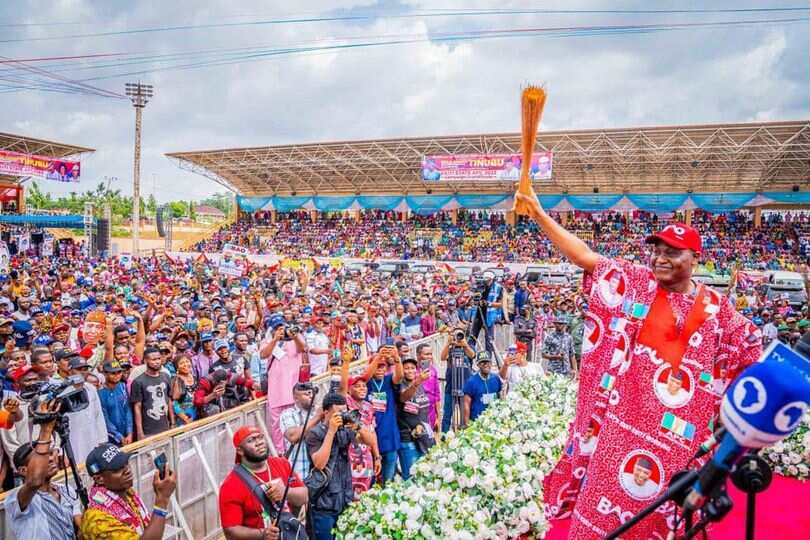 The SDP emerged in second place with total votes of 82,211 while the PDP was third with 67,457 votes.
Oyebanji, 54-year-old, a former SSG of Ekiti state, will succeed Kayode Fayemi in October.
Ekiti 2022: Successful election marred with vote-buying
The election was largely peaceful, according to independent observers cited by Channels TV. It was, however, marred with reports of vote-buying.
This prompted the Economic and Financial Crimes Commission (EFCC) to embark on a raid and make some arrests.
According to INEC, 988,923 registered voters were expected to participate in the exercise. However, only 363,438 voters were accredited.
Total Votes
APC: 187,057
PDP: 67,457
SDP: 82,211
Ekiti governorship election: INEC chairman gets 7-Day ultimatum to take action on key issue
Meanwhile, the chairman of the Independent National Electoral Commission (INEC), Mahmood Yakubu, has been handed a seven-day ultimatum to prosecute three leading political parties involved in vote-buying during the Saturday, June 18, Ekiti governorship election.
In a statement released on Sunday, June 19, the Socio-Economic Rights and Accountability Project (SERAP) called on the electoral body to ensure it gathers all the information on reports of vote-buying carried out by the parties.
In the statement which was seen by Legit.ng and signed by Kolawole Oluwadare, SERAP's deputy director, the organisation said there was evidence of undue influence, intimidation, and ballot box snatching among the infractions committed during the election.
Source: Legit.ng