Hunter McGrady bio: Husband, measurements, weight
Hunter McGrady is a Sports Illustrated swimsuit model who has broken barriers in the plus-size modelling industry. The curvy model, who once worked hard to lose weight, is now comfortable in her skin, something that many curvy ladies should seek to emulate.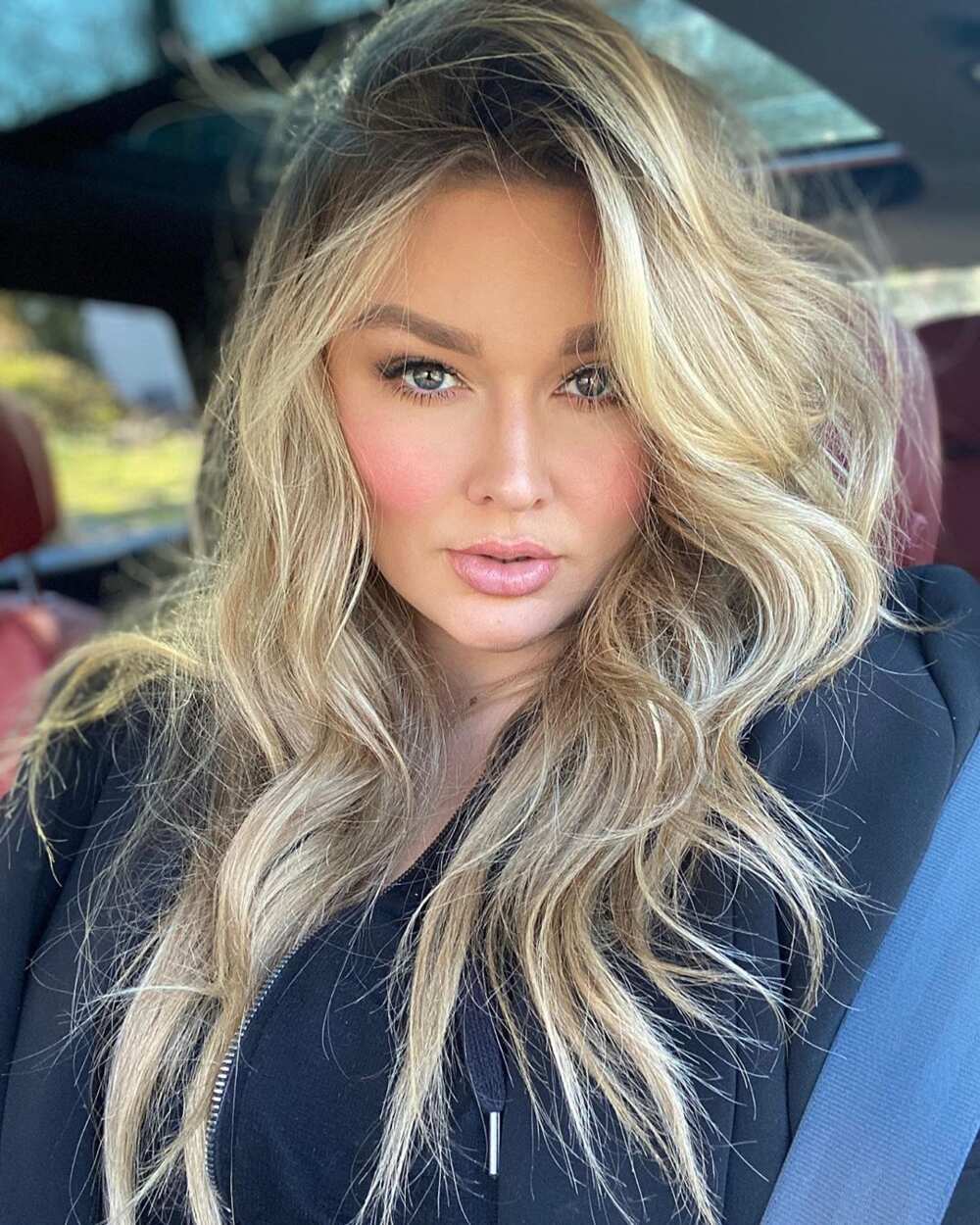 Hunter McGrady model is not only beautiful, but she is also confident, something that accentuates her beauty. Here is all you need to know about the celebrity.
Profile summary
Birth name: Hunter Sienna McGrady
Nickname: Peanut
Birthdate: May 4th 1993
Place of birth: Westlake Village, California, United States of America
Zodiac sign: Taurus
Nationality: American
Ethnicity: Caucasian
Siblings: 1 elder sister and 1 younger brother
Hunter McGrady weight: 108 kilograms
Height: 5 feet 11 inches (1.8 metres or 180 centimetres)
Eye colour: Hazel
Hair colour: Blonde
Body measurements: 45-38-52 inches
Bra size: 46D
Dress size: 22 (US)
Hunter McGrady husband: Brian Keys (Got married on June 16th, 2019)
Net worth: $6.5 million
Early life and family
McGrady was born on May 4th in the year 1993 to parents Brynja and Michael McGrady.
Hunter McGrady dad, Michael, is an American theatre, film and television actor well known for his appearance in various productions such as FBI (2019), SEAL Team (2018-2019), Chicago P.D. (2018), Ray Donovan (2013-2017), Southland (2009-2011), and many more.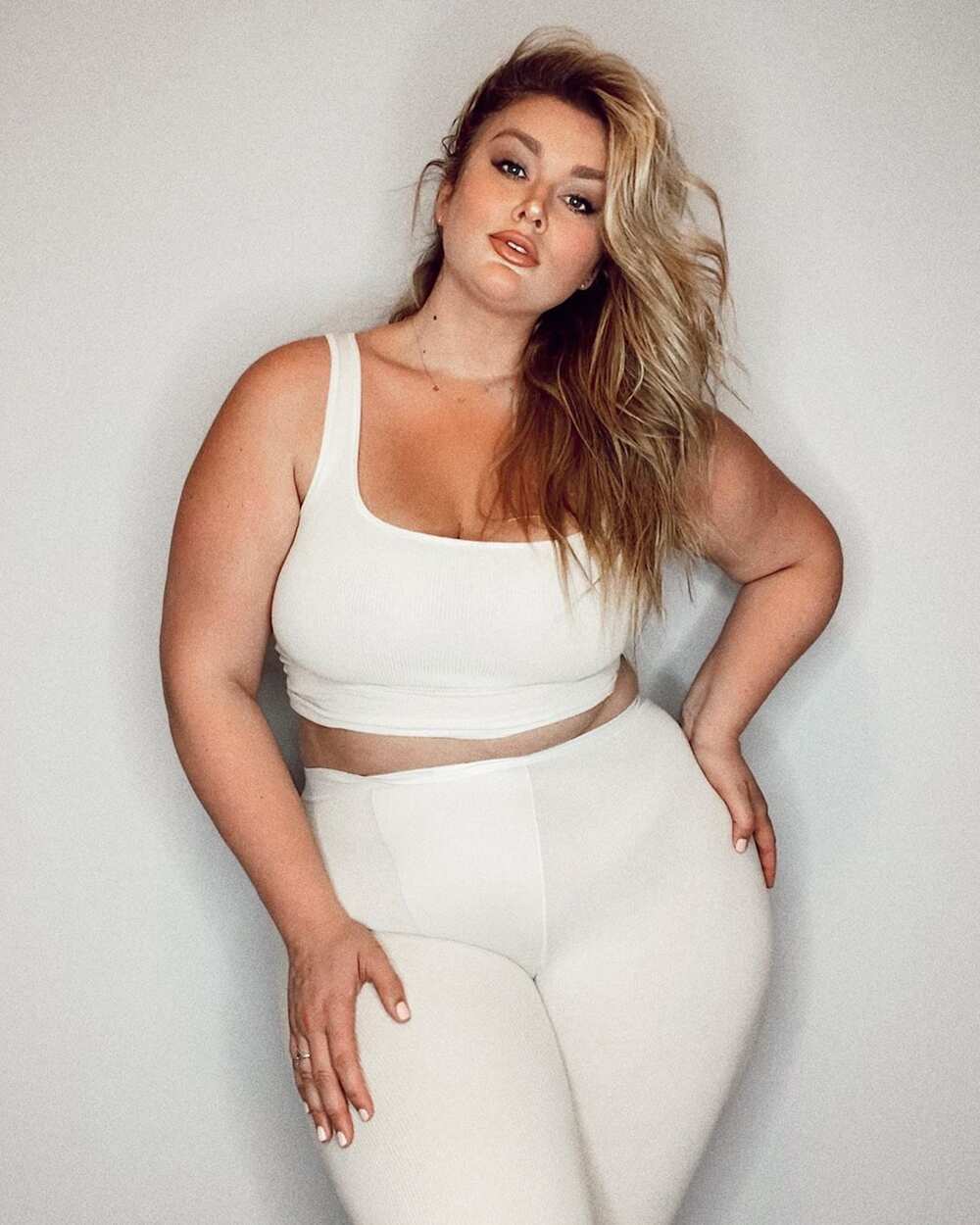 Hunter's mom, Brynja, is a former model and body-positive activist. She is also an actress well known for her roles in Dream Machine (1991), Airwolf (1984) and The Twilight Zone (1985).
Brynja and Michael got married on 15 June 1985. However, they are currently divorced. Michael is now married to Ilka McGrady. Together, they own "McGrady Fine Art".
Sienna was born in California in the United States of America and was raised in Los Angeles. She has two siblings, an elder sister and a younger brother.
Her sister, Michaela McGrady, is a model, YouTuber, and a body-positive activist as well. She got married to Martin Hernandez in the year 2018.
Her brother, Tynan, is a Computer Engineering student at San Francisco State University.
An interesting fact about her family is that her grandmother and aunt were also models.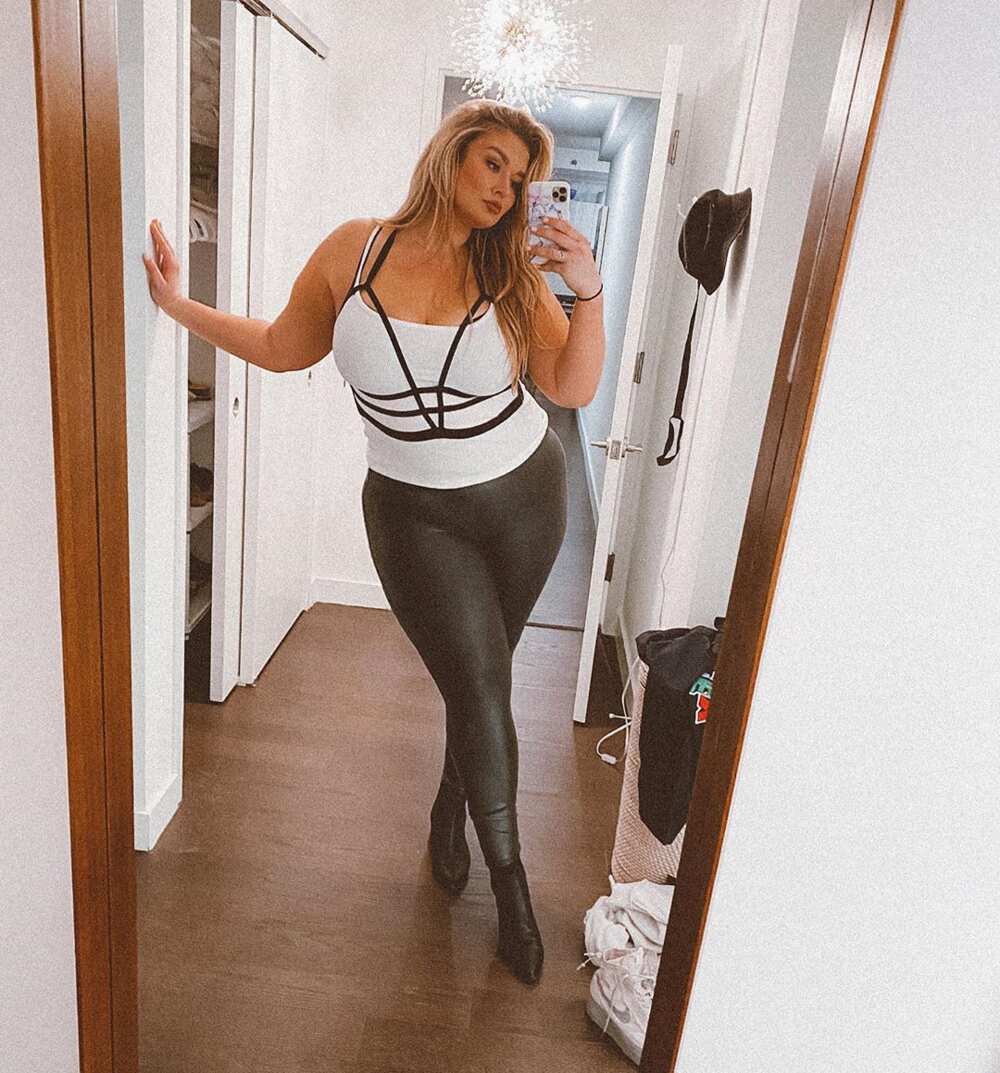 Hunter McGrady measurements
Hunter's curvy body is the envy of many. Here are her body measurements in detail:
Hunter McGrady height and weight: 5 ft 11 inches and 108 kilograms
Body measurements: 45-38-52 inches
Bra size: 46D
Dress size: 22 (US)
Her tall stature, combined with her curves, make her the perfect candidate for any photoshoot.
Career
Hunter began modelling when she was just 16 years old. At the time, she desperately tried to lose weight so she could get modelling jobs.
Hunter once revealed through an Instagram post that:
At age 15 I was told by 4 agencies that I needed to lose 3 inches off of my hips to be a model which would have put me at a size 00. I would desperately work out for hours and eat few calories per day, HOPING I could fit the bill. It wasn't until 18 years old, 3 years of insecurities brought on because I thought I wasn't good enough, that I wouldn't measure up! I realized that my body was not built to be that thin. Today, I'm so thankful I'm able to pursue my dream and still promote a healthy body image. He will fill the desires of your heart! Chains are broken! I see it in so many young girls these days who are striving to have a thigh gap, or for their hip bones to stick out, or to fit a size 0. Not everyone's body structure is made like that. Be the healthiest you, you can be. Be active, use the things God provided for you, focus on HIM and Embrace the body The Lord gave you! HE CREATED YOU IN HIS PERFECT IMAGE! You can't deny his sweet creations!
She eventually managed to lose some weight, but this weight loss still wasn't sufficient as she was turned away because of the wideness of her hips- something that she could not change. At that time, she was already a size 2 and weighed 114 lbs, but she was told that she had to be a size 00 for her to get any modelling gigs.
Being the go-getter that she is, Hunter worked harder and harder to reduce her weight. Soon, she realized that she was not changing.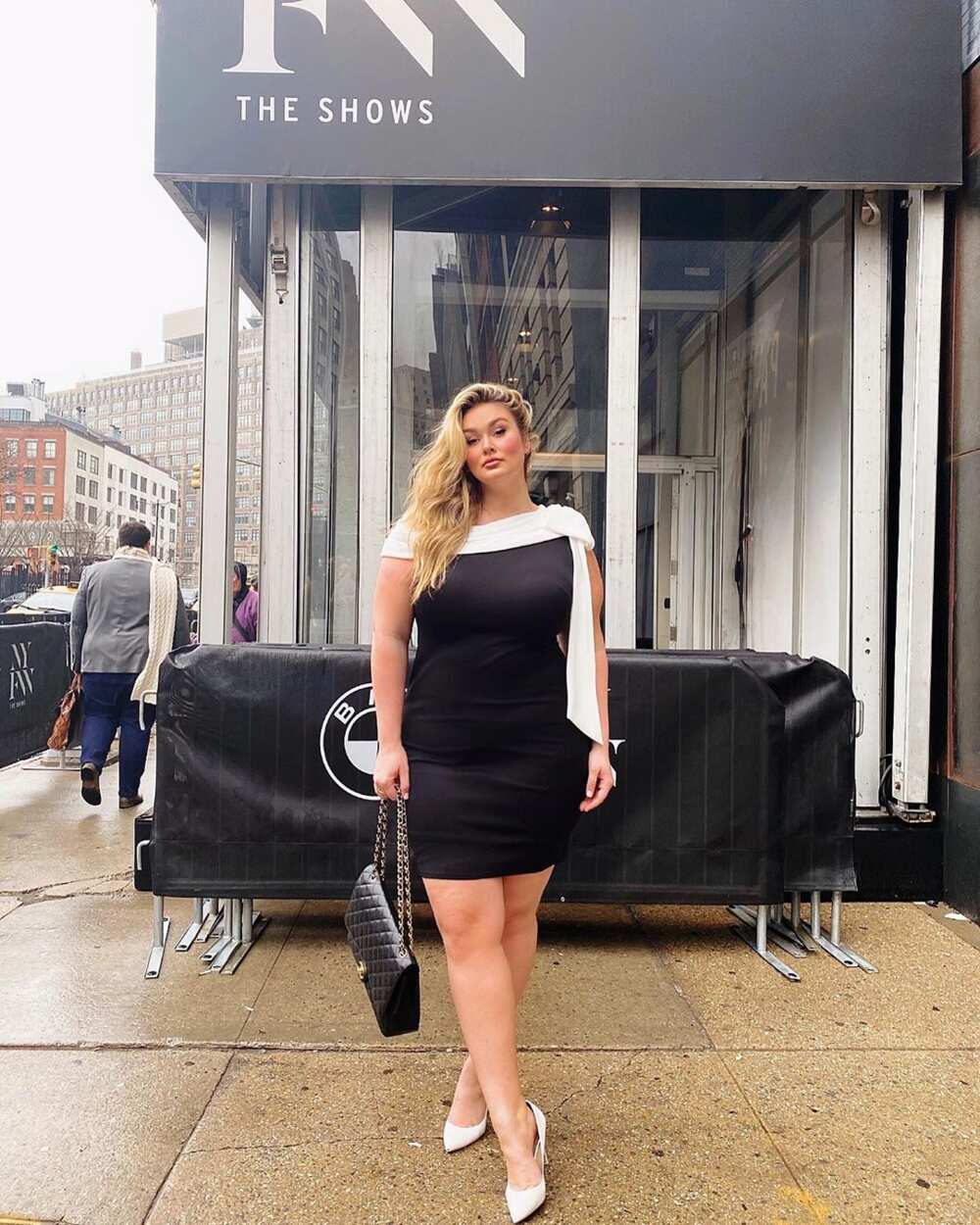 After Hunter turned 18 years old, she consulted a nutritionist and changed her diet and exercise schedule. She then focused on getting her body to a healthier weight, hence the Hunter McGrady weight gain.
It was in the year 2012 that she started posing as a plus-size model. She finally accepted her body and was signed with Wilhelmina Models, who were looking for plus-size models at the time.
When she was signing with Wilhelmina Models, she was only 20 years old.
Throughout her career, Hunter has worked with famous brands such as Lucky Brand, Bare Necessities, Lane Bryant, Torrid, Nordstrom, Forever 21, and many more.
In 2017, she became the curviest model to star in the Sports Illustrated Swimsuit Issue. She featured in the Sports Illustrated Swimsuit Issue in 2017, 2018, and 2019.
Relationship: Who is Hunter McGrady boyfriend?
At the moment, Hunter is a married woman. Her hubby's name is Brian Keys. The Hunter McGrady wedding took place on June 16th 2019 in Moorpark, California.
As reported, the couple met on Snapchat. Interestingly enough, Brian was on a date with a certain lady who convinced him to follow Hunter on social media. They chatted on Snapchat, she checked out his photos on Facebook and agreed to go on a date with him. They met in New York City for their date.
Speaking of their first date, Hunter said:
"I was in New York and he said, 'Hey do you want to get some dinner? I'm so and so'...I said, 'Add me on Facebook.' I didn't know who he was, and I wanted to see what he looks like. So, he added me on Facebook, and our first date was three days.
The two dated for one and a half years before getting married in 2019. Brian Keys proposed to his wife-to-be while they were on a date in Central Park.
They don't have children together, but Brian has a child from a previous relationship. The child is a girl who was born in the year 2011.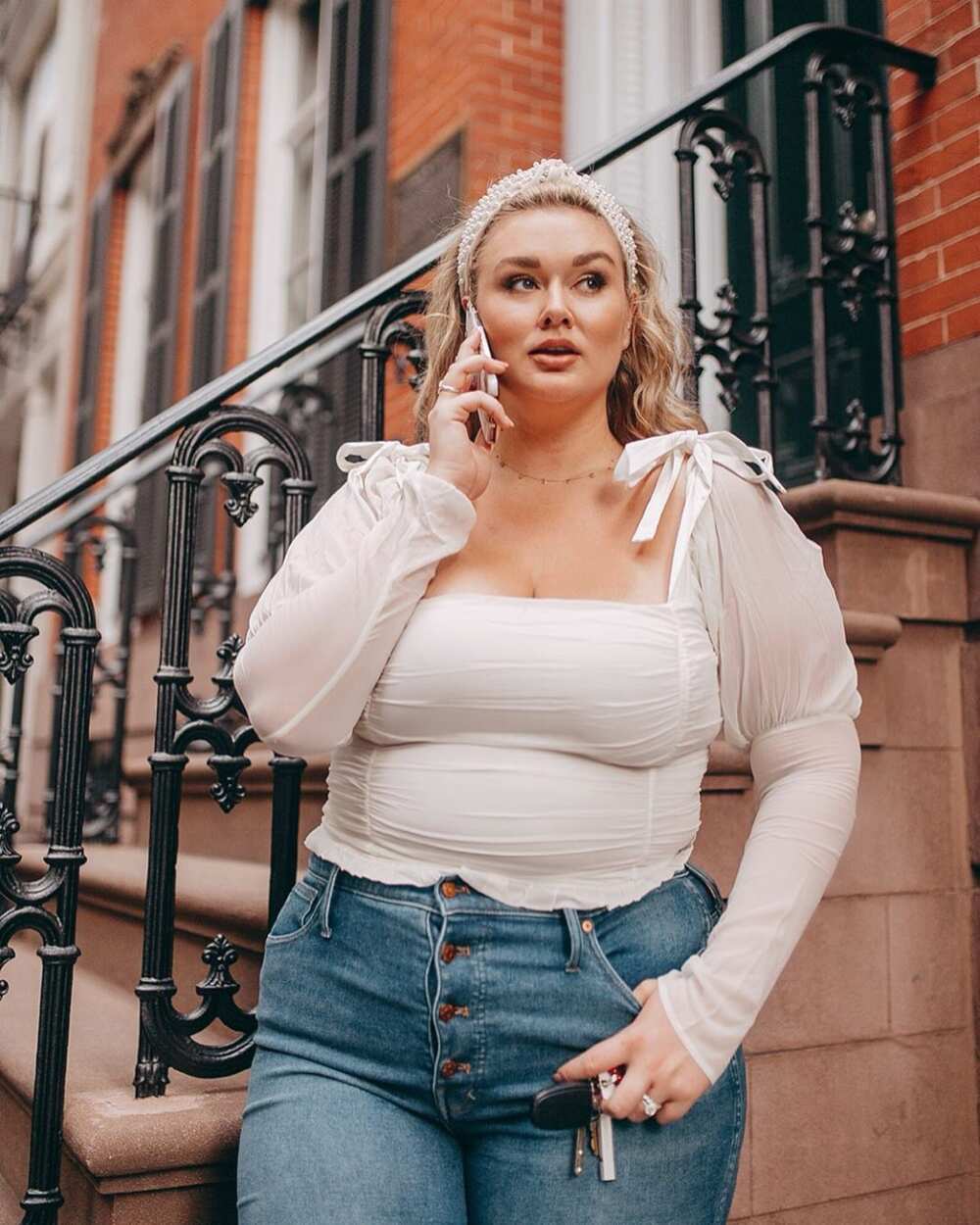 Other fun facts about Hunter McGrady
Her favourite celebrities are Robert Downer Jr. and Jennifer Aniston.
Her favourite colour is black.
Hunter McGrady's hobbies include shopping, travelling, and singing.
Her favourite food is international cuisine.
She featured in Melissa McCarthy's Seven7 campaign.
Hunter suffered depression and anxiety because of her size.
While she was growing up, her role model was Robyn Lawley.
Did you know that Hunter McGrady used to work in a prison ministry? She helped juvenile offenders find a new lease on life. About this experience, Hunter said:
"I'm Christian, and I believe you have a second chance and you have to do right by that. These kids just didn't feel love or heard, and that was the common denominator. The majority of them were latch-key kids. That was really the common ground. It was a really interesting. What's even crazier, most of the kids in there, they want to be in criminal justice. They do want to help the world."
She is the ambassador of the JED Foundation for Suіcide Prevention.
She appeared in an advert for Ross Sweater in 2014.
She collaborated with Playful Promises and launched her own line of budget-friendly swimwear. Speaking about her decision to create the line, she said:
Being a plus-size woman, swimsuit shopping has never been fun or easy for me. As I'd rummage through the racks of swim at retail stores, I'd usually find only a few pieces that are size XL. Still, I'd head to the dressing room to try on pieces that I already know will be disappointing. I'd look in the mirror and the cute little bіkini that I've always wanted — the one that all my girlfriends wear — is barely covering my nіpples, let alone my brеasts. The straps are digging into my shoulders, already leaving red marks, and the bіkini bottom might as well be a tissue with a string attached. Every single time, I leave defeated. This is what it feels like to shop for swimwear when you're plus-size.
The Sports Illustrated Swimsuit Issue awarded her the Rookie of the Year award.
She has a monthly column, Hello Hunter, in Sports Illustrated Swimsuit Issue. She receives questions from her fans on social media and advises them in the column.
She was part of Sports Illustrated Swimsuit Issue's ''In Her Own Words'' project where models express themselves through words written on their bodies.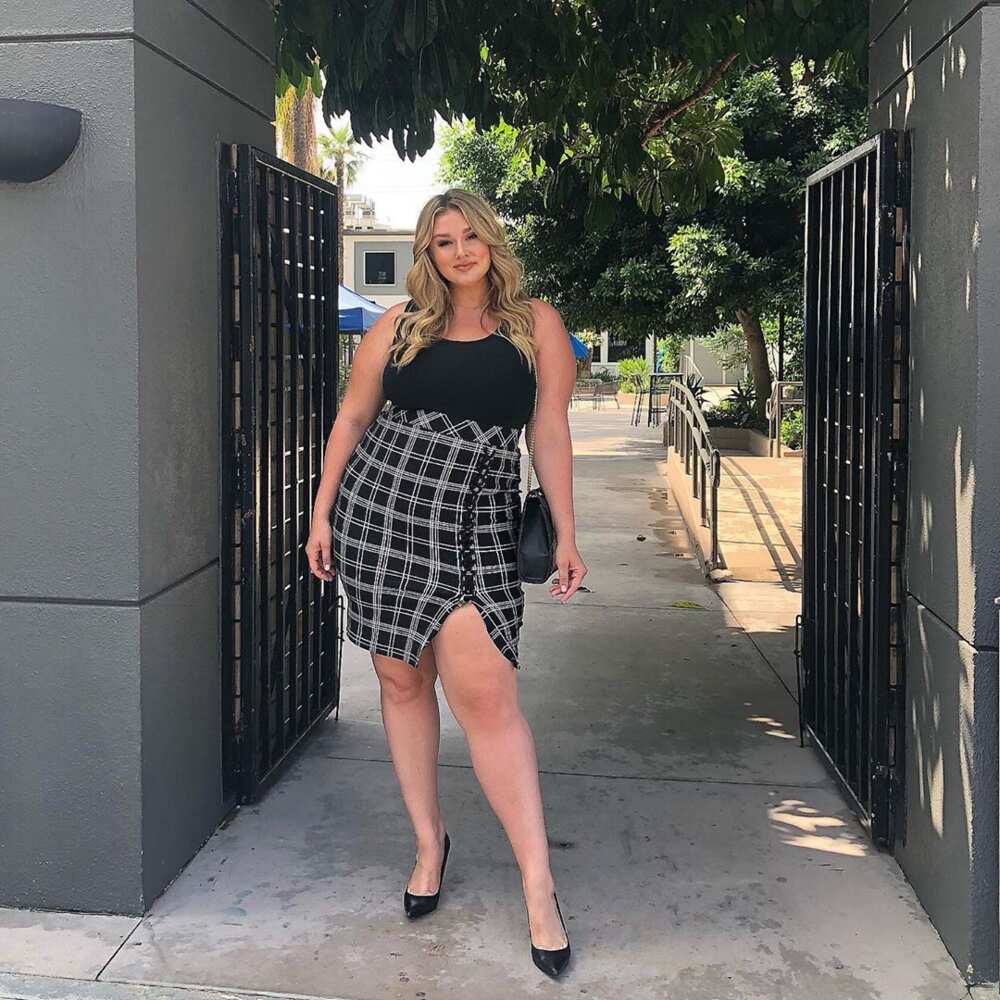 Hunter McGrady quotes
Society is always trying to dictate what a woman's body should look like, and that's especially true when women become brides, We're told we have to lose weight, that our arms have to look a certain way, that we need to change everything about ourselves before we walk down the aisle.
For me, being plus-sized, it was really hard to find any kind of wedding dress that I felt like myself in, I'm not ashamed of my body, and I wanted something that was really tight-fitting and shows off my curves.
I made a vow with myself and my fiancé that I would not get stressed over this wedding—so I called bulls--t on the idea that I should lose weight for my wedding.
One thing I want to remind you guys is that you are never going to make everyone happy. People will always want to change something about you which is so mortifying that anyone thinks they have a say about your body!"
For anyone who has anything negative to say about a woman or man's body of any size--you are about to get extremely riled up because this movement is here to stay. I'll make sure of it. We're in Sports Illustrated ladies!
You are beautiful in your skin. You are beautiful because of your size at every size!
It's so important to not compare yourself. You don't need anybody to look up to you besides yourself.
Beauty is not a size and I'm really happy that the industry is accepting body diversity.
I use my Instagram a lot to promote body diversity because it's a building platform and it's continuing to grow. And just even posting on there unphotoshopped photos, photos of me where my cellulite is showing, where my stretch marks are showing, where I have rolls. And I think women, and girls, and teenagers see that and can relate and feel comfortable in their body to know I'm putting myself out there saying 'I have these things too.'
People lean on media, and that's not a good way to live your life.
Social media
You can check out Hunter McGrady hot photos in her social media pages listed below:
Her Instagram handle is @huntermcgrady. She currently has 627k followers on the platform.
On Twitter, her handle is @HunterMcGrady. She joined Twitter in July 2009 and currently has 18.2k followers on the social media site.
Her Facebook page, @HunterMcGradyModel, has over 966k followers.
Hunter McGrady is definitely a force to reckon with. At just 26 years old, she is breaking barriers for curvy models worldwide, something that is to be appreciated by all who advocate for body inclusivity.
Source: Legit.ng