www.esut.edu.ng | ESUT portal login
In an increasingly digital world, organizations typically maintain websites. On its website, Enugu State University of Science and Technology (ESUT) has its ESUT portal login page. This portal provides useful information to students.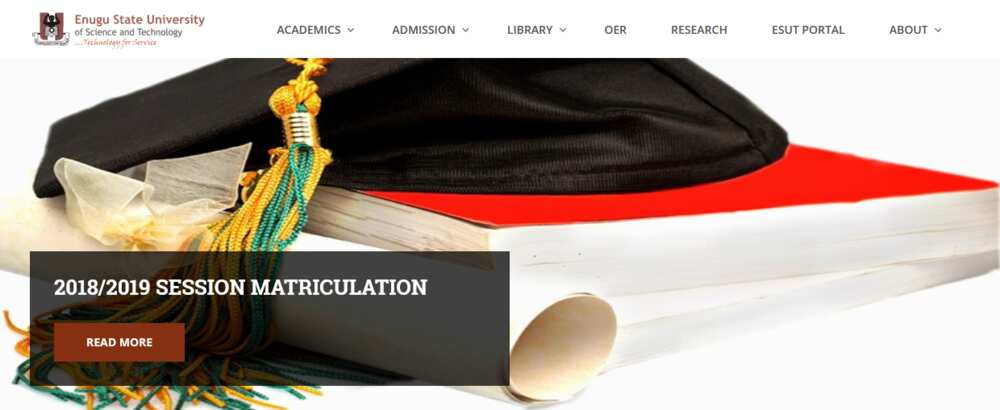 Established in 1980, Enugu State University was the first state and the first technology university in Nigeria. It has various programs to qualified candidates and two campuses at Agbani and Enugu, in Enugu State, Nigeria. Its motto is "technology for service."
What faculties are available at ESUT?
Faculty of Applied Natural Science
Faculty of Applied Sciences
Faculty of Education
Faculty of Law
Faculty of Social Sciences
Faculty of Agriculture and Natural Resources Management
Faculty of Environmental Science
Faculty of Basic Medical Sciences
Faculty of Clinical Medicine
Faculty of Pharmacеutical Sciences
Faculty of Engineering
Faculty of Management Sciences
ESUT offers both postgraduate and undergraduate level programs to students
What is the ESUT Portal?
The abbreviation ESUT refers to Enugu State University of Science and Technology. As an online resource, ESUT portal offers prospective students the chance to create a profile for accessing educational resources and other services. However, before doing so, users must create an account. One does that by visiting their site and clicking on the portal link at the top right corner of the homepage. Doing so redirects one to ESUT portal login page where you need a user name and password to access the system.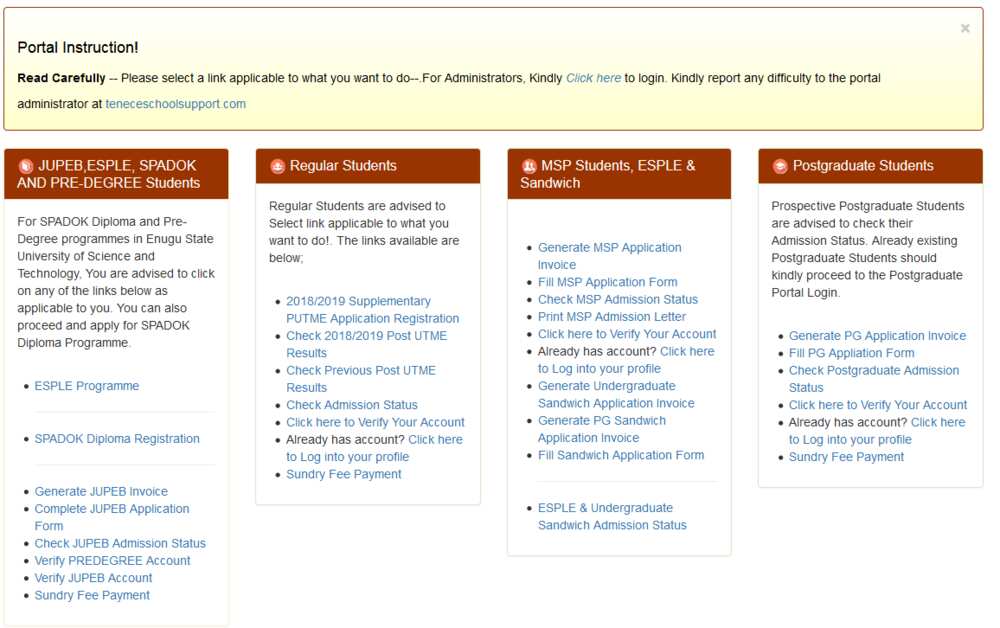 The institute's motto is Technology for Service. Over the years, students, administrators, and faculty members have used the portal to process transactions related to their professional development. As such, it has various sections that let people cater to all their needs.
Registering on ESUT portal
Upon browsing to the site, one lands on its login page which has four main sections including:
The ESPLE, JUPEB, APDOK and Pre-Degree Programmes
Regular students' section
MSP, Students, ESPLE and Sandwich
Postgraduate Students
Amazingly, the website makes it clear for visitors what the portal is all about. In this way, the ESUT portal connects visitors to its purpose immediately. Each section contains links too various services or programs offered by the institution.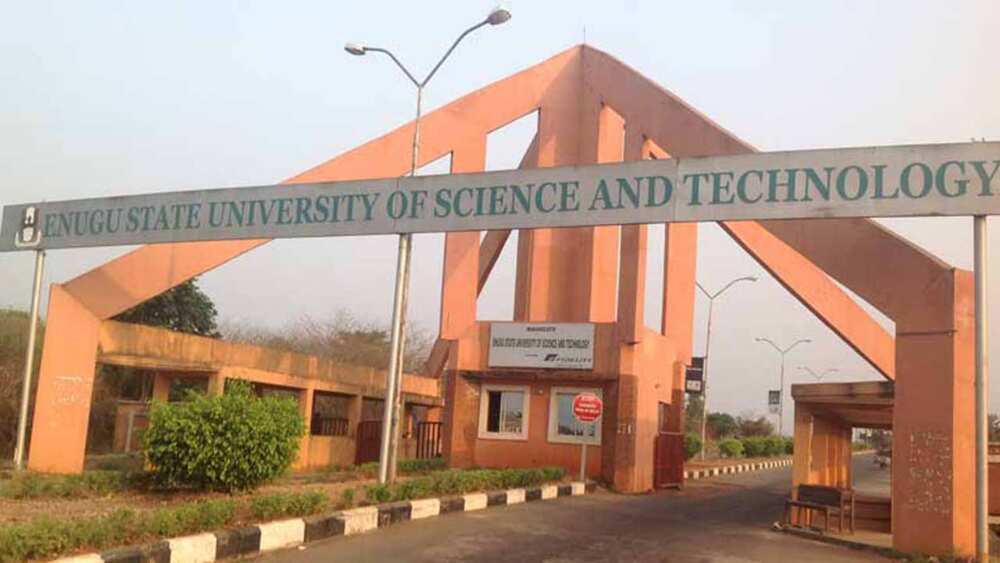 Registering for ESUT educational programs involves login at the online portal using the link on the upper right-hand corner
After that, navigate to Regular students, input your login details and click on the submit button. Now you need to click on the course registration tab. Next, select the registers courses to link on the provided menu, then select session and semester. Finally, select a program, verify, click submit when you are done entering the required details. However, be sure to print the course forms for further processing by your department.
READ ALSO: www.uniabuja.edu.ng | UniAbuja portal login
Checking admission status on ESUT portal
To find out more about your ESUT admission status, first, log in to portal.edu.esut.edu, then follow then click on Modules, Admissions, then Check Status. Input your registration number and click on the Submit button. After doing so, a pop up appears with details about your university admission status.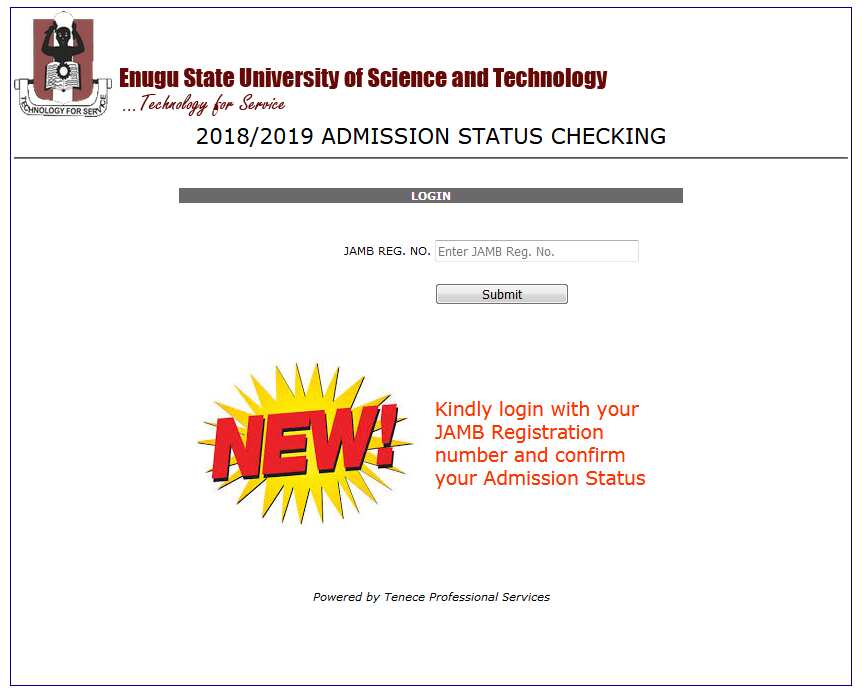 Upon establishing you have an admission to ESUT, here is what you need to do next:
Find out about the acceptance fee and pay it the corresponding sum.
Check out programs fees and prepare for payment. Programs payments occur only after paying the acceptance fee.
Prepare necessary documentation in readiness for registration and clearance.
Read instructions rules and regulations as well as the Code of Conduct and avoid violating any of its terms.
Check your UTME results on ESUT portal?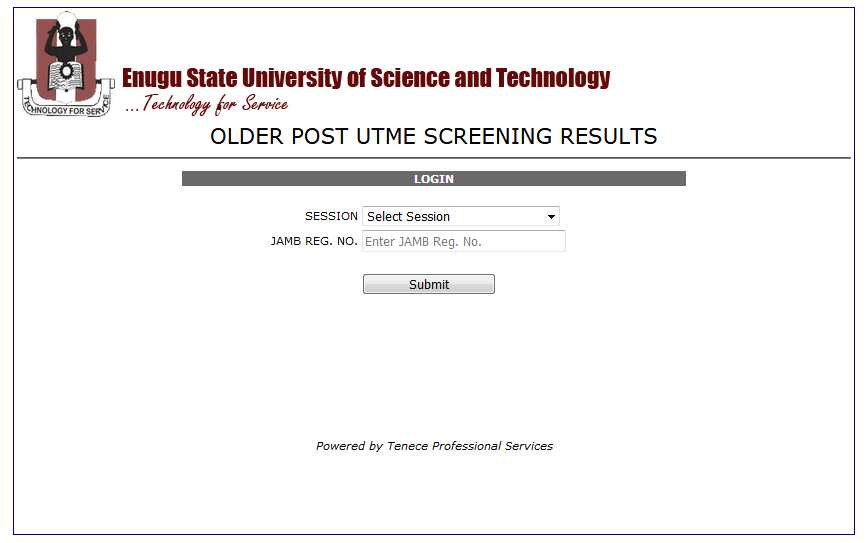 ESUT posts screening results online, which one can view on its UTME results portal. However, you need to enter your JAMB registration number using this link. Then, click Submit to generate an N2,000 invoice (the result checker processing fee). You pay this fee online or at appointed banks. Next, navigate back to the above URL to view your UTME score.
Retrieve academic results on ESUT portal
Each semester you will need to check out your academic results once released and uploaded to the site. Follow these steps to do so:
Click on Portal on the upper right-hand corner
Input your login data and press login
Now browse over to the Results tab
Select the session and semester link to view your results accordingly
Registering for your post-UTME screening form
Each year, Enugu State University holds a matriculation exercise for screening new students. Typically, the university announces that screening date in due good time. Here is the process for registering for the screening using features found on the ESUT portal.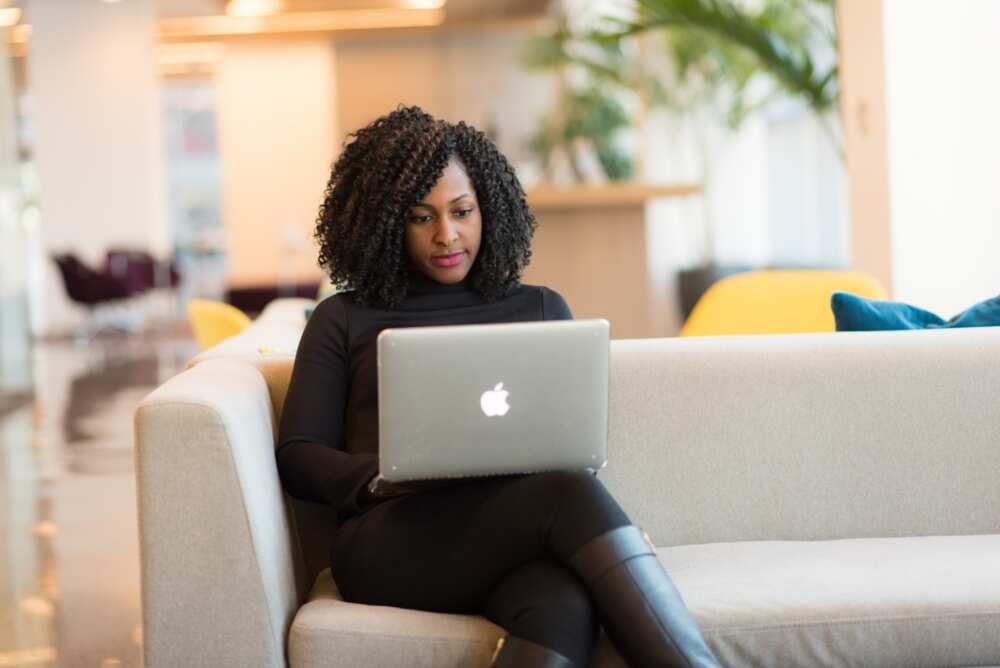 To begin with, visit this portal, select the Regular Students page and click on the 2018/2019 Academic Screening Registration link. A page opens up where you input your JAMB registration number and click on the Submit button to proceed. Provide the required details on the page that follows. Next, use the invoice page to fil in your payment details. Note, you can choose to pay via Interswitch or Enugu State IGR paydirect. These include:
A payment reference number
JAMB registration number
Admission relevant details
And finally submitting your application
After that, you need to verify the correctness of your details, print the form and present it together with your O'Level certificate a, UTME results slip, and extra registration documents (passport size photo, entry qualification, and certificates). However, you need to exercise caution while registering on this portal, as some fake sites have been reported.
So, ensure that you are using the correct Enugu State University website. Also, remember that the university only recognizes applicants who appear on the matriculation list. If your name is missing from this list, then your application will fail.
After completing your registration at the ESUT portal, ensure that you always log out; doing so will prevent anyone from tampering with your registration data.
READ ALSO: myunical.edu.ng | UNICAL portal login and admission checker
Source: Legit.ng