2023: Fresh Crisis Looms as APC Governors Differ Over Tinubu's Presidential Ambition
The governors under the platform of the All progressives Congress are not in agreement regarding Tinubu's presidential ambition
In a recent development, an elder statesman disclosed that the APC national leader has expressed readiness to run for president come 2023
An APC chieftain, hinted recently that fresh crisis rocks the party following the issue of presidential flagbearer
Abuja- The intra-party crisis rocking the ruling All Progressives Congress (APC) deepens over the ambition of Asiwaju Bola Tinubu, to suc­ceed President Muhammadu Buhari as Nigeria's next leader.
Recently, the governors under the platform of the APC are in disagreement over Tinubu's presidential ambition come 2023.
Although Tinubu is yet to for­mally declare his interest in the pres­idential race, but he has been making consultations and visiting prominent Nigerians to notify them and seek their support.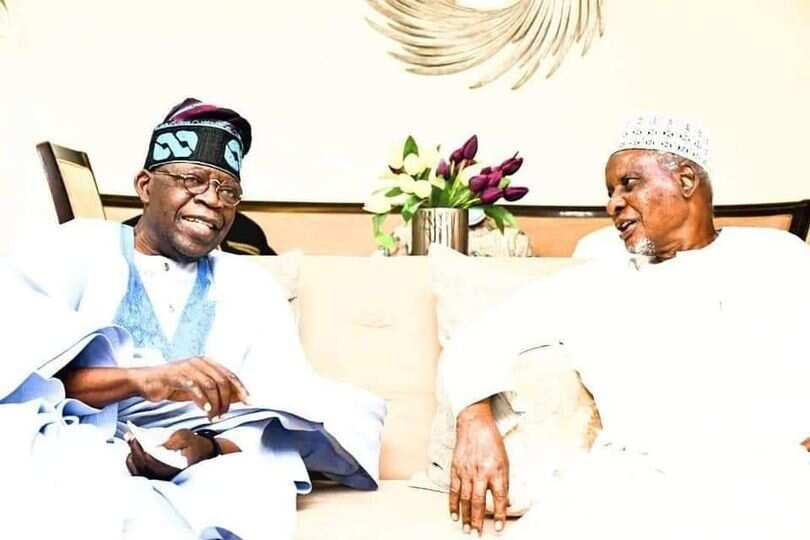 Elder statesman, Alhaji Tan­ko Yakassai, who Tinubu recently visited in Abuja, disclosed that the APC national leader informed him of his presiden­tial ambition and asked for his support.
Senator Rufai Hanga's revelation
In an interview with Daily Independent in Abuja, Senator Rufai Hanga, pioneer national chairman of the de­funct Congress for Progressive Change (CPC) and APC chief­tain, who recently dumped the ruling party, said there is a split among the APC governors concerning the issue of the presidential flagbearer of the party.
According to him, while some governors in the party have settled for one of them as a presidential candidate with a serving minister in President Buhari's administration as run­ning mate, other governors are rooting for Tinubu, saying they should rally round him for all he has done for the party.
He said:
"We have about three to four factions and it is next to impossibility to bring them together. There are governors in the party who have carved their own niche somewhere and are not ready to go with other governors.
"There are other governors who are not willing to hear all that. These governors are all out for Asiwaju Tinubu. These ones are saying that it is unfortunate Asiwaju badly despite all he has done for the party. They are tell­ing their colleague governors not to bite the finger that fed them. So, there is division among the APC governors right now on the issue of 2023."
APC crisis
Hanga, who said the APC is technically non-existent, added that there is no way the party will survive an implosion espe­cially with the crisis in almost 13 states owing to the fall-out of the congresses.
He added thus:
"To me, APC is a goner. That is why I have decided to call it quit. They keep on shifting their national convention from now till February. By June or July, you should have all gotten your can­didates nominated but the APC wants to do national convention in February."
The main boss: Video, photo emerge as APC's Tinubu, bow, salute influential Northerner
Meanwhile, Legit.ng had earlier reported that a video of how Asiwaju Ahmed Bola Ahmed Tinubu and other persons greeted with immense respect the famous Kano business tycoon, Alhaji Aminu Dantata, when they visited him in his residence.
The All Progressives Congress (APC)'s national leader was seen on Friday, November 19, bowing as he saluted Dantata.
Out of honour and sheer respect, other persons in the room (mostly northerners) refused to take Dantata's offer of handshake but like Tinubu, bowed their heads, holding both hands instead.
Source: Legit.ng