The Main Boss: Video, Photo Emerge as APC's Tinubu, Bow, Salute Influential Northerner
Bola Ahmed Tinubu knows what grey hair and seniority means in life, especially in the African tradition
The APC national leader did not hesitate to bow when greeting the Kano business mogul, Alhaji Aminu Dantata
Tinubu and other northerners paid Dantata a courtesy visit on Friday, November 19, following the death of Sani Dangote
Kano - A video of how Asiwaju Ahmed Bola Ahmed Tinubu and other persons greeted with immense respect the famous Kano business tycoon, Alhaji Aminu Dantata, when they visited him in his residence.
The All Progressives Congress (APC)'s national leader was seen on Friday, November 19, bowing as he saluted Dantata.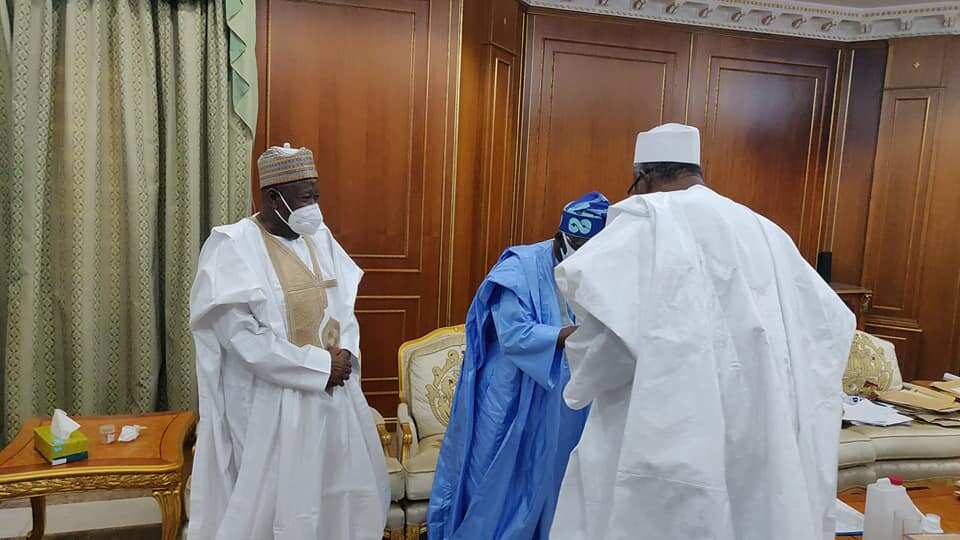 Out of honour and sheer respect, other persons in the room (mostly northerners) refused to take Dantata's offer of handshake but like Tinubu, bowed their heads, holding both hands instead.
The same gesture of honour was also displayed by the governor of Kano, Abdullahi Umar Ganduje.
The publisher of Ovation magazine who is now a member of the Peoples Democratic Party (PDP), Dele Momodu, described the moment thus:
"This is how you will know the main boss. He walked in and even Governors stood up. Tinubu sef bow. THAT'S DANTATA.*
"Chai! You can feel the power this man has here. He offered handshake, but they couldn't even stretch hands back out of respect for the Don.
"The respect too high. POWER, that thing called POWER. The whole room got on their feet. WHEN YOU ARE BIG, YOU ARE BIG ABEG!!! There's levels to this thing..."
Daily Trust shared a video of the visit:
Late Sani Dangote: Tinubu speaks, points out 'The Impossibility of Life"
Meanwhile, as tributes continued to pour in for the vice president of the Dangote group, Sani Dangote, Tinubu had joined in the numerous eulogy.
Tinubu while visiting Aminu Alhassan Dantata, the patriarch of the Dantata and Dangote families said if Sani's survival had been dependant on money, friends, relatives and associates would have rallied around to ensure he did not have to die.
Tinubu described the death of Sani who is also, Aminu's nephew and a younger brother to Aliko Dangote, one of Africa's richest businessmen, as a demonstration of the will of Allah.
Accompanied to Alhaji Aminu's residence by Abdullahi Ganduje, the Kano state governor, Tinubu said no one human has the power to change Allah's will for man.
Tinubu said:
"It (death) has shown the demonstrations of Allah's will. It is not money. If money can buy life, there is no worth that we will not pay."
Source: Legit.ng