No Father: Nigerian Mum Abandons 2 Kids, Flees House, Sad Video Shows Her Boys All Alone
A video of two kids who their mother abandoned has sparked mixed reactions on social media
The children, aged seven and three, lived by themselves for days after their mum left them under the guise that she was travelling
Neighbours who spoke on the incident said the kids go for days without bathing and rely on people for food, with one of them falling ill
Two little boys have attracted public sympathy after their mum abandoned them and fled the small room where they live.
Popular content creator Lucky Udu visited the kids in Ogun state and created awareness about their situation.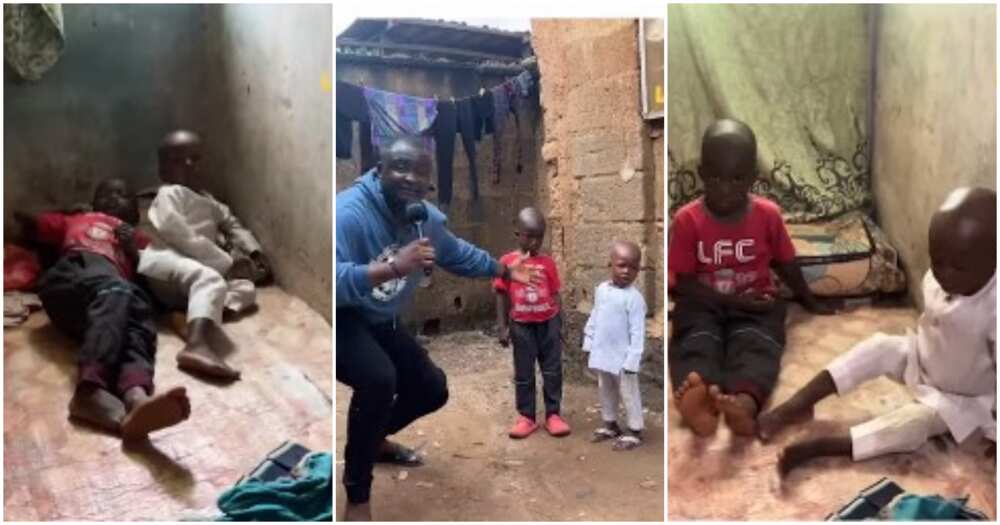 Lucky gathered from neighbours that the kids' mum, whose name is unknown, would be in her early 20s and left them three months ago.
The neighbours spoke about how the woman showed little or no care to the kids when she was present. They said they cared for the kids for days after they could not find their mum.
Abandoned kids have different fathers
According to one of the neighbours, the kids seemed to have different fathers, but nothing was said about the whereabouts of their dads.
Fortunately for the kids, Lucky got them to an orphanage, and they were enrolled in school.
However, help is still needed to sustain the children aged seven and three.
Netizens react to Lucky Udu's video of the abandoned kids
X3mly Unique Ann said:
"Omo things dey happen oh. When I think of my situation I keep thanking God, because a lot of persons will see my situation as luxury."
Just Cynthia said:
"People are paying heavily just to make sure they have at least a child, but this one abandoned her own that she didn't stress to get.
"This life no balance o."
Edith Id said:
"Believe the police at your peril, they are never truthful. ‍♀️
"Thank you Mr Udu for the humanitarian services you render. God bless you."
Jo-Margaret Ugochi said:
"What's the father of these children doing? Who is their father?
"I think the Mother of these children may not be safe where she is....if she was abandoning these children, she would left them with their father. So ...where is their father???"
Ebi Slim King said:
"Lucky Udu I strongly believe that you will be a leader, when I mean a leader I mean Governor, senator, counselor And president. So I want you to work on it, now. I pray may you see this comment and work according to spirit."
Five kids found living in uncompleted building
Meanwhile, Legit.ng reported that a Nigerian lady had found five kids living in an uncompleted building.
The kind lady stated that she found the kids when she saw the youngest one shivering on the bare floor in the cold. She said they survived on garri all day.
In another video, she escorted them to an uncompleted building where they had been sleeping. She gathered foodstuffs and gave them. A third clip of them she shared showed the kids looking better from the care she gave them.
Source: Legit.ng