"Okirika is Called Primark": Naija Lady Shares 12 Surprising Cultural Differences Between UK & Naija in Video
In an eye-opening video, a Nigerian lady has enumerated and shared the 12 culture shocks she encountered after moving to the United Kingdom
In the viral clip, the beautiful lady started by dancing before diving into her cultural revelations, with each cultural difference displayed on the screen
Many disagreed with some of the cultural variations listed, while others admired her stunning dreadlocks, showering her with compliments
In revealing how life differs from the one witnessed in Nigeria, a Nigerian lady shared her experiences upon relocating to the United Kingdom.
She compiled 12 culture shocks she encountered and recorded a captivating video shared on TikTok.
The video by @officialpassmark commenced with the energetic lady in dreadlocks dancing as she boldly displayed each cultural difference on-screen.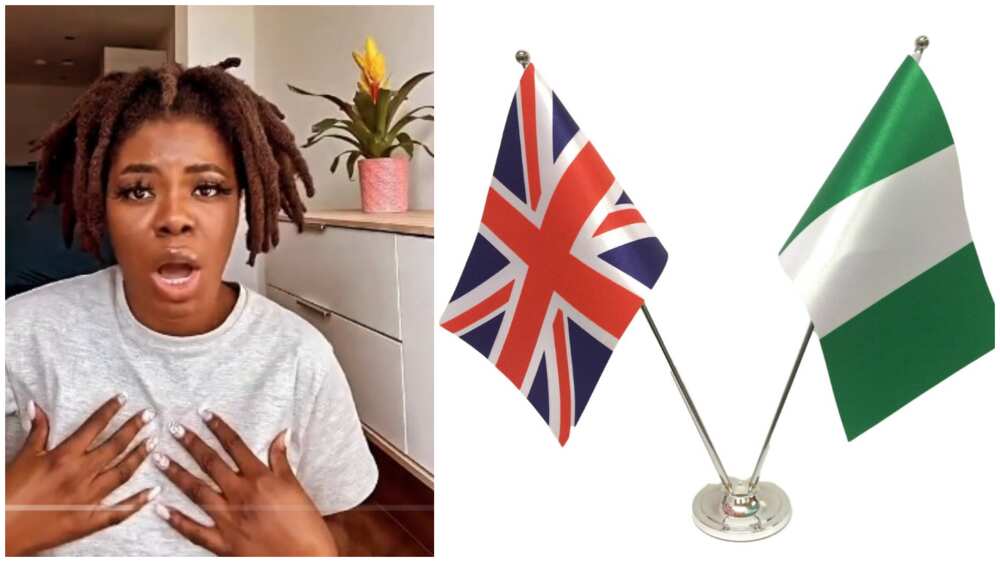 One cultural difference that she said greatly astounded her was drinking tap water in the UK.
Another intriguing experience she encountered was the endearing habit of strangers referring to her as "love" or "darling."
The absence of air conditioning or fans in homes was also included.
Yet another cultural distinction that surprised her was the custom of saying "thank you" to the bus driver upon disembarking.
A TikTok user humorously added that being randomly called "mate" by strangers should be included in the comment section.
The list includes:
1. They drink tap water here.
2. Nobody uses their car horns.
3. No air conditioner or ceiling fans here.
4. Get ready to be called "love" or "darling" by strangers.
5. Saying thanks to the bus driver is compulsory
6. Brits are very reserved no amebo / konkosa
7. You can kiss in public
8. Young people don't go to church
9 So many cuisines and languages
10 Drinking beers in pubs is the British culture
11. Loads of student discount
12. Primark is Okirika for rich folks here
Netizens took to the comment section to express their thoughts on the cultural shocks shared by the Nigerian lady.
However, some disagreed with certain aspects, particularly the concept of drinking tap water, which they suggested was a false claim.
Social Media Reactions:
@uche_isamah said:
"Nice dreadlocks, extensions, or natural?"
@manigold11 said:
"Not everyone drinks tap water, and we use car horns here in the UK."
@king.charles_3 said:
"Make you go barb that yeye dreads abeg. Looks tacky and dirty."
@aberdeenphotographer said:
"Lot of things are wrong in what you posted."
@feraro77 said:
"To be called mate...how are u, mate."
Watch the video:
Nigerian lady earning N586K monthly cries out in the UK
Meanwhile, Legit. ng reported how a Nigerian lady who moved to the UK cried out after earning N586,000 and spending N400,000 on house rent.
In a viral video, the young woman advised netizens against travelling to the UK to study for a master's degree.
The student revealed that she earns roughly N586,000 monthly after working several hours daily.
However, according to her, paying bills and taxes takes all her money as she has to pay a whopping N445k on rent.
Source: Legit.ng