"She's Good But Please Safety First": Nigerians Call for Use of Helmet as Little Girl Shines on Rollerblades
In a captivating TikTok post, a little girl in Nigeria became the centre of attention as she fearlessly glided on rollerblades through the streets
Displaying an impressive level of confidence and skill, she effortlessly manoeuvred her way, leaving onlookers in awe
The video quickly gained attention, with people showering her with admiration and praise for her talent and bravery
In a heartwarming TikTok post, a little girl in Nigeria captured the admiration of viewers as she fearlessly rode on rollerblades through a street.
The video showcased her confident strides and smooth movements, drawing praise from the online community.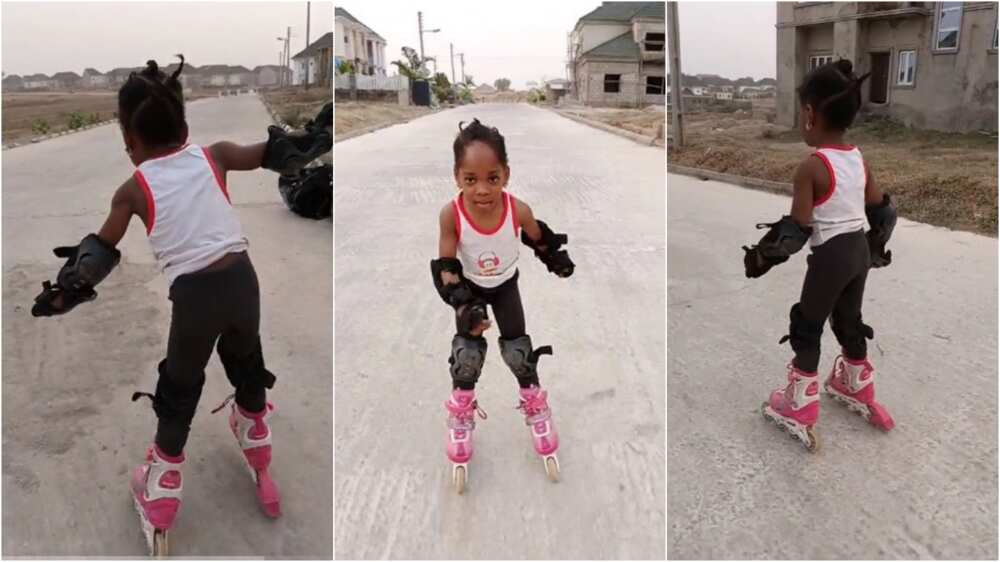 Spectators were amazed by her agility and skill, applauding her for her remarkable boldness at such a young age.
However, amidst the applause, the girl's safety concerns were raised.
Many viewers expressed the need for caution, emphasising the importance of complete protection, mainly using a helmet.
They urged the girl's guardians to prioritise her safety and ensure she wore a helmet while engaging in such activities.
The comments served as a reminder that while her skills were impressive, safeguarding her well-being should remain a top priority.
Social media reactions
@kingcrown8585 exclaimed:
"Waooo lovely bae, may Almighty God continue to protect you in all your ways; good job."
@user2357112815036 said:
"If this girl grows up with this skate of a thing (abi no be skate stuff? wo anyhow), she go turn be legend oo..me self no fit try am at this age."
@mayaki377 noted:
"Please use complete protection for her helmet love you guys ."
@ask4gok said:
"Gadget that is the most important was left behind, which is the d helmet. Please get it 4 her nitori Olorun."
@adedipeolusegun said:
"She's good but please safety first even the world's best still uses helmets ⛑️accident happens."
@ayoola_27 commented:
"Good job dear. "
Watch Video:
Little girl smartly drags mum over yelling habit, funny video trends
In another interesting story, Legit.ng shared an adorable and amusing video of a little girl who has become an unexpected communication guru, delivering an endearing lesson to her mother.
The adorable exchange, which took place in their native Yoruba language, showcased her remarkable wisdom and maturity as she advised her mother about a habit.
Many have commended the girl's mature perspective and marvelled at her ability to convey such profound advice at such a young age.
Source: Legit.ng