"No Longer Interested": Nigerian Lady Seeks Divorce Few Years After Wedding, Wants Husband's Cars and House
A Nigerian man is at loggerheads with his wife and is set to sue her for forgery after the stunt she pulled on him
A few years after their wedding, the lady said she was no longer interested in the marriage and took her husband to court, laying claims to his properties
She removed all the original property documents from their safe at home without her husband's knowledge and replaced his name with hers
A Nigerian woman may be in for serious trouble after her husband discovered her plans to take over his properties and quashed them.
A lawyer, Oloye T.D. Esq., who shared the story on Twitter, said the man returned from the United Kingdom after divorcing his wife and remarried a Nigerian lady.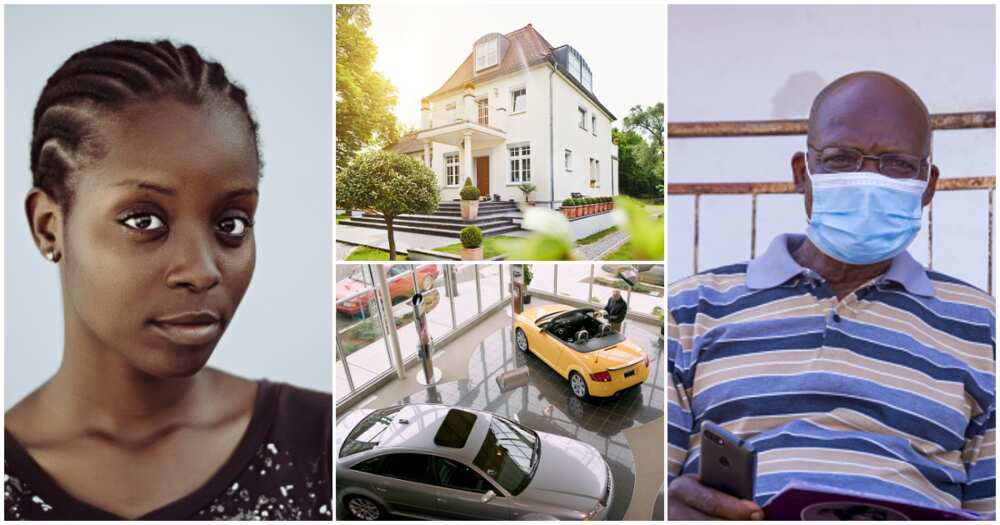 A few years after their marriage, the Nigerian lady said she had lost interest and filed for a divorce while claiming she owned his properties, which included exotic cars and a house.
Oloye said the woman accessed the safe where her husband kept the original documents and secretly forged them.
In court, she said she owned the properties as she had already put the ownership of the house in her name.
Luckily for the man, his lawyer presented private copies of the original documents, and based on that, the court quashed the woman's claims.
The man is now considering suing his wife for forgery after finalising their divorce.
See the tweet below:
Reactions on social media
@GaniyuHakeem7 said:
"Correct. He should sue her for theft also. She should be sued for any charges available on this earth."
@0mokafe said:
"Lol, Nigerian ladies don dey hustle properties too after divorce?? Wahala!! for this 9ja?? olopa ma ko everybody las las."
@addel_cares said:
"The funniest part of those story is that if that man decides to Sue her for Forgery , the whole villagers would gather to beg him and remind him of how she is only a woman and please leave it for God."
@cellsofwisdom said:
"And if she can't afford the fines (perhaps that's the penalty- i don't know), she can go to jail. She must face full consequences."
@Farouk_Mokwa said:
"In all you do, take 21 hrs of every day to fear women, the remaining 3 hrs should be used to study those who don't fear women so that you can fear them."
Man abandons wife and kids to start life afresh
Meanwhile, Legit.ng previously reported that a man had abandoned his wife and kids to start life afresh.
Mr Alex disclosed that on 31st December 2021, he left his wife of eight years, two kids, three bedroom flat, his car and everything else to start afresh, citing that he did it for his peace of mind.
The wife, named @ diana0133303992, replied to her husband's comment, revealing that her husband left her without a word for over a year. He had not checked up on the kids even once, despite their daughter having autism.
Source: Legit.ng