Cute Photo as Nigerian Lady Storms Her Husband's Office and Surprises Him with 50 Litres of Petrol
A doting Nigerian woman showed up at her husband's office and blessed his day with 50 litres of petrol
The excited husband took to social media to sing his wife's praises as he expressed gratitude to her for the gift of love
The couple who has been together for 28 years melted hearts on social media with their love story
The CEO of Rivers State Tourism Development Agency (RSTDA), Yibo Koko, has celebrated his wife on social media for surprising him with 50 litres of petrol.
Sharing a picture of her on LinkedIn, Yibo said she came by his office to give him the gift of love and hailed her for the gesture which is coming at a time there are long queues at filling stations for petrol.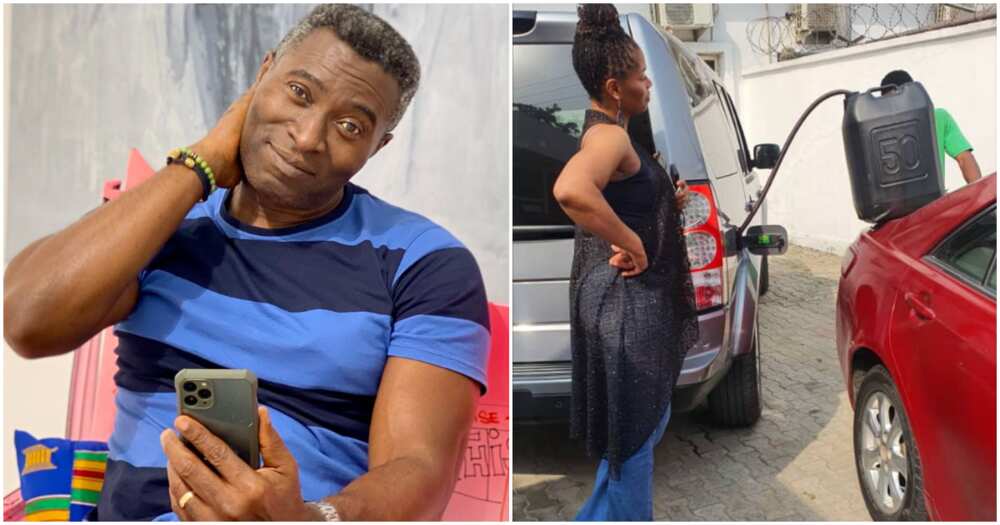 Yibo said that when he wanted to hug his wife in appreciation of the gif, she told him to monetise the hug.
He revealed that they have been together for 28 years - four years of dating and 24 years of marriage.
The overjoyed man revealed that he not only monetised the hug but vowed to buy her a petrol station as a gift on their 24th wedding anniversary.
Social media reactions
Dr. Dennis Edogun said:
"Honestly, a monetized hug is better than just a hug ! Seriously, it is a shame that a nation so blessed with oil and gas can't meet the needs of its citizen with the refined products. Our leaders should cover their faces in shame that over 60 years after independence, we still live in darkness and can't refine enough gasoline (gas) for our citizen. I've lived in Canada for some years now and have never seen a queue to buy gas!"
Dakuku Peterside said:
"Wise woman and smart husband . I have a solar farm I can donate to you for free to give to madam. My old snake farm , now converted to a solar farm. She will really really like it as a birthday gift . From same farm , I will give you additional 60 tubers of yarn for her people . Call me now and pick the two items up."
Ada Mecha Kalu said:
"It's called keeping it real‼️ she ain't fake while dying in silence ☺️ kudos to wifey , Haba 28years ain't joke oooh....infact another bride price has to be paid.
"But kudos to you too she is looking dap‼️"
MERCY FRIDAY said:
"Dear future hubby kindly locate me. I will bring the petrol station to your office oooo...."
Woman takes food to her husband in long fuel queue
Meanwhile, Legit.ng previously reported that a doting wife had taken food to her husband in a long fuel queue.
In a clip, she learnt via a video call they made that he was in a long fuel queue. What followed their video call was her preparing him a meal.
After preparing the meal, she packaged it and stopped by a market to get some edible accompaniments for the food.
She then took a public ride and tried to locate where he was stuck at. Upon seeing him, she gave him the meal.
Source: Legit.ng