Best 10 wedding anniversary prayers of faithful spouses
For most married people who believe in a supreme being, wedding anniversary prayers are an essential part of their anniversary celebrations. These prayers are often offered in thanksgiving to God for sustaining the couple through the marriage. They can also have some requests that the couple might want to forward to God regarding their marriage.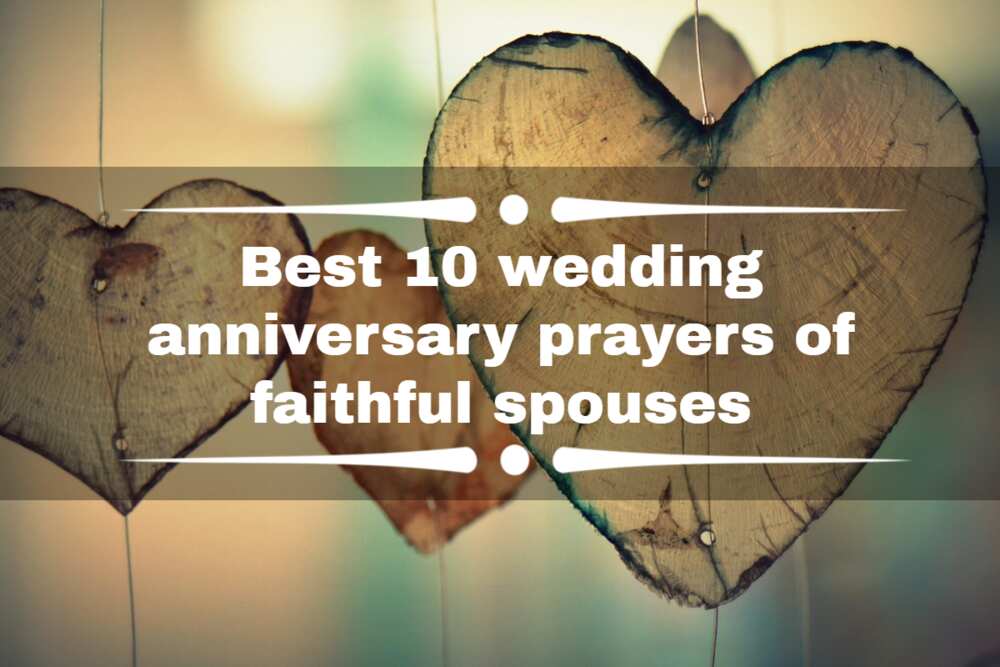 What is a nice anniversary prayer, and what does it contain? Here is a look at 10 amazing prayers for people celebrating their wedding anniversaries.
10 best wedding anniversary prayers
Here is a look at some nice prayers you can make on your wedding anniversary.
50th wedding anniversary prayers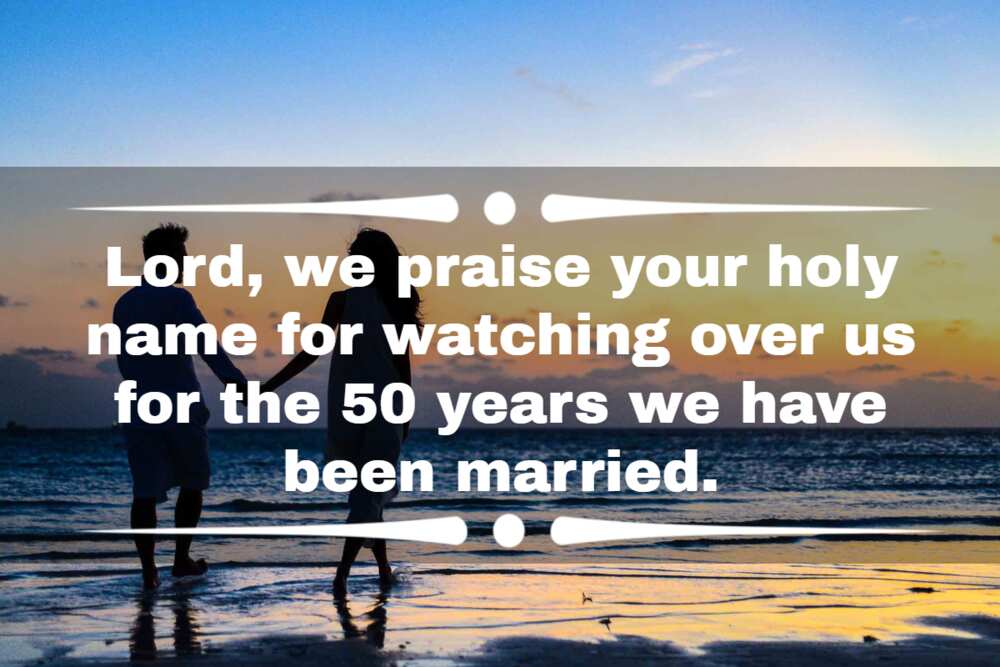 Do you have a groundbreaking story you would like us to publish? Please reach us through info@corp.legit.ng!
Clocking 50 years in a marriage is no mean feat. Commonly known as the golden jubilee, this anniversary is something a lot of couples look forward to. Are you looking for the perfect prayer for a wedding anniversary? Here are some nice ones to celebrate half a century in marriage with:
Father, we come before you today as we celebrate our golden anniversary. We started our marriage journey 50 years ago, and we can testify that we have indeed seen the work of your hands in our lives. We have celebrated numerous successes and accomplishments as husband and wife, and we could never ask for a better gift than our marriage. We acknowledge that there have been ups and downs, but we are grateful for seeing us through everything. You have always been with us despite our weaknesses as spouses. We are thankful that you have always cradled us in your loving arms even when we have deviated from the ideal paths of a Godly marriage. As we smile with joy on this special day, we are praying that you will continue to guide and protect our loved ones and us. Amen!
Almighty Father, we are so grateful for seeing us through 50 years of marriage. We are thankful for journeying with us ever since we exchanged our vows and promised to be together come rain or shine. You have always been the first cord in a three-cord strand in our marriage, and your presence has always been with us. We pray that you may forgive us for the times we have hurt each other and the moments we have deviated from your will. Today, we commit ourselves afresh to you and pray that you will shower us with love. Nothing can surpass the sheer joy and gratefulness we feel today for spending 50 years in love. Thank you, God.
Lord, we praise your holy name for watching over us for the 50 years we have been married. In that time, we have shared each other's happiness, celebrations, triumphs, accomplishments, losses, sorrows, and laughter. Your grace has led us through every challenge that life has brought, and we can never forget how your unending love has been the cornerstone of our marriage. Today, we look forward to many more years of love and happiness. We pray for blessings such that even the generations that come after us will testify that you indeed blessed our marriage. Amen!
Profound wedding anniversary blessings and prayers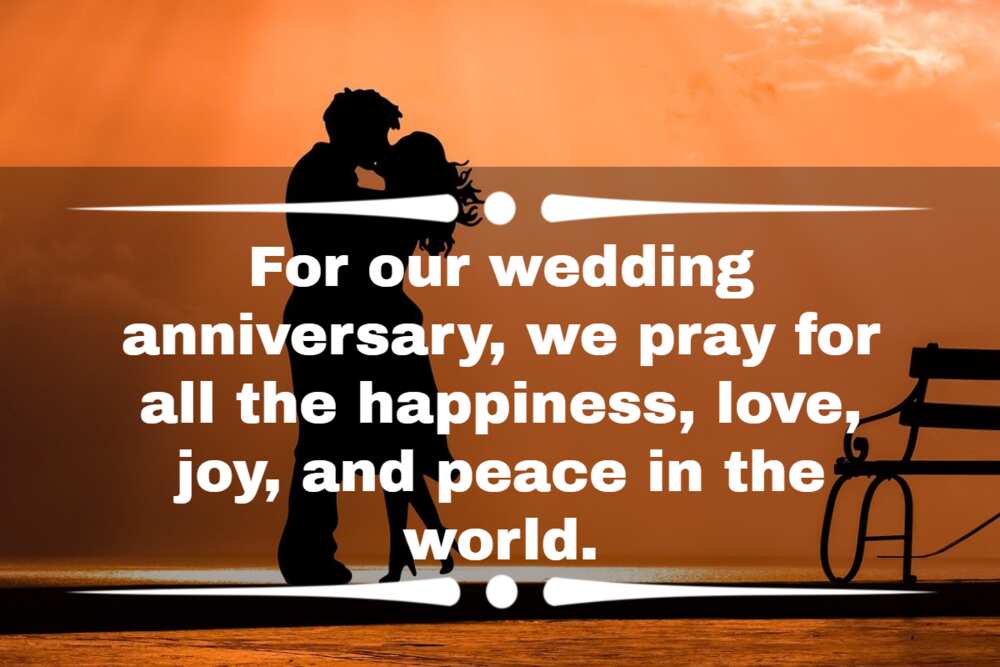 Here are some deep wedding anniversary prayer quotes you can incorporate into your anniversary prayers.
On this special day, we pray for everything we are associated with. We pray that our love and affection for each other will never fade. We pray that the moments of joy, bliss, and pure love will forever be part of our lives. Dear Father, we ask that you may guide our children's paths and forever keep their hearts turned towards you. We hope that the years ahead of us will be filled with success, peace, and good tidings. May your eternal presence always be with us, and may your all-powerful hand direct our paths for the rest of our marriage. We humbly ask for happiness, good health, and long life so that others may believe in the institution of marriage through us.
For our wedding anniversary, we pray for all the happiness, love, joy, and peace in the world. We pray that our union will be blessed and anointed and that favour will follow us wherever we go. We pray that your angels will watch over our children and us in everything we do and that anxieties, sorrow, and sadness will never find us. On this special day, we pray that our love for each other will continue to grow and that the bond we had when we first met will forever be manifested in our marriage. Dear God, always give us a reason to love each other for all the days of our lives. We pray that we shall never find a reason to break up but rather cherish each for the duration you want us to live. In Jesus name, we pray and believe, Amen!
We praise you, mighty God, creator of marriages, you who brought the first man and woman together in a communion of life. We are thankful for the grace and happiness you have given us for the time we have been married. You made our paths cross, and since that time, your guiding light has not left us even for a single moment. We pray that you will look upon us with kindness as we celebrate our wedding anniversary and that you will guide us to a life of communion with you. We pray that you may renew our marriage covenant. Increase our love, trust, and spirit of giving so that we will always be a blessing wherever we go.
Wedding anniversary prayers for a Catholic couple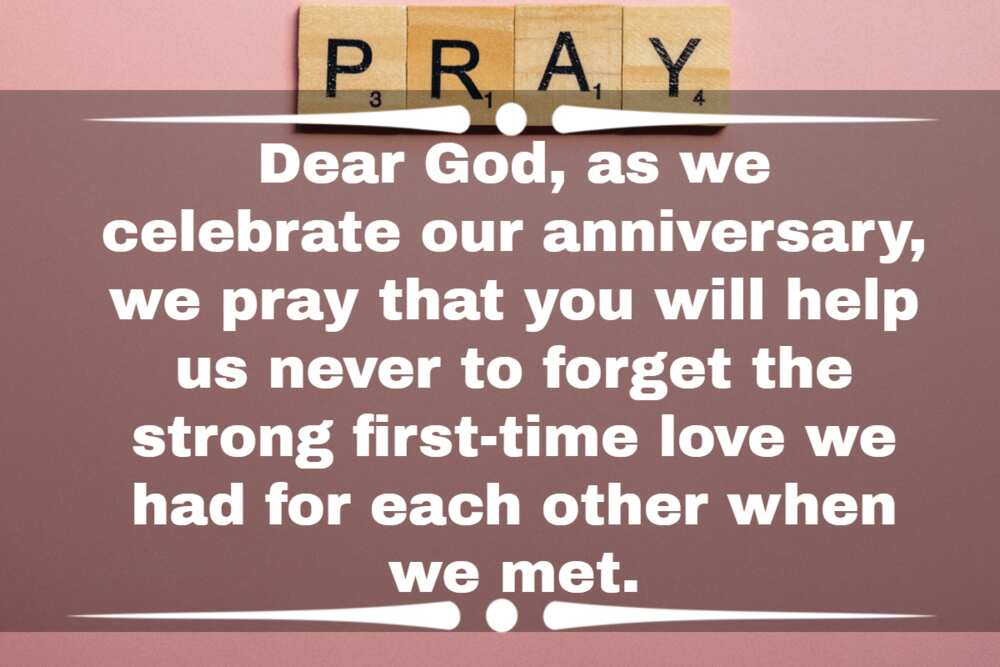 The Catholic faith is an integral part of Christianity. If you need the perfect Catholic wedding anniversary prayer, here are some options.
Dear God, we are eternally thankful for the gifts of love, joy, hope, happiness, and success. We have seen your powerful hand working miracles in our lives since the very first day we exchanged lows. You have seen us through tears and laughter, through wins and losses, and through every dark cloud that has hovered over our lives. Thank you for entrusting us with the responsibilities of loving and cherishing each other. We pray that you will watch over us and our marriage in the coming days, months, and years.
Father, you have kept us together for these many years. Your infinite grace, goodness, mercy, and protection have always been a part of our marriage. We pray that the power of Christ that sanctifies all will preserve our marriage and guide us in the direction you desire. We pray that you will always look upon our marriage with favour and that everything good shall follow us all the days of our lives. We are eternally thankful for the gift of our marriage. Amen!
Dear God, as we celebrate our anniversary, we pray that you will help us never to forget the strong first-time love we had for each other when we met. We pray for the strength to channel our love and affection into things that are pleasing in your eyes. We ask that you may ready our hearts to always forgive and heed your words. Dear Father, on this special day, we recommit our marriage into your able hands. Amen.
O Lord, on this special day when we celebrate a huge milestone in our marriage, we are thankful for your unending love, grace, protection, and guidance. When we first decided to be husband and wife, we had numerous doubts lingering in our minds. At times we have felt like giving up, but your presence has always been the voice that urges us to push on. We humbly ask you never to leave us since our marriage would be nothing without you. We pray that you may strengthen our love for each other and that we can have the kind of marriage you envisioned for us.
Wedding anniversary prayers form an essential component of anniversary celebrations. One can never overlook the fact that it takes a lot of commitment, love, and patience to make a marriage work. Seeing how numerous factors can break a marriage, it is important to say a prayer every time one reaches a wedding anniversary.
READ ALSO: 100 best prayer messages and blessings to encourage someone
Legit.ng recently highlighted the best prayers and messages one can use to encourage another person. Life throws numerous challenges, difficulties, and problems at us, and it is all too easy to feel crestfallen.
Still, a short message or prayer might be all that is needed to lift someone else's mood and make their day. These prayers and messages can be quite effective for a friend, relative, co-worker, or even a random stranger.
Source: Legit.ng