Rising Stars: Nigerian Youths Driving Change in Society, Olusegun Obasanjo Visited One of Them
Truly, one doesn't need to be wealthy like Aliko Dangote, Tony Elumelu or Mike Adenuga to bring about lasting change in people's lives and society at large.
Taking a cue from a famous quote by Irish statesman Edmund Burke that says, 'the only thing necessary for the triumph of evil is for good men to do nothing', one can also posit that it takes the efforts of a concerned, kindhearted fellow to transform an impoverished person or group.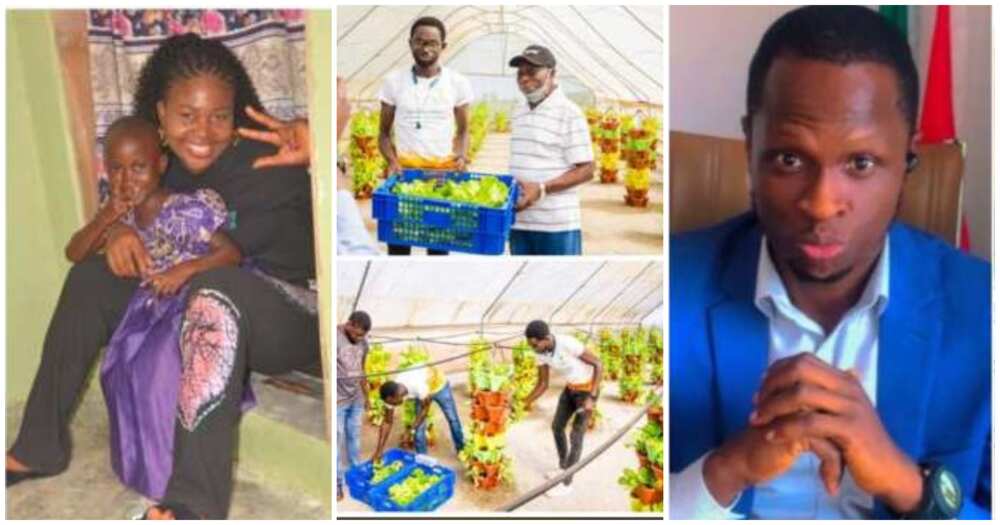 On the local scene, some young Nigerian adults have distinguished themselves because of their impactful humanitarian efforts, environment-uplifting activities and initiatives.
With little or no support at the initial stage, these folks have, over the years, grown to become forces to be reckoned with as far as life-changing initiatives that pertain to humans are concerned.
Who is a young person?
According to the United Nations, youths are those between the ages of 15 and 24. Notably, this definition, originating during the lead-up to the International Youth Year (1985), gained General Assembly approval in its 1981 resolution 36/28.
All United Nations youth-related statistics in the annual demography, education, employment, and health yearbooks adhere to this definition.
However, there is no universally accepted international definition of the youth age bracket. Basically, youth is the time in one's life when one is still young and strong.
Farmer Samson Ogbole, a Nigerian youth, transforming society with soilless farming
Farmer Ogbole Samson is a poster boy for the weighty words 'young emerging and promising leader.'
The graduate of Igbinedion University is the team lead of Soilless Farm Lab, an agri-organisation that uses technology to grow plants without using soil.
The Edo state indigene with a degree in disruptive strategy from Harvard Business School, Boston, USA, believes agriculture goes beyond food production and is the bedrock for creating jobs, sustainable development, healthy living and a tool for developing the nation.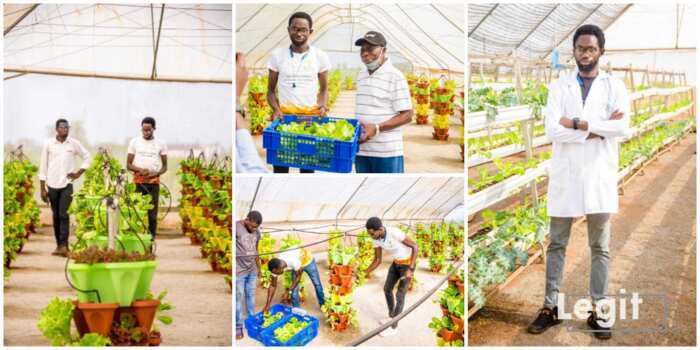 Farmer Samson has dedicated his time and resources to establishing top-notch farms, embracing cutting-edge agricultural technologies, and imparting knowledge. This is to encourage others to embrace what he called "modern agriculture'' to harness agriculture's power to shape the nation we aspire to build.
In an interview with Legit.ng, the young man believes crops grown in the air are way better than the ones planted in the ground.
"There are researches to prove that they (crops grown in the air) have higher levels of phytochemicals and antioxidants in them. I can tell you this in confidence...
"Crops grown via our farming method are more efficient. For one, it helps the farmer to cultivate better with little efforts - thanks to technology - as well as reduce running costs," he said.
His strides in the agriculture sector have not gone unnoticed. His farm has been visited by prominent national and international personalities, including the ex-president of Nigeria, Olusegun Obasanjo.
In 2018, he was recognised by the EFCC as one of the young and legitimate innovative minds. He was recognised as one of the top 100 global leaders combining profit and purpose to help achieve the UN SDGs in 2019 by Meaningful Business – MB100, amongst other honours.
Undoubtedly, he is a treasure of inestimable value to his country, Nigeria.
Ideba Edu Ele, a social activist impacting lives in the society with humanitarian deeds
Ideba Edu Ele is a young Nigerian woman blazing the trail to uplift the downtrodden and give hope to underprivileged people in palatable situations.
The Cross Rivers social activist has so far impacted over 2,000 lives and carried out more than 10 outreaches and projects through her non-governmental foundation, Bonnicare Foundation (BCF).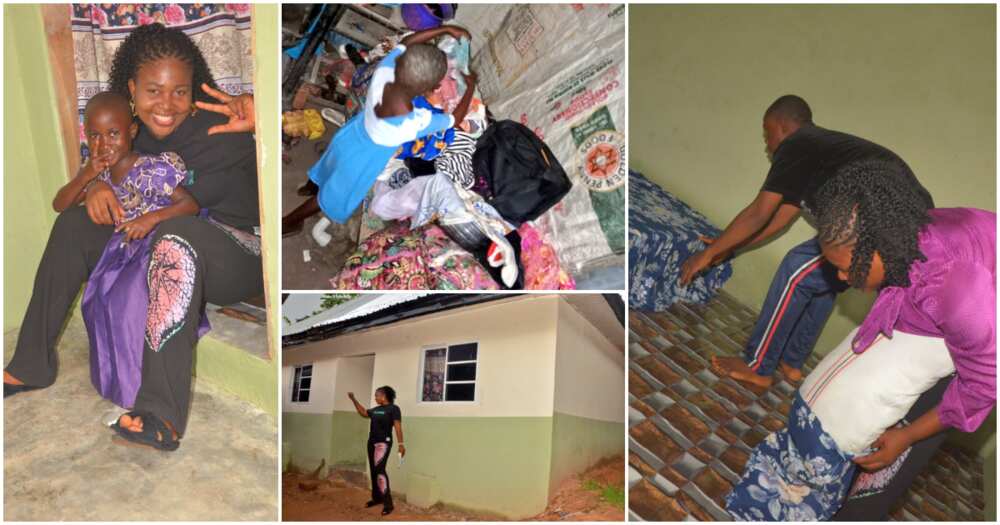 The foundation, registered officially in 2021, has been in operation before then, a demonstration of Ideba's enduring passion for touching lives against all odds.
The foundation aims to support rural communities and assist families facing hardships. BCF envisions a society where the welfare of every individual, regardless of age or gender, takes precedence.
The latest beneficiary of Ideba's foundation humanitarian efforts is a young primary school girl named Blessing Kelly Arong.
Blessing lived with her grandmother and two twin brothers in a mud house, but they now have a standard two-bedroom house in its place, thanks to BCF. She sure deserves her flowers.
On what was next for her foundation, Ideba exclusively told Legit.ng that they were currently working on getting the Igbo Imabana community to sign a bylaw that would protect their community members on issues such as sexual and gender-based violence, child early marriage, gen'ital mutilation, female disinheritance and child abuse.
Prince Cokers, a youth in the business of giving hope of education to underprivileged kids
Weeks back on X, the story of a little 'panel beater' boy who came tops in his class went viral.
His benefactor, Prince Cokers, shared how he found the boy learning panel beating and took it upon himself to train him in school.
Prince learnt that the boy's parents were poor, which was why he was learning the handiwork when kids his age were in school. The kindhearted man spoke with his boss and eventually took over the kid's schooling responsibility.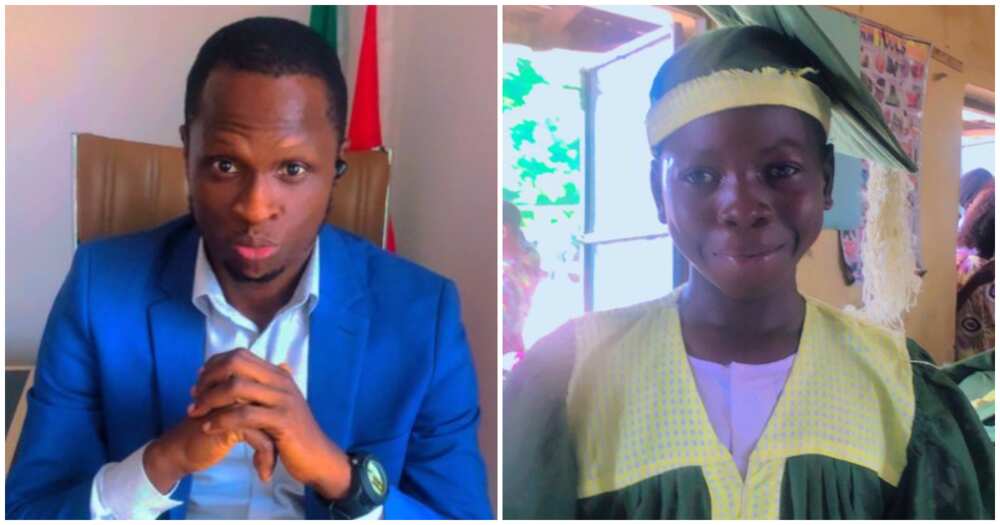 Prince revealed to Legit.ng that the boy is not the only one under his sponsorship. He said:
"Joseph Suru is the boy's name and I have no intention to stop his education any time soon. Although he is not the only one, I have about 12 children on my list who are under sponsorship. Part attend public school while another part attend private schools. They are all less privileged children."
Surely, Nigeria would be a better place with more folks like Prince Cokers.
A call to become a rising star in your community
In the words of former United States President Abraham Lincoln:
"The occasion is piled high with difficulty, and we must rise with the occasion. As our case is new, so we must think anew and act anew."
In other words, the stories of farmer Samson Ogbole, Ideba Edu Ele and Prince Cokers shouldn't just inspire you but motivate you to be the next rising star in your community.
What can you do to better your community?
Source: Legit.ng