Crops Grown in the Air are More Healthier, Nigerian man who Plants Crops above Ground Gives Details
Farmer Samson Ogbole is one young Nigerian that is changing the narrative in the agriculture sector. At a time when soil farming is commonplace, he says soilless farming is the way to go and has gone to demonstrate this.
In this exclusive interview with Legit.ng, the Harvard scholar explains why soilless farming is much more efficient than traditional farming and everything you need to know about growing crops in the air.
PAY ATTENTION: Legit.ng is on a mission to support vulnerable children of Calabar – join the initiative on Patreon, let's change more lives together!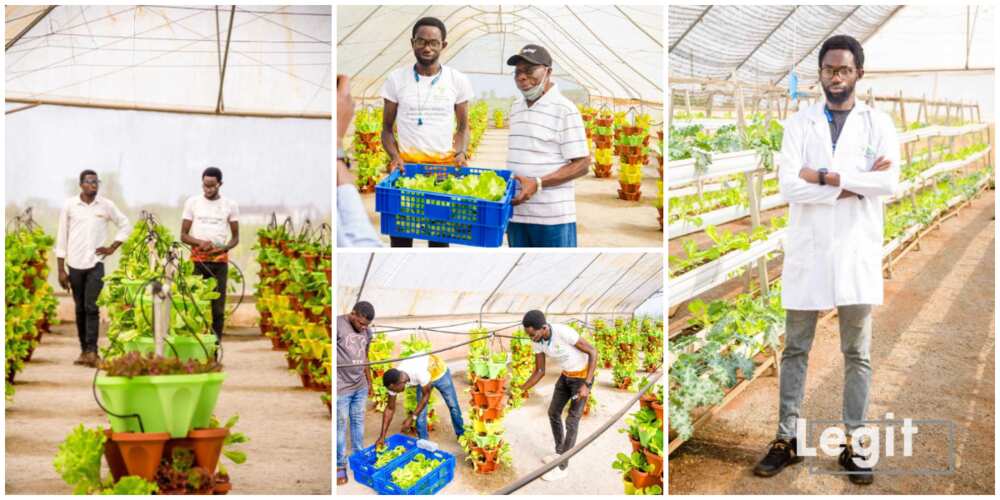 Can we meet you?
I am farmer Samson Ogbole from Edo State. I have a BSc in biochemistry from Igbinedion University and an MSc in the same course.
In addition to other certifications, I hold a degree in disruptive strategy from Harvard Business School, Boston, USA.
I am currently a post-graduate student of machine learning and artificial intelligence at the University of Texas, Austin, USA.
What informed your decision to begin growing crops in the air?
I decided to grow crops in the air so as to ensure that food production is not seasonal, because hunger isn't seasonal. My decision was also to see that food crops are affordable, healthy, as well as stable.
What were the challenges you encountered?
I'd rather tag them as hurdles. One of them was getting people to understand what we do as Nigerians are very traditional and religious in nature. We had to make them understand that it wasn't an unnatural approach to farming.
Hydroponics and aeroponics (the method of growing crops in the air) require 24 hours electricity to run but thanks to the help of some colleagues in the farming industry, there are alternative systems we use in place of the electricity.
What was the reception to your farming style when you initially started then and now?
Initially, people raised health and profitability concerns but with a better understanding, the narrative is fast changing.
Are crops grown in the air better than the ones planted in the ground, or are they the same?
Yes, crops grown in the air are very much healthier than those grown the traditional way.
There are researches to prove that they (crops grown in the air) have higher levels of phytochemicals and antioxidants in them. I can tell you this in confidence as I am currently taking my PhD in biochemistry.
Crops grown via our farming method are more efficient. For one, it helps the farmer to cultivate better with little efforts - thanks to technology - as well as reduce running costs.
What is the cost of growing crops in the air, is it more expensive than the conventional way of farming?
There are varying systems to hydroponics that include floating or rat system, water culture, nutrient field technique and so forth.
The set-up cost for soilless farming is more expensive than that of soil-based farming. However, the running cost for soilless farming is way cheaper than that of the traditional farming method.
For example, the soil-based farmer has to worry about weeding and maintenance, we don't worry about that as they (soil-based farmers) use more fertilizers than we do and they have a massive environmental impact, whereas ours has almost zero.
It is noteworthy that soilless farming allows for farming in the cities, cutting down the need to be far away and deep into rural areas to cultivate crops as traditional farmers do.
Ours also yields more increase.
What is the future of food production in Nigeria at the current trend of issues in the country?
I have the privilege to train over a thousand persons in soilless farming in the past six months and I can tell you people are picking up technology.
Though people tend to focus on what is not working, presently, there are lots ongoing.
The future is not bleak. But there is a need for private sector investment in farming - not just hasty ones, but patient investors are needed for the sector to grow rapidly.
PAY ATTENTION: Click "See First" under the "Following" tab to see Legit.ng News on your Facebook News Feed!
Meanwhile, Legit.ng previously reported that a Nigerian man had showcased his farming style that involved growing crops above ground.
He shared pictures of the progress he has recorded on LinkedIn, stating that the farming style can be used in cultivating crops anywhere and doesn't require the use of farmlands.
While also maintaining that farming can be done throughout the year using the method, Larrison encouraged LinkedIn users to be innovative.
From the images shared by the IT consultant, the sack bag farming had already brought forth fence-high produce.
Source: Legit.ng