The Nest Co-founder, Peter Ogedengbe, Speaks on Empowering Nigerian Youth for Startup Excellence
In the heart of Yaba, Lagos State, Nigeria, Peter Ogedengbe and his long-time friend established The Nest Innovation Technology Park, a thriving hub where innovation, technology, startups, and the individuals propelling them converge.
While an undergraduate at the Obafemi Awolowo University, Studying Computer Science, Peter Ogedengbe must not have anticipated the huge role he would later play in Nigeria's tech ecosystem.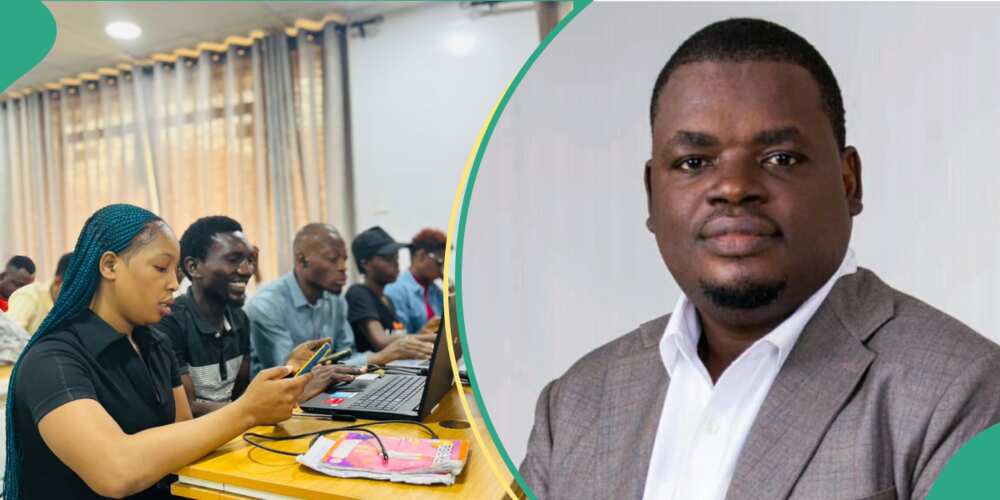 Co-founding The Nest, Ogedengbe said that he and his co-founder, Oluwajoba Aloba, saw the need to guide upcoming founders with knowledge and skills, from the point of ideation to going to the market.
A whole lot of them do not have any strategy around going to market or how to manage people organizations. They don't even have any strategy around their marketing and sales.
So when we understood that there was that gap within that space, it dawned on us that something else needed to come to them. And that's what gave birth to The Nest.
As the name implies, it means somewhere people need to be able to get started, get fed, and get monitored. And at some point, they can fly on their own and grow.
So beyond the technology provision, The Nest wanted to be able to support them on market access or use our network on behalf of our startups been able to create an environment for them that works. And then they can have funding some board, they have mentorship support.
The Nest also offers a co-work space where people walk in and work without worrying about electricity, generators or security. We also created a space where people can host business meetings and business conversations, hangouts and trainings.
From ideation to raising funds
In the last few years, the tech ecosystem in Nigeria has blossomed. Amazingly, many of them have birthed their ideas at The Nest, and Ogedengbe acknowledges the great feeling of seeing many of them succeed.
We have seen quite a number of them who started with three people here become a team of about 12-15 people, and they are doing very well. And you are very glad they came out of your space and have gone ahead to become bigger.
Decline in tech funding
In the Nigerian tech startup ecosystem, there was a substantial decrease of 92.1% in Venture Capital (VC) funding during the first quarter of 2023 compared to the corresponding period in 2022.
In the prior year, Nigerian startups led African VC funding during the first quarter, amassing $545.3 million.
Nevertheless, within the first three months of this current year, these startups, as reported by BD Funding Tracker, managed to secure a considerably lower sum of $42.6 million across 32 separate investment deals.
Ogedengbe says the perceived drop in funding can be attributed to factors such as the global economic downturn and investors' focus.
There is a lot of shrinking around growth generally, and it affects how much is available for people to experiment with. Now that there's a shrinkage, Venture Capitalists and the equity private people would also have to limit how many places they would have to put their money.
A second reason, Ogedengbe says, is that as a result of the global crisis, investors are limited by how much they can play around with.
While noting that investors would now rather invest in businesses that have grown a bit more, he stated that the way some startups have gone about the raise has also become problematic as many could not fulfil their obligations, leaving the investors to opt out.
Funding is the last thing you should do. There's a whole lot of other things that should be in place before you go collect somebody's money.
We have had people who took money and went to do weddings or bought houses and you couldn't find them again. We have also had people that took money and of course, paid big salaries and it is not sustainable at some point, and they close down.
He noted that a lot of funding is still happening privately but with a lot of due diligence with law firms being involved.
The effect of brain drain on the tech ecosystem
Every day, many Nigerian tech professionals are immigrating from the country to greener pastures abroad.
The departure of these skilled individuals creates a dilemma for their employers as they struggle to find suitable replacements.
Even when a replacement is found, it is often a temporary solution, as these talents frequently transition to foreign companies shortly after.
Ogedengbe seems to believe that immigration of such talents is not as problematic as many have made it seem. He believes that more talents must be groomed for a country of over 200 million people.
The people who are leaving are not as much as the people who are left behind. So I think it is a great opportunity for us to be able to learn how to produce more of these people. We just need to keep building and training people.
If you ask me, immigrating to other countries in the long run is a big plus for the country, because it means that these guys are going to infiltrate the financial sector where they will do a lot of good.
Government's role in enabling the tech ecosystem
Many would agree that President Bola Tinubu's appointment of Bosun Tijani, a tech entrepreneur, to man the Ministry of Communications, Innovation, and Digital Economy is a move in the right direction.
However, there continues to be a call for the government to foster an environment conducive to technological advancement and implement sensible regulations that support innovation rather than hinder it.
One area of government intervention that interests Ogedengbe is the creation of industries that would employ thousands of Nigerians.
We need to be very intentional with the kind of jobs we want to see and how the government can help create them to have long term impact on the people. We need to build job-focused industries. We can go into partnership with some of the major companies of this world and engage them to localise some of their productions.
The next level of The Nest
Moving The Nest to the next level, Ogedengbe says he and his team are introducing new initiatives, and one is The Foundry, a platform it wants to use to support startups and SMEs with all the instruments they need to grow and survive.
Next is the Creative Hub, where creatives can leverage technology in their ideas and the TISC Centre, a technology and innovation support centre to advise on intellectual property, copyright and patenting.
The Girl Code Academy initiative focuses on training thousands of young females in Information and Communications Technology (ICT).
And finally, The Nestling Playbook to groom undergraduate founders and help them get support and structure.
Source: Legit.ng