US Visa: OPM Pastor Shares Video of "Evil Twin" Impersonating Him and Asking People to Pay N200k
Apostle Chibuzor Gift Chinyere of Omega Power Ministry (OPM) has raised an alarm over the activities of an impersonator
Chibuzor shared a video of the alleged evil twin impersonating him and urging unsuspecting folks to pay N200k for American visa
A shocked Chibuzor wondered how the impersonator got the video of his room and vowed to get to the root of the matter
The founder of Omega Power Ministry (OPM), Port Harcourt, Apostle Chibuzor Gift Chinyere, has cried out over the actions of an impersonator defrauding unsuspecting people using his identity.
The cleric made the revelation in a post via his verified Facebook handle on Tuesday, September 25.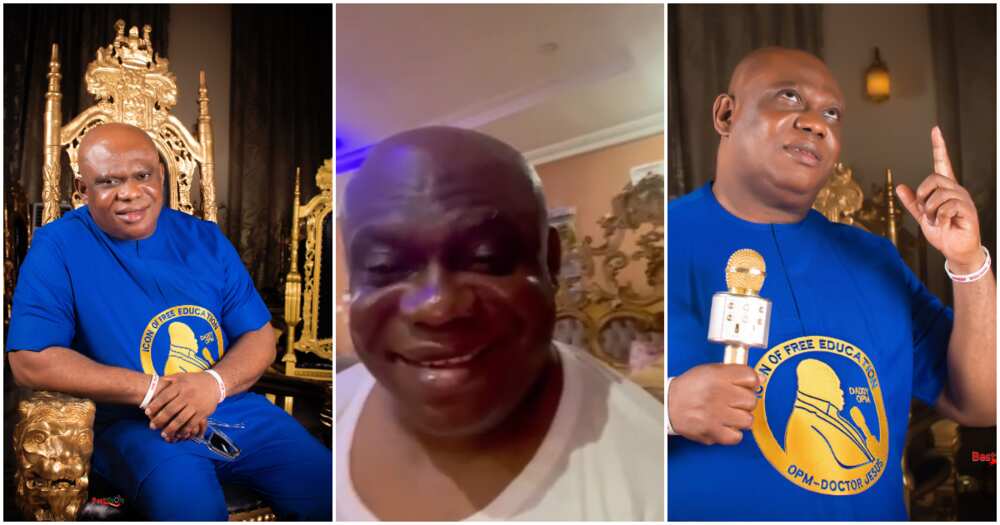 The impersonator promised N200k for American visa
Chibuzor released a video of the alleged impersonator and wondered how the fellow got the video of his room. He said the evil twin has defrauded numerous persons of N200k.
In the clip, the impersonator intimated people about an American visa bonanza that costs just N200k.
The alleged impersonator said:
"Ok, yes. We are having a bonanza. Erm...If you can pay...erm...If you can send me N200k right now, I'm gonna send you to America. Just send me N200k and I'd do visa for you.
"I'd do your visa, ticket, everything and you would go to America. Just N200k. So, transfer it to that account I gave to you. That bank account I gave to you. Transfer it right now then I'd send you to America. God bless you."
Apostle Chibuzor distances self from N200k for visa offer
Chibuzor vowed to get to the root of the matter, adding that he ould never ask people to bring N200k for visa. The cleric wrote:
"419. 419 419.
"Another 419 video.
"I will never ask you to pay 200k for visa.
"Wait oooo by the way, how did they get the video of my room?
"Something is really going on and I must get to the root.
"So many innocent people has falling victim and lost 200k."
Netizens react to the impersonator's clip of Apostle Chibuzor
Paul Johnson said:
"Daddy, they need only your picture to create this fraudulent video."
Daerefa-a George said:
"Jesus Christ dis is looking so real these 419ers have really gone far aswer."
George Sharon Chidinma said:
"My papa is not a cheap pastor . Criminals every where God for bid."
Lizzy Essien said:
"Like Daddy said how did they get his house pic. Something is wrong somewhere."
Catherine Malachy Inyang said:
"Wetin we no go hear and see for this country?
"If there is something like this let them use it for the betterment of this country mbok, we wouldn't mind if they are using artificial intelligence or not, let them just fix this country."
Ken Matthew Ogudu said:
"This fools will never bring Daddy down. Daddy is respected all over the world and cannot request for 200k to send anyone to America when he has sent thousands of Nigerians to different part of the world free of charge."
OPM pastor reacts to allegation of impregnating young lady
Meanwhile, Legit.ng previously reported that the OPM pastor debunked allegations that he impregnated a 22-year-old lady.
On Thursday, August 17, Happie Boys, via Instagram, shared screenshots of a particular Facebook user threatening to arrest the pastor for allegedly molesting young girls.
In another related development, a 22-year-old lady, accused the pastor of allegedly impregnating her and refusing to take responsibility for their child.
In a lengthy post written by Frank Laga titled, "Apostle Chibuzor cannot be subjected to blackmail", the pastor disclosed the reasons behind the blackmail.
Source: Legit.ng