"That Child Is an Ancestor": 3 Smart Babies Go Viral after Displaying Epic Actions at Home
Babies do the funniest things and being with them every day can trigger a whirlwind of emotions
Viral videos of some cute babies exhibiting rare acts at home have been making the rounds on social media
Legit.ng in this article presents three smart babies whose rare acts surprised everyone.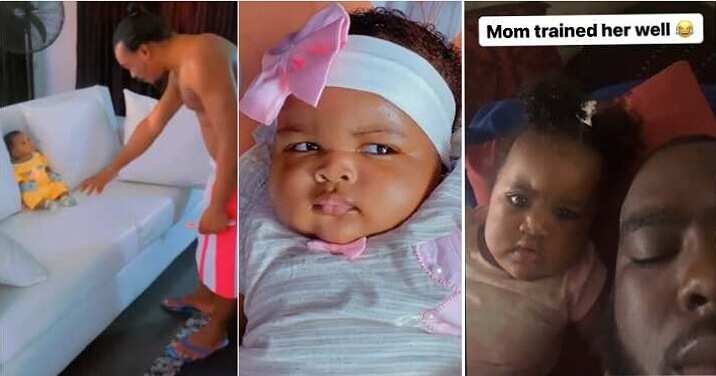 1. Baby gives mum 'bombastic' side eye
A baby is currently trending on TikTok because of the funny way she looks at adults.
In a 7-second TikTok video posted by @babyathena550, the baby was seen lying on her back peacefully on a bed.
She was dressed in a striped dress and a headband with a colourful bow, making her look so cute. In the first scene, she had her eyes wide open and staring towards her left, where it appeared she saw someone.
She looked like a baby struggling with sleep, but the way she looked sideways had netizens dropping different comments.
Her face was without any smile, which made many people wonder where she learned the funny attitude. Some of the comments are hilarious as netizens pointed out that babies of these days have the same attitude.
2. Little girl peeps into dad's phone
In a funny video that has gone viral on social media, a father revealed an epic moment with his little daughter.
The footage showed the father using his phone while the curious baby girl watched intently, seemingly comprehending his actions.
Startled by her father's gaze, the little girl quickly averted her eyes, as if she had been taught to do so.
Captioning the video, the proud father expressed his admiration for his daughter's observant behaviour.
The video garnered widespread attention on social media, with netizens expressing their amazement at the baby girl's intelligence and swift reactions.
Many speculated that she might have been reading or understanding what her father was doing on his phone.
Additionally, online users commended the little one for appearing to look out for her mother, as the man's caption suggested that she had been trained well.
3. Little girl stares at dad with mean face for warning her
A funny Nigerian father made a TikTok video with his baby as he warned the toddler against crying and disturbing everybody.
Supported by two pillows on the chair, the baby looked at her dad with rapt attention as if she understood what he was saying.
The man (@princekubas1) even pulled his ear to warn about her incessant cries. He said the baby was always disturbing their compound.
Many Nigerians who saw the serious composure of the baby in the clip could not stop laughing.
Funny dad takes baby to bathroom to wash clothes
Meanwhile, Legit.ng previously reported that an intriguing video has gone viral on the TikTok app, capturing the attention of viewers worldwide.
The video features a father, identified as @princekubas1, teaching his baby daughter, Roshni, how to wash clothes.
The father was seen playfully explaining the process while engaging with his adorable daughter.
Social media users were quick to react to the video, finding the baby's reactions utterly amusing.
Source: Legit.ng