Man Visits Shrine in Ijebu to Seek Justice for Mohbad's Death, Video Causes Buzz Online
A devoted fan of popular Nigerian singer Mohbad has sought justice for the alleged killers of the late artist
The fan stood before the gods in Ijebu, held a bottle of hot drink and invoked curses upon the alleged killers
Emotional netizens expressed their opinions and penned down condolence messages for the late singer
A die-hard fan of the late Nigerian singer Mohbad has proven his loyalty and love for the singer in an unexpected way.
In a trending video, he stood before the gods in Ijebu, holding a bottle of an alcoholic drink and said some incantations.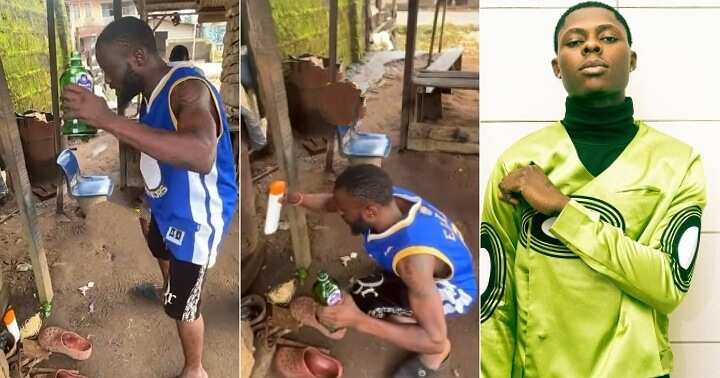 He addressed Sam Larry, Zinolesky, and Naira Marley, accusing them of knowing about Mohbad's death.
Fan seeks justice for Mohbad at shrine
The fan invoked curses upon them, using various objects and symbols to symbolise the negative consequences he wished upon whoever had a hand in the singer's demise.
PAY ATTENTION: Follow us on Instagram - get the most important news directly in your favourite app!
He passionately appealed to the deities, calling upon the ljebu god to take action against them.
He said in part;
"I greet you owners of this world. I have brought before you the matter of Sam Larry, Zinolesky and Naira Marley because of that Mohbad guy. Sam Larry, Naira Marley, Zino, you all know about that boy's death."
Netizens' express support and love for Mohbad
Netizens flooded the comments section with expressions of love and support for Mohbad.
They praised his talent and mourned his alleged untimely demise.
@robyekpo commented:
"Mohbad was indeed loved but the sad part is that why wait for him to die before showing him this massive love when he needed it alive?"
@dr_phili commented:
"Wow, for someone to be loved like this, I can just imagine how far he would gotten in life. Indeed he was a glorious child."
@braids_by_georgia reacted:
"Death wey pain every Nigerian."
@_stillpushing reacted:
"I support! Anything to eradicate Sam Larry and all Marians record!!!"
@braids_by_georgia said:
"God will judge all those who kpaied Imole, una no go see mole for una life."
@your_girlfee commented:
"This guy death is nt sumtin dah should be handled with clr eyes, go spiritual at diz point na to use jazz."
@iahblez3310 reacted:
"If them dey chop others swallow before, this one go hook them for throat."
Watch the video below:
Female fan in tears after hearing singer's death
Meanwhile, Legit.ng reported that a devastated female fan has expressed profound sorrow over popular Nigerian singer Mohbad's passing. Despite attempts to console her, she collapsed on the floor, shedding uncontrollable tears.
Her intense emotional reaction reflected the singer's significant impact on her life while he was still alive. She was seen crying uncontrollably as she rolled on the bare floor with tears falling from her eyes.
People around her thought she was going until she mentioned she wouldn't mind leaving with the singer.
"This video made me cry. At first, I thought she was joking when she started crying but got scared when she said that", the caption on the video read.
Source: Legit.ng