"My Curiosity Started in Secondary School": Lady Who Got Distinctions in 10 Engineering Courses Says
For many people, engineering is one of those courses preserved for men, but a Nigerian lady begs to disagree.
The lady, Ifeoluwa Ajetumobi, picked up the challenge to study engineering right from when she was in secondary school.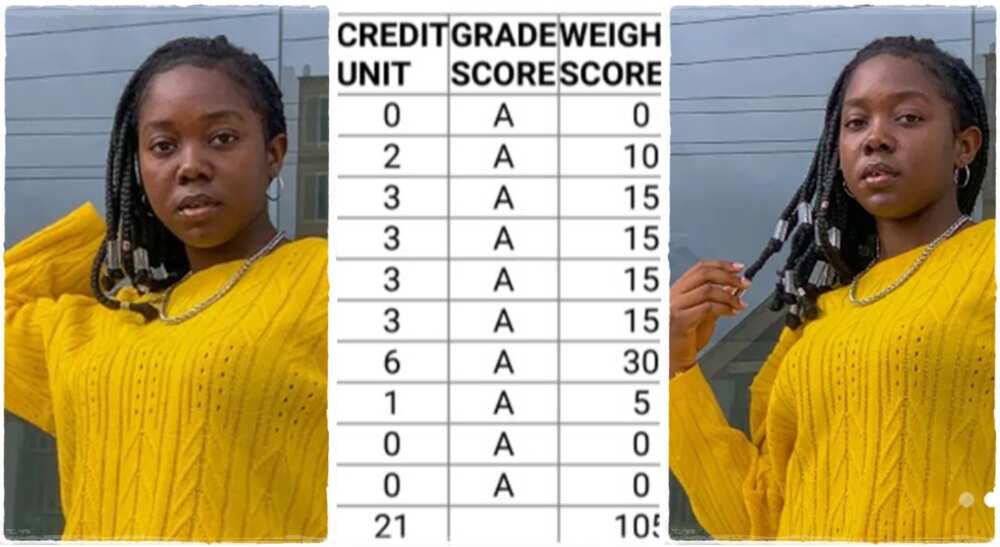 How lady became interested in engineering
Back then, physics, mathematics and further mathematics used to be her favourite subjects. Her interest in engineering was further spurred by her father and elder brother, whom she observed doing some engineering work at home.
Legit.ng caught up with Ifeoluwa, and she said she faced many challenges while studying engineering, but she was able to overcome them all. Ultimately, she graduated with an overall CGPA of 4.72, which gave her a first class.
She told Legit.ng about herself:
"I am Ifeoluwa Ajetunmobi, soon to convocate from the University with a Bachelor's degree in Mechanical Engineering. Apart from academics, I'm an avid writer, a podcast host (currently on hold), and an enthusiast of public speaking. I am also interested in managing Artificial Intelligence products and projects. I attended Covenant University in Sango-Ota, Ogun State, for my higher education and King's Kids International School in Port-Harcourt, Rivers State, during my earlier years.
"My fascination with engineering grew from watching my father and eldest brother working on various engineering projects around the house, including household appliances and cars. This curiosity led me to choose a career in Mechanical Engineering during my senior secondary school years, as my favourite subjects were Mathematics, Further Mathematics, and Physics, and my favourite topics in Physics naturally led me to choose Mechanical Engineering as my career path."
Challenges of studying mechanical engineering
There were some topics she found difficult to understand, but she later learned how to manage her studies to crack such topics on her own. Ifeoluwa told Legit.ng that she developed the habit of self-learning until she could come out with good grades.
Her words:
"While in school, I had to juggle my studies with other activities, maintain a schedule, and I occasionally struggled to comprehend certain topics in class. To overcome these hurdles, I developed a proactive approach to self-learning and honed my organizational and resourcefulness skills, ultimately making me a more resilient individual."
Covenant University graduate interested in building a career in artificial intelligence
Ifeoluwa, who is from Ogun state, said she intends to build a career in artificial intelligence and product management. She is also a podcaster but said she picked this up as a hubby.
She stated:
"Currently, I want to build a career in engineering and artificial Intelligence product and project management. Additionally, I want to contribute more to spreading the gospel and helping people in need, especially orphans and those who can't afford education. Podcasting is a hobby of mine, but of course, it also has the potential to become a full-fledged occupation."
12 other ladies were in Ifeoluwa's Engineering class
Engineering is known not to have many female students, but Ifeoluwa said there were 12 other ladies in her class.
She told Legit.ng:
"In my graduating class of Mechanical Engineering, there were 12 other female students. While I celebrate God's grace in helping me achieve a first-class CGPA of 4.72, which is not easy at Covenant University, the icing on the cake for me is the perfect final semester GPA of 5.0. I am really grateful to God for this. I also appreciate my parents for providing for and supporting me at every point in the journey. I extend my congratulations to every student at my university who accomplished a final semester GPA of 5.0 or achieved various final overall academic grades. Graduating from the university is a significant achievement, and I applaud your hard work and determination."
Nigerian student breaks record in Russia Medical University
In a related story, Legit.ng reported that a Nigerian student who went to Russia to study medicine graduated as the valedictorian in her set.
The student, Somadila Igboanugo, studied medicine at the Rostov State Medical University in Russia, and she did excellently well.
Somadina graduated with a perfect CGPA of 5.0, an achievement that made her a record holder in the school.
Source: Legit.ng