"She Was Very Healthy": Man in Tears as Mum Dies After Visiting His House for the First Time
A young man has tearfully narrated how his mother died shortly after paying a visit to his house
According to him, his mother decided to visit him at his place for the first time, and he made her feel comfortable
Sadly, the young man said he had no idea that it would be the last time he would ever see his mother alive
PAY ATTENTION: Сheck out news that is picked exactly for YOU ➡️ click on "Recommended for you" and enjoy!
A man identified as @lavezzedout on Twitter has narrated how the painful death of his mother changed his approach to life.
He was motivated to share the touching story after a Twitter user asked people to share the moment they realised life was vanity.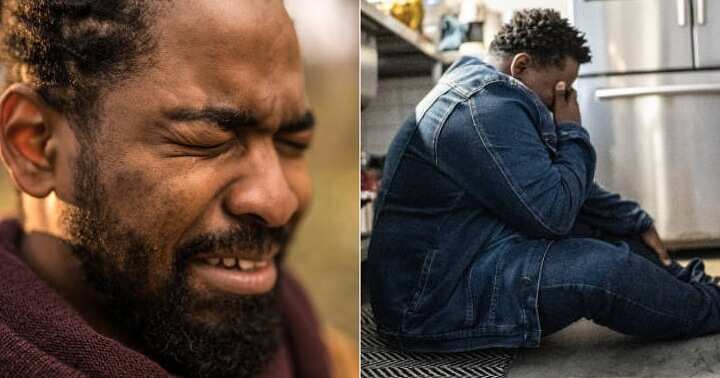 According to him, he realised life was transient after he lost his mother, not long after she visited his apartment for the first time.
While she visited, she brought a mat along to his house and insisted on lying on the mat despite pleas from her son to move to the bed.
PAY ATTENTION: Сheck out news that is picked exactly for YOU ➡️ find the "Recommended for you" block on the home page and enjoy!
Following her refusal, he did his best to ensure she was comfortable. She stayed for a while and later left for home.
After about one month, he heard the sad news that his mother suddenly started foaming in her mouth and died.
He narrated:
"I'm in tears typing this but I just needed to let it out finally. The last time I ever saw my mom was when she visited me at my house for the very first time, last year August. I had always wanted her to come visit me. My dad and all my siblings had been to my place except for my mother.
"So all through last year. I begged her to come. I was like "mummy just come and spend one weekend with me."
"She was a busy woman. She had my dad to take care of and her shop back in our house in Mowe to monitor. There was no time for her to visit. Occasionally I do go home but I was never frequent and my parent complained a lot.
"Finally she chose a weekend to come, the first week in August and I was excited. I had planned that I was going to at least spoil her silly and take care of her.
"She had said that she would come on a Friday and leave the following day cos she had to open shop. I wasn't happy with it but I wanted her to come still. I wanted her to see that I was doing well for myself at least.
"The only issue about that weekend was that a friend of mine had a wedding that same weekend in Ikorodu and I had promised her I was going to be there. What it meant was that I had only one night to spend with my mother while I headed out that morning from Ketu to Ikorodu for the wedding.
"There was no way to stop my mother from coming so I took the chance all the same. As long as she came. (Oh giddy, I'm shedding tears now as I remember, but let me continue)
"My mom got to Ketu that evening and when I went to pick her at the bus stop. I saw her with her bag and then a mat. It was a funny sight as I asked her what the mag was for. "Mum how will you come all the way from Mowe, Ogun state, to Ketu carrying a mat? Isn't it embarrassing?"
"She smiled and told me that in case I had more people in my house cos she knew that occasionally people stay with me, that instead of them sleeping on the bare tiles, they could sleep on the mat. We converse in Yoruba so you can picture how that conversation would have ensued.
"I had one of my cousin, Gift was her name around that day. So it was me and her and as I welcomed mom inside, she was happy to see family also. She sat on my bed and gave me two big Guavas, it was from one of our guava trees in the house. I was like she shouldn't have but she was so happy to flaunt to me that our garden and trees in our backyard was yielding fruits.
"Onwards we began to talk and she brought up the wife issue to me. When will I bring a girl to meet her, I am not getting younger, and the likes and I told her I wasn't in for those talks. When I was ready, I'll bring someone to them.
"That was the last we spoke about it. Thing is that she rarely disturbs me about marriage. She was 54 at the time and I knew that this woman had max of like 20 good years ahead of her to see me get married and her grandkids. I was so confident.
"My dad in the other hand is like 77 years, so I understand when he bugs me about marriage. He wants to see me get married before he dies.
"I did everything possible to make her comfortable that day. I had gone to buy chicken and myself and gift made dinner for my mom that night. Bought her favourite drink and gisted with her.
"I barely watch TV cos I'm always hooked up on my phone, but all through my mom's stay, my TV did not stop being on Africa magic Yoruba.
"She was right in front the TV relaxing and watching Yoruba movies back to back in her son's apartment. It was like a mini vacation for her, something she had never taken before. I felt so good seeing her happy and most especially getting the rest she so badly needed.
"The most ironical thing that day was that I do not have a couch in my house. I have a big bed in the room and small student sized bed in the living room.
"My mother laid the mat she had brought for me on the tiled floor and that was where she sat all through. All she used was a pillow to ease her head and that was where she even slept overnight.
"I had gone to tap her to tell her that she should come to the room, on the bed to sleep. I didn't even mind leaving the bed alone for her. Gift was going to sleep on the small one in the room so I dressed my bed for her, but this woman refused and said she was fine where she was.
"She slept off while watching a movie on the mat and I remember putting my blanket over her and muttering to myself, "I love you mummy" before I went to sleep.
"The following morning I was up and about trying to get ready for my friend's wedding. My agbada was already dey cleaned and I was ready to go slay and have fun.
"I thought to myself if what I was doing was making sense. Shouldn't i just stay with my mother? If I didn't go to the wedding, no one would miss outrightly. But my friends had called and asked where I was so I had Gift make her breakfast and I counted some money and gave to her for transport. I told her to call me when she gets home before zooming off to the wedding. That was the last time I ever saw her alive."
See the post below:
Man who lost his hand and parents becomes lawyer
Meanwhile, Legit.ng reported that a Nigerian youth who became a lawyer has gone viral on Facebook despite daunting challenges.
Inyene Dominic Akpan posted his grass to grace story after he was called to the bar on Tuesday, December 6. Inyene's story immediately went viral as it was reposted by other Facebook users who wanted to celebrate with him. According to Inyene, he lost his mother at four, his dad at five, and his right arm when he was 10.
None of these irreparable losses deterred Inyene from pursuing his dreams, as he still went ahead to study law and graduate. He said his story signifies determination and dared to try despite all odds.
Source: Legit.ng