"Which Water Did You Come From": Sarah Martins Recounts Weird Ordeal With Popular Prophetess Mummy B
Nigerian movie star Sarah Martins laid allegations against a popular prophetess, Mummy B, who ruled Port Harcourt city back in the day
The Nollywood star recounted how she was brought on the podium during one of her popular crusades, and unbelievable things were said about her
Sarah noted in her social media post that the prophetess had claimed that she was single and would not give birth, whereas she was married and 4 months pregnant with her first child
Nollywood actress Sarah Martins has revealed a strange encounter she had with a prominent prophetess in Port Harcourt a few years ago.
Sarah, who took to Instagram to warn her admirers about phoney clerics, penned a lengthy note to back up her claim.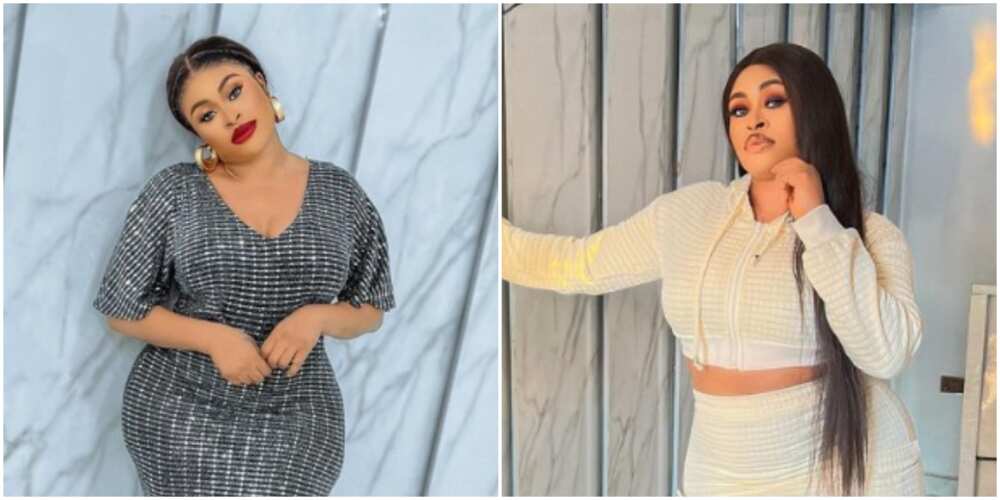 She narrated that her sister took her to the aforementioned prophetess, Mummy B, who used to be popular back in the day. The actress stated she was married and four months pregnant with her first kid.
Not stopping there, the prophetess almost issued a deliverance session for her due to a false prophecy since, according to Mummy B, Sarah would never marry or have children because of what her grandma did.
She stated:
"I was 4 months pregnant when my elder sister took an excuse from my husband and took me to a church crusade where their "then almighty" mummy B of Port Harcourt was ministering.
"Brothers and sisters, this woman sent her guards to bring me up on stage while my big sister was deeply praying. Next thing on stage, she was asking me who sent me, why am I in my body, which water did I come from, etc. The next thing she said was that my grandma deposited my menstrual pad with the evil coven 15 years ago, and that's why I've been single and that I will never give birth.
"As of then, I was 21 years old, happily married, pregnant, and happy. My sister was feeling pity for the woman at the stage, not knowing I was the one."
Sarah said her sister had to drag her out of the church while informing anyone willing to listen that the prophetess was a fraud. In her own words:
"She had to explain to people that I was married and that 15 years ago I was 6 years old. Omo, that was the very day my sister stopped going to crusades. My husband heard it; he drove to the venue and bundled us out. Some churches are scam. Find your root and make peace with your chi."
See her post below:
Nigerians react to Sarah Martins' claims
mercy_nene01:
"From the way you dey behave lately, you need that deliverance."
official_vee998:
"As I remember say she dey support Judy Austin, I nor wan believe the story again,you be ogbanje abi you nor be ogbanje ."
xtine_official12:
But you and Judy still go meet fake prophet wey tell una rubbish about may…continue ."
properties_by_susan:
"I don't expect to find you in a church that preaches the tru word of God. The same way you Dey aid person to destroy another person family na the same way you go Dey go fetish prayer houses. And then the woman's prophecy came to pass kuz you still comot for man house. So same difference Madam north and South Pole legs."
Sarah Martins recounts how her ex-hubby betrayed her
Sarah Martins trended online after sharing the story of how her ex-hubby betrayed her.
To celebrate International Women's Day, Sarah noted that love for her is now transactional and explained what her ex-husband did to her.
According to the actress, she used to believe in love until she got married to her ex-husband as an untouched woman at the age of 19.
Source: Legit.ng