"I Am the First Individual Guinness World Records Holder in Nigeria": Man, 31, With 3 Certificates Surfaces
Not many people know that there are various categories as far as the Guinness World Records is concerned. Some of the categories include individual and group.
While chef Hilda Effiong Bassey's 100-hour cooking feat is yet to be certified by the prestigious body, a man claims to be the first Nigerian to be recognised by GWR in the individual category.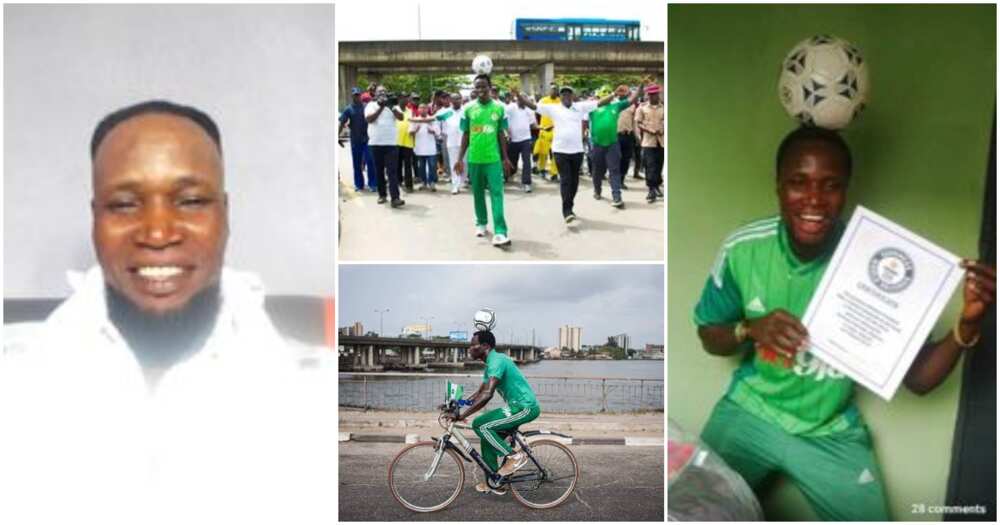 In an exclusive interview with Legit.ng's Victor Duru, the 31-year-old man buttressed his claim and shared why he went for three records.
Who is Harrison Chinedu?
In Dimagu autonomous community Isiekenesi clan in Ideato LGA, the man who would set three Guinness World Records was born.
Born May 30, 1992, Uzoma Harrison Chinedu said he grew up in his maternal home in Okorobasi kindred, Ishiowerre Owerrenkworji in Nkwerre LGA, in Imo State, Nigeria.
He began his primary education at Central School 2 Isiekenesi and completed it at Community Central School Owerrenkworji.
Harrison attended the National Secondary School of Commerce Nkwerre LGA, Imo State, for his secondary school education. Then he obtained a Higher National Diploma in Physical Education/Therapy at Federal Polytechnic Nekede Owerri Imo State.
Harrison shares what inspired him to set 3 Guinness World Records
Harrison told Legit.ng that his journey into the Guinness Book of Records started in 2016.
The football lover's records are; the greatest distance travelled with a football balanced on the head, set on 6th March 2016; the greatest distance travelled on a bicycle while balancing a football on the head, set on 20th November 2016; and the most T-shirts removed while heading a football set on 20th March 2021.
On what inspired him to set the records, the football lover said:
"As a talented footballer who has played football with different football clubs within Nigeria and outside the country.
"I have been with football almost all my life. Anyone who knows Harrison Chinedu will categorically tell you that anytime you see him with a bag, you will find football inside.
"So, I began to make some research on things I could do with football apart from playing on the field with teammates. I now discover different records on the platform of Guinness World Records. And I was driven by passion, love and interest in discovering something amazing that no one thought of me."
He hailed others after him who have set records as well.
"I am glad that after my first record-breaking in 2016, we have had other record-breakers in the same area of my expertise, which is football juggling/football balancing.
"So, I am having more fulfilling dreams of seeing other youths attempting Guinness World Records.
"At least it's giving Nigerians a more positive reputation."
Harrison explains why he claimed to be the first individual GWR holder
When quizzed on his statement and claim, Harrison explained:
"In 2008, Kaffi contested for mass endurance dance.
"We had a mass choir in Akwa-Ibom. We had a family of 7 medical doctors.
"Until in 2016, when I achieved my first record as an individual.
"In Guinness World Records, we have categories of mass records, group records, family records, individual records etc."
Harrison sends a message to the Imo State Government
Harrison said he wants to be recognised by the government of his state and shared why.
"I'm just seeking recognition from my state Government Imo State.
"His recognition of my achievements will help encourage and inspire other youths in the state and Nigerians at large."
Nigerian boy with 5 Guinness World Records surfaces
Meanwhile, Legit.ng reported that a Nigerian boy who holds five Guinness World Records had emerged online.
A popular Nigerian content creator, Lucky Udu, shared photos of him on Facebook and revealed that despite having broken multiple Guinness records at a young age, Okezie's life has not improved.
It was revealed that he is currently a mechanic apprentice. On one of his records, Guinness said:
"The most consecutive passes of a football (soccer ball) between the head and soles while balancing on the back of a person is 129, achieved by Chukwuebuka Ezugha, Victor Richard Kipo and Vincent Okezie (all Nigeria), in Ikot Ekpene, Akwa Ibom, Nigeria, on 11 March 2022."
Source: Legit.ng