Visually Impaired Woman Who Was Chased away By Villagers Becomes Land Lady, Gets Help from Good Samaritans
A Nigerian man has shared the testimony of a visually impaired woman who received help
Not only was she facing visual difficulties, but her two sons also faced a similar condition and the community believed they were cursed
However, good Samaritans came to the woman's aid and stretched out a helping hand to her family.
A Nigerian man, Lawal O. Olohungbebe, has shared a touching story of a woman who faced visual difficulties alongside her two sons.
According to Lawal, the woman couldn't see clearly and two of her sons also suffered a visual impairment.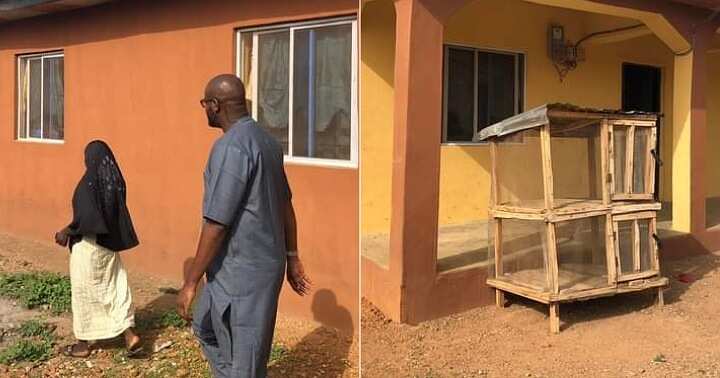 While one of the boys was born without an eye, the other one was already on the verge of losing his already weak eyes and could barely open them.
This sad situation made villagers believe they were cursed and they repeatedly chased the family away.
Fortunately, after hearing their story, kind Nigerians came to their aid and one of her sons got medical intervention to help his visual condition.
A philanthropist who chose to remain anonymous also donated a house for the family and handed them the entire document.
Lawal O. Olohungbebe wrote on Facebook:
"The day I met this woman, I hid myself away from her and wept profusely to the extent that I couldn't drive back home. A colleague, Alliy Alege had to come to my rescue. It was a serious battle between professionalism and emotion.
"She was having serious visual difficulties and two of her three children were also faced with more serious visual challenges. Above all, they were very poor and had been repeatedly chased away by neighbours, including her husband because of their presumed-spiritual condition.
"One of her three sons was born without an eye - both the globe (human eye) and the ocular tissue are missing from the orbit. So, there may be nothing medically possible to fix what does not exist.
"The second visually-impaired son, who was just 6 years old when we met the family, was at the verge of losing his already weak eyes. He could barely open the eyes and would have to tilt his head backwards to see anything.
"We wanted to help and thought it would be wise to address the challenge being faced by the mother first. We thought she would be able to take care of the children better if she was fine and we would consider the son later. Behold! The poor motherly woman pleaded that we rather take care of one of her children so that they can live independently, in case she dies anytime.
"Haashim Initiative for Community Advancement, in collaboration with an Islamic UK-based organisation, Sadaqah Jariyah, was able to rescue the younger boy's eyes with medical intervention which leaves him now playing with his mates with his pair of glasses on. Although, this has not permanently removed the problem, it is well-mitigated.
"The two of them were enrolled into our OVC (Orphans and Vulnerable Children) scholarship program. They are in different special schools to cater for their educational needs.
"In all this, the family did not have a safe place they could call a home. We got a rented apartment for them around Sango area, Ilorin where they were settled in.
"But we didn't stop. We would share her story at any opportunity with any listening philanthropist and she also kept seeking help from wherever she thought one could come, from interpersonal requests to radio programmes, especially on Diamond FM.
"All of a sudden, she got a call from an unknown person enquiring about her wellbeing, children and other matters.
"She was later taken to a land around Kulende by representatives of the unknown philanthropist. She was asked if she would like to live in that neighbourhood and her response was positive to the request.
"And after four months, she got another call from the philanthropist who informed her that he has built a house for her and her children.
"They took her there again and she was surprised to see that the erstwhile bare land now has a befitting house on it. They handed every document as regards the land and the house with her name clearly inscribed on them to her.
"A preloaded (prepaid) PHCN meter and a manually dug well behind the house are some of the facilities in the house.
"I was there last Tuesday in company of a team member, Hadjy Salihu Mawobe, who knew her to be a brilliant student in school, for our routine Ramadan visit and delivery when we were told the whole story.
"The philanthropist has refused to even talk to her afterwards as he claimed he has only done it for his and her Creator and he wasn't expecting anything from anybody.
"To the unknown Philanthropist who has selflessly helped the family, you know yourself and Allah knows you. May your Creator never forsake you, everyone and everything that is attached to you. May you never lack. No matter how successful you are in life, may your children be more successful. We appreciate you."
Social media reactions
Balqees Haroon said:
"This made me cry oh! Kai. May Allah reward you all. Pleaseee I would love to have her phone number and/or her acct details."
Abdul Wuraola commented:
"Allah Akbar. May almighty Allah continue to rewards you for all good deeds..inn sha Allah. Well done sir."
Nurudeen Akimbola added:
"May the blessings and protection of Allah be upon all the donor and Dr. Lawal O. Olohungbebe and all those in your organization. Thanks for the good work sir."
See post below:
Blind mum of triplets receives help
Meanwhile, Legit.ng previously reported that kindness and empathy are not uncommon to witness in Nigeria, and this goes a long way in restoring the faith of many in humanity. A visually impaired Nigerian woman recently went viral after she was blessed with the gift of triplets.
It was a safe delivery. Many donations were made to help ease the pressure and show empathy. The gifts comprised different baby products, various brands of diapers, baby food, clothes for the little ones, beds for the nursery, little chairs, bath sets, powder, baby oil, and so much more.
The new parents posed for pictures with the items to show appreciation for the gifts to all who heard their call for help.
Source: Legit.ng