Professor Charles Soludo Goes Local, Eats Abacha, Drinks Palm Wine As First Food After Swearing-In
Guests at the reception of Governor, Prof. Chukwuma Soludo's swearing-in ceremony were served local delicacies
Specifically, the governor served local delicacy made from cassava (abacha) and palm wine tapped from Awgbu
Soludo also appeared in his locally made Akwete dress, and a pair of shoes made in Ogbunike, Oyi local government area
Prof. Chukwuma Soludo's tenure as Anambra state governor has started. And it started with him fulfilling part of his campaign promises.
As a candidate, he promised to pririotise made in Anambra products. And truly, after his inauguration, on Thursday, March 16, served palm wine (nkwu elu), native delicacies, and locally produced beers and malt drinks at his swearing-in ceremony.
According to Punch Newspaper, guests scrambled for the local delicacy made from cassava (abacha), which was prepared at Umunze, and palm wine tapped from Awgbu.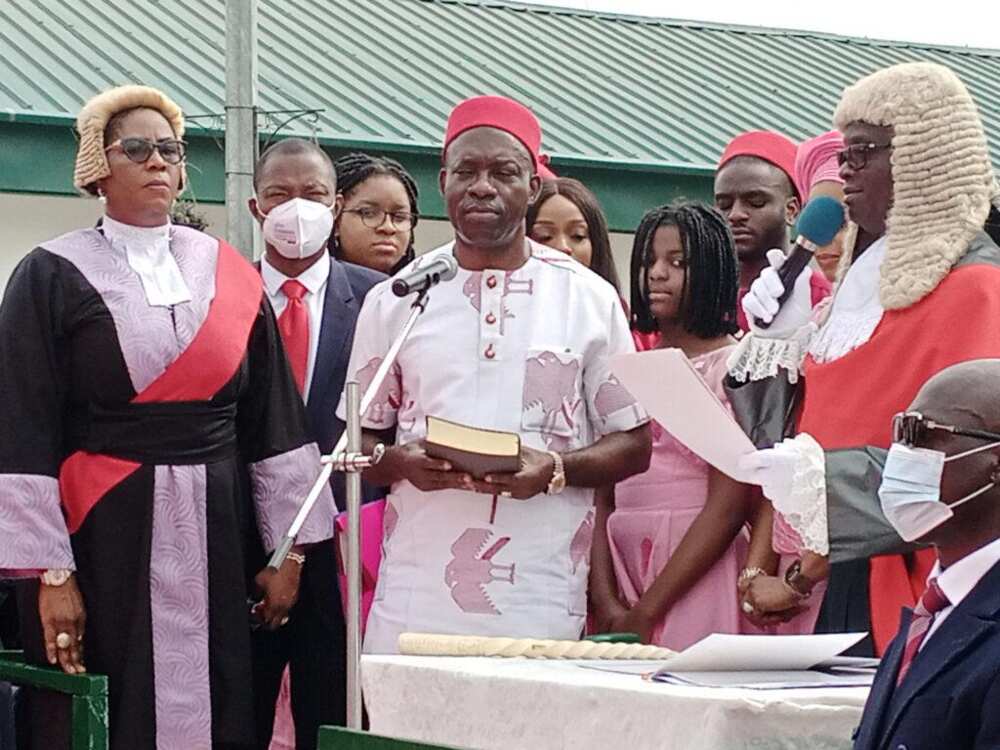 Soludo and his deputy also arrived at the event in vehicles made by Innoson Vehicle Manufacturing while appearing in his locally made Akwete dress, and a pair of shoes made in Ogbunike, Oyi local government area.
Soludo makes first statement after trade of slaps between Bianca Ojukwu, Willie Obiano's wife
Professor Charles Soludo has apologised to the people of Anambra state for the public display of slaps between Bianca Ojukwu and Ebele Obiano.
Soludo said that his government is working to resolve the misunderstanding between the two women which he said have brewed due to personal reasons.
According to Soludo, Anambra state has for many years been known for a huge stock of social harmony.
Hours after his swearing-in ceremony, Soludo makes first promise as Anambra governor
Earlier, Legit.ng reported that the newly sworn-in governor of Anambra state said that he would be needing just one week to roll out a list of his commissioners.
Soludo made the assurance to the people of the state during his inaugural ceremony at the Anambra state Government House in Awka.
Speaking shortly after signing the swearing-in documents, Soludo assured that there is no time to waste but to assume work immediately as the governor of the state.
A new Anambra: Soludo reads riot act to workers, Anambrarains
Meanwhile, Soludo said that his administration will not tolerate unnecessary delays in the execution of government projects and activities in the state.
The former CBN governor warned that his administration would not tolerate official protocols aimed at undermining his activities as the state's key administrator.
Speaking on the plans set down by the incoming Soludo administration, the media aide to the governor-elect, Christian Aburime, said his principal has made it clear that he would not allow his image to be tarnished after all he did as governor of the Central Bank of Nigeria and other international achievements.
Source: Legit.ng