Suge Knight bio: age, height, net worth, wife, kids, is he dead?
What is Suge Knight famous for? Suge Knight is popular because he co-founded and headed Death Row Records, the label that signed some of the greatest gangsta rap artists ever. Unfortunately, his violent behavior and bad company ultimately led to the death of one of the biggest music labels of the 1990s.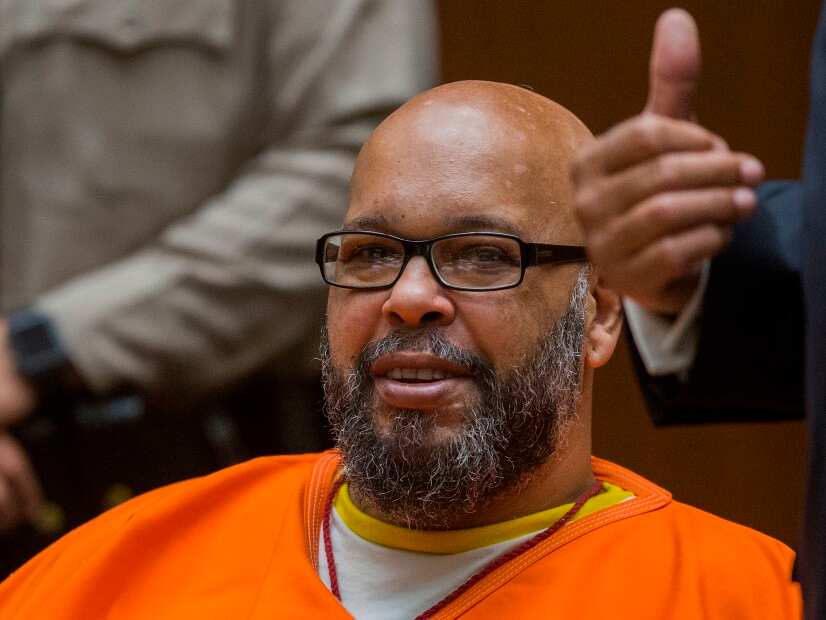 Who is Suge Knight? Suge Knight co-established and worked as the chief executive officer of Death Row Records until its closure. He worked hard to make gangsta rap successful. Besides the Tupac album, he also released The Chronic by Dr. Dre in 1992, and D*ggystyle by Snoop Dogg in 1993. Unfortunately, he often used violence and intimidation when conducting business, and this behavior would later cost him his career and family.
Profile summary
Name: Marion Hugh "Suge" Knight Jr.
Nickname: Sugar Bear
Age: 54 years
Date of birth: 19th April 1965
Place of birth: Compton, California, United States of America
Nationality: American
Ethnicity: African-American
Zodiac sign: Aries
Height: 6 feet 2 inches or (188 centimeters/ 1.88 meters)
Weight: 120 kilograms (264.5 pounds)
Hair color: Black
Eye color: Dark brown
Father: Marion Knight Sr.
Mother: Maxine
Sisters: Karen Anderson and Charlinda Tubbs
Alma mater: Lynwood High School, University of Nevada
Career: Former football player and record label executive
Suge Knight's early life and family background
Where is Suge Knight from? The former music executive was born in Compton, California, United States of America, on the 19th of April 1965.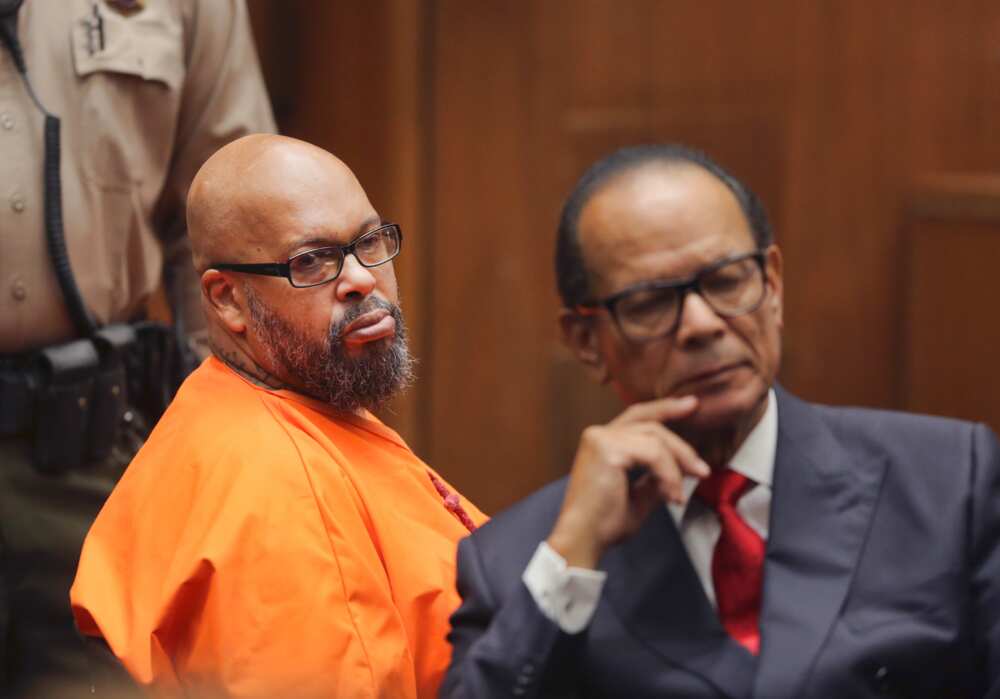 How old is Suge Knight? Currently, Suge Knight age is 54 years. He will turn 55 on the 19th of April 2020.
The former music executive was born to mother Maxine and father Marion Knight Sr. He has two older sisters whose names are Karen Anderson and Charlinda Tubbs. In his childhood, he was nicknamed Sugar Bear.
Education
The former music executive went to Lynwood High School, and he graduated in the class of 1983. He was in the school's football team and was also a track star.
After high school, he enrolled in El Camino College before transferring to the University of Nevada in Las Vegas for two years.
Suge Knight height and body measurements
The former record label owner has a large body frame. His height is 6 feet 2 inches or (188 centimeters/ 1.88 meters,) and his weight is about 120 kilograms (264.5 pounds.)
He has dark brown eyes and black hair. His imposing body is one of his distinctive features.
Career
Before becoming a famous and respected record producer, Suge was a football player.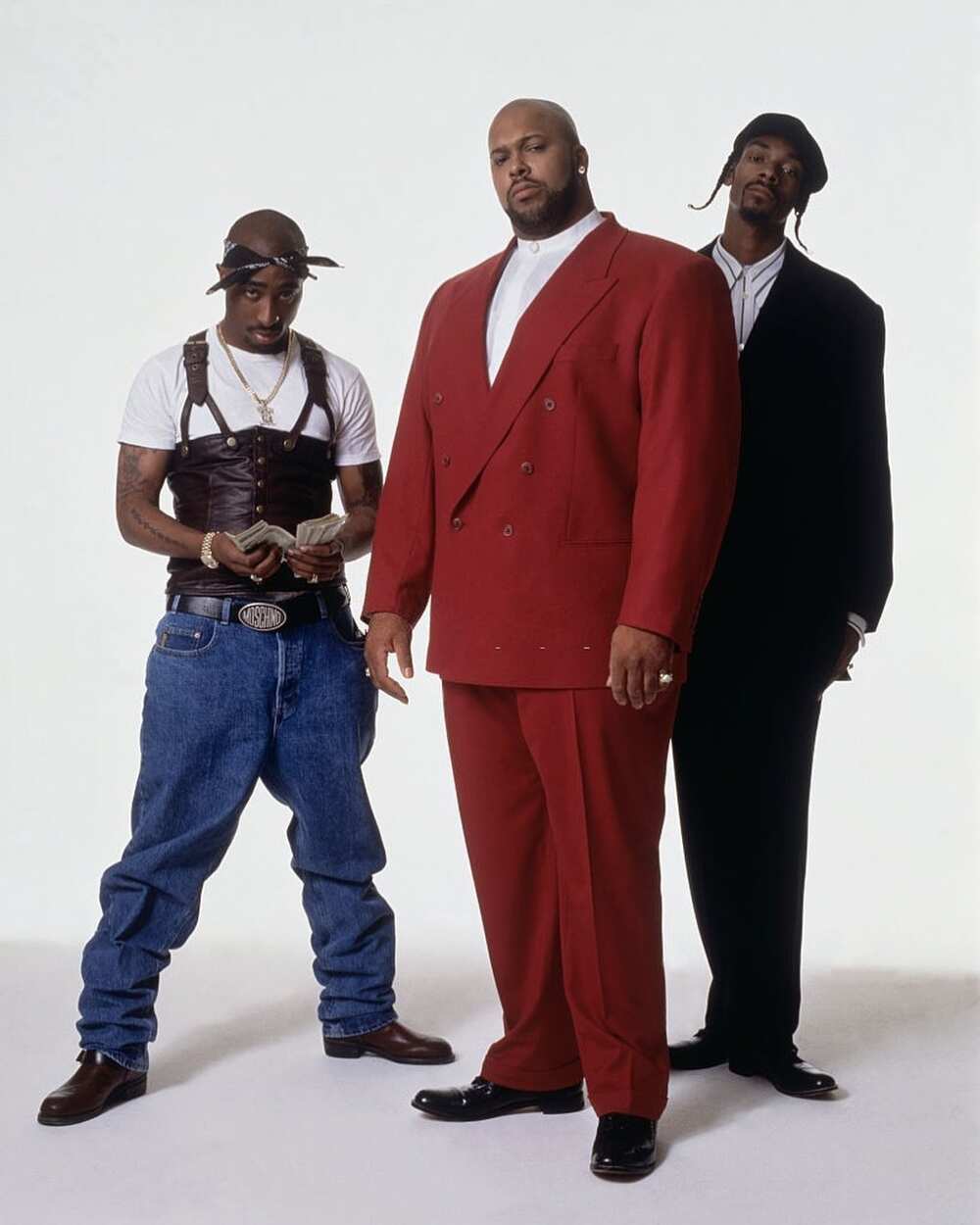 Football career
The former football player was in the football team of El Camino College from 1983 until 1985. He then transferred to the University of Nevada in Las Vegas, where he also joined the football team and played for two years.
Unfortunately, he was not drafted in the 1987 NFL Draft, but he received an invitation to join the Los Angeles Rams training camp. The Rams cut him out, but he played for the team during the NFL Players Strike in 1987.
Career in music
After his football career ended, he secured a job as a celebrity bodyguard and concert promoter. At one point, he was the bodyguard of Bobby Brown.
In 1989, he became an entrepreneur by founding a music publishing company. He signed his first agreement with Vanilla Ice (Robert Van Winkle) for a share of royalties for the mega-hit jam, Ice Ice Baby.
The agreement was made because Suge's client, Mario Johnson, wrote some of the content in the song. One day, the music executive found Vanilla Ice in a hotel room and held him by the ankles over the balcony, threatening to throw him off if he refused to sign the deal.
Soon after, he founded an artist management company that signed The D.O.C. and DJ Quik, both hip hop artists. The latter helped him to meet and interact with N.W.A., a gangsta rap group.
The birth of Death Row Records
The D.O.C. and Dr. Dre wanted to make their departure from Ruthless Records, which had also signed N.W.A. Jerry Heller was the manager of N.W.A., and Eazy-E headed the label.
The former music executive threatened Eazy-E and Heller using baseball bats and lead pipes, so they were forced to release D.O.C. and Dr. Dre. After their release, Dre and D.O.C. joined hands with Sugar Bear to create Death Row Records in 1991.
Sugar Bear worked on making the two artists the greatest ones in the 1990s. He signed a distribution deal with Interscope. Dr. Dre's debut album in 1992 dubbed The Chronic, attained Triple Platinum status in America.
Dre's protégé, Snoop Dogg, also released his debut album, D*ggystyle, and it got Platinum certification four times in America. Soon, Death Row started feuding publicly with Luther Campbell.
In 1994, Sugar Bear opened a private, book-only nightclub called Club 662 in Las Vegas. The name was inspired by MOB (Member of Bloods.)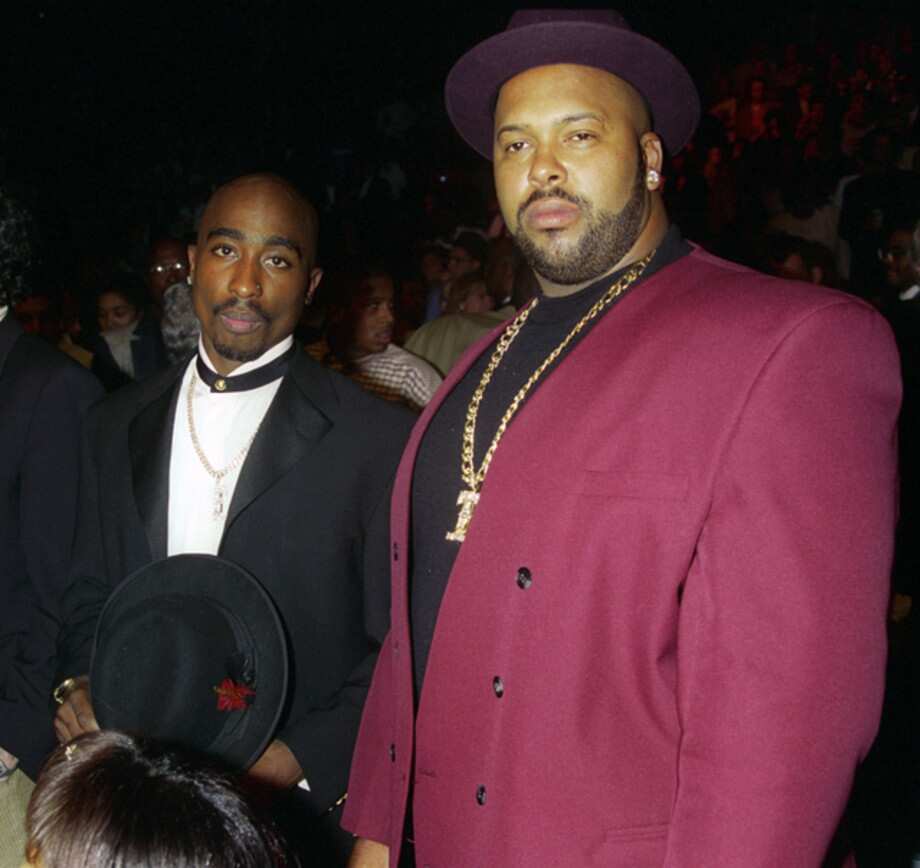 In 1995, he offered to post Tupac's bail of 1.4 million dollars if the rapper would sign with Death Row Records, to which he agreed. Tupac then released All Eyez on Me and later The Don Killuminati: The 7 Day Theory.
Tupac's death
Although Suge was not charged for involvement in Tupac's death, there are theories that he killed him. Tupac was shot in a drive-by shooting on the 7th of September 1996 in Las Vegas. He died six days after the incident.
Rapper Biggie Smalls was also killed in the same manner as Tupac on the 9th of March 1997, and some people still believe that the former music executive was involved.
The fall of Death Row Records
On the 4th of April 2006, Sugar Bear filed Chapter 11 bankruptcy after a sour business deal involving Lydia Harris. After investigations, it was discovered that there was gross mismanagement of Death Row Records.
In June the following year, Suge Knight house in Malibu, California, was placed on sale for $6.2 million. It was sold in December 2008 for $4.56 million in bankruptcy court.
Death Row Records was auctioned by the court in June 2008, and the ownership was eventually transferred to Wideawake Entertainment. On the 25th of January 2009, everything inside the Death Row Records office was also auctioned.
New Death Row Records
Suge Knight 2019 media featured came after his son announced that New Death Row Records would release new music by Tupac Shakur. His son had claimed in October 2018 that Tupac was still alive.
In 2019, Sugar Bear's son admitted that Tupac was long dead, but his unreleased album would be released soon by the label.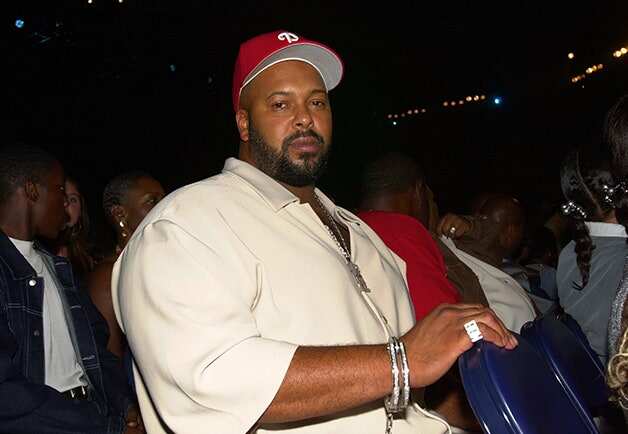 Suge Knight net worth
Although Suge Knight jail term is still ongoing, the artist still has some money attached to his name. Currently, his net worth is estimated at $200,000.
Relationships and marriage
The former music executive had a complicated love life. He dated a few women in his prime years and even married two of them. However, his second marriage was later considered a mere sham.
He was in a relationship with actress Bernice Burgos in the past. In the mid-1990s, he started dating Misa Hylton, who was P. Diddy's ex-girlfriend. At the time, Misa Hylton was raising her two-year-old son whom she bore with P. Diddy.
In the 1980s and 90s, Sugar Bear was romantically linked to Sharitha Lee, who he first met at a high school party. The two had a very rocky relationship. In 1987, Lee got a restraining order against him for chopping off her hair.
After a while, the pair reconciled and became an item again. At the time, Lee made a significant contribution to Death Row Records. She then married Sugar Bear, and together, they were blessed with a son named Arion.
In 2007, Sugar Bear alleged that Lee caused the death of Tupac Shakur. He said that he was the target, but the bullet accidentally hit Tupac. Lee dismissed his claims, calling them baseless.
Between 1999 and 2005, R &B singer Michel' le was Sugar Bear's heartthrob. Back in 1991, he had helped her to be released from Ruthless Records. The pair started dating in 1996, and they exchanged their marriage vows in 1999.
In 2002, the couple was blessed with a daughter named Balei. The marriage ended in divorce in 2005. Later, Michel' le opened up and said that Sugar Bear was a violent man who abused her physically in their marriage.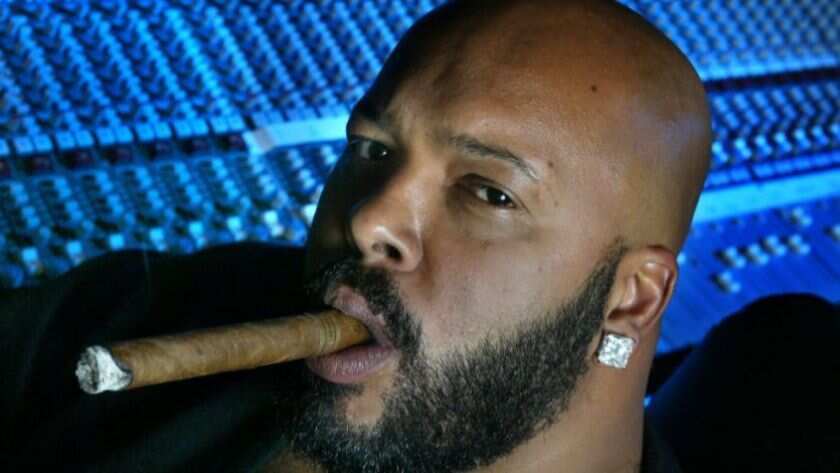 Before she became Suge Knight wife, Michel' le was in a relationship with Dr. Dre, who was also violent. She and Dre had a son named Marcel in 1991.
Interestingly, Michel' le married Sugar Bear while he was still incarcerated. She later discovered that her marriage to him was invalid because he was still legally married to Lee when she exchanged her vows with him. In 2005, she filed for a divorce after being married six years.
In 2000, Sugar Bear was allegedly in a romantic relationship with Losa Lipes, a rapper. The relationship started when she was still negotiating a deal with Sugar Bear's record label.
Suge Knight kids
Sugar Bear had children with multiple ladies in his prime years. The oldest Suge Knight son is Taj, whose mother is Davina Barnes. He was born in 1991, and he spent most of his childhood with his mother in Atlanta.
In 1995, the former record producer gave birth to his second son, Suge Knight Jr. He is the CEO of OverKnight Entertainment. He is also the father of Sharitha Lee's child, Arion.
He also has a daughter named Posh, whose details are scarce. Her mother is also not known. In 2002, Sugar Bear and Michel' le gave birth to a child named Balei.
His youngest child is a son whose name is Legend. His mother is Toi Kelley, who was once engaged to the former music executive.
Not much is known about Legend and his mother. He only came into the limelight after news emerged that he had been denied the opportunity to visit his father in prison. At the time, he was only six years old and unaccompanied because his mother was not allowed to visit Suge.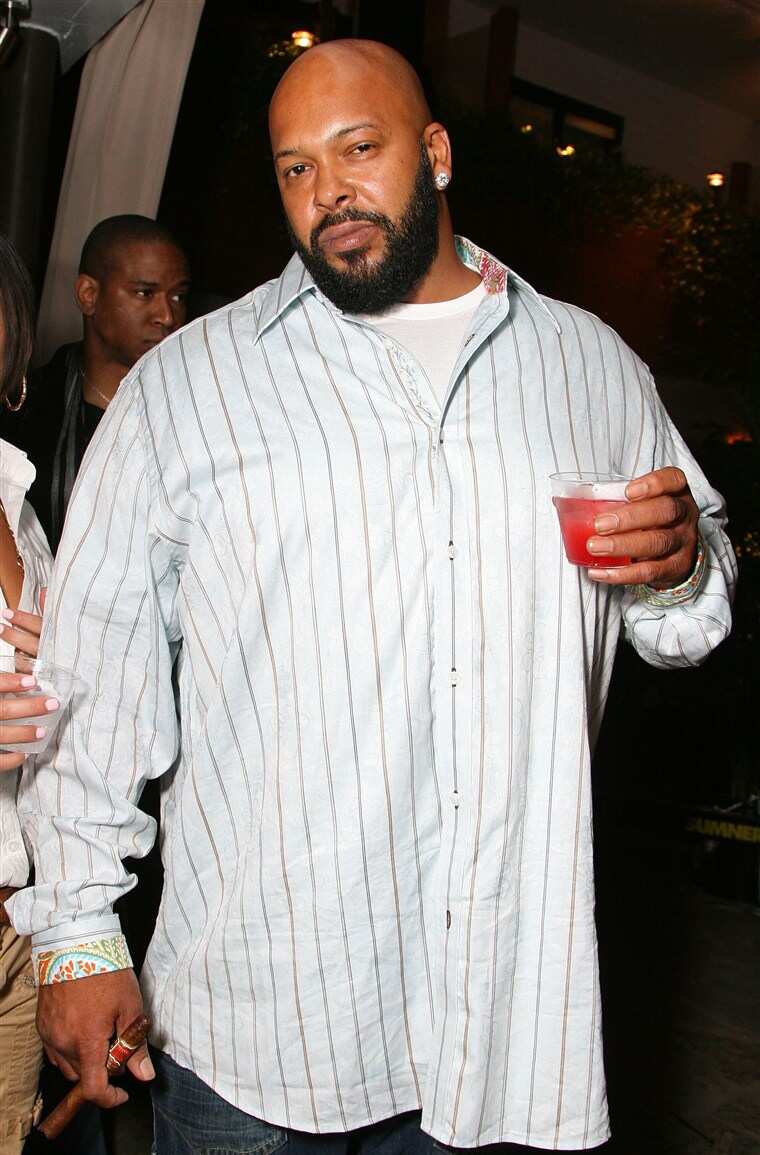 What of Andrew Knight?
Andrew claims that he is the son of the former music executive. However, in 2002, he was charged with impersonation in a case that involved Lindsey Lohan.
His real name was said to be Andrew Payman. Andrew got into Lindsey's inner circle and stole watches worth over $100,000. He then framed Lindsey for theft.
The young man faced six charges. The first three were for impersonation with the intent of defrauding people, while the others were grand larceny, felony robbery, and felony grand theft. He was set free on a $50,000 bond.
In 2018, Darren Young, Andrew's boyfriend, was battered by Norman' Nocky' Theuerkorn. Norman was the boyfriend of Mick Jagger's daughter. After the incident, Darren underwent brain surgery.
Is Suge Knight in prison?
Where is Suge Knight? The former music executive is currently serving his jail term. He has been involved in several legal cases in his lifetime.
In 1995, he had a federal case after he assaulted two rappers in 1992 in one of the studios in Hollywood. He pleaded no contest, so he got a five-year probation period.
On the 22nd of October 1996, the first Suge Knight prison term began. He was incarcerated pending a hearing after he violated his terms of probation.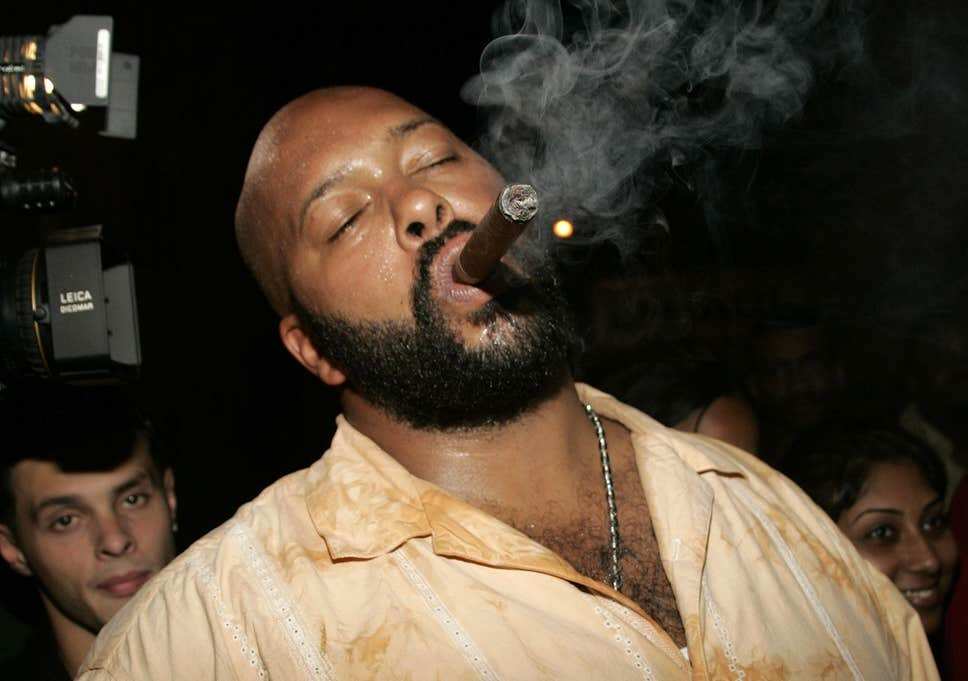 The crime happened in early September 1996 when he and his entourage attacked crisps gang member, Orlando Anderson. In 1997, he was given a nine-year jail term for violating his probation but was released on the 6th of August 2001.
In 2003, he assaulted a parking lot attendant, so he was incarcerated again. His jail term was because he had violated his probation for the second time.
What happened to Death Row Records? During his time in jail, the record label died slowly because its income generation sunk in Sugar Bear's absence. In 2006, he was in a feud with Snoop Dogg.
On the 10th of May 2008, Suge was caught in the middle of a money dispute outside a night club. He was involved in a fight that left him unconscious for three minutes. He refused to cooperate with the Los Angeles police officers while in hospital.
On the 30th of October 2008, Suge filed a bankruptcy claim and also sued Kanye West. The case was because he had been wounded by a bullet on his upper leg at Kanye's party.
In February 2009, Sugar Bear was reportedly given a beating at a private party that was hosted at W Scottsdale Hotel. He was taken to Scottsdale Healthcare Osborn to get medical attention for an injured face.
On the 8th of February, he was arrested in Las Vegas, Nevada, United States of America. Police officers found cannabis in his car as well as warrants for traffic violations.
There was trouble again on the 24th of August 2014 during a Chris Brown party that was held at a West Hollywood Sunset Strip nightclub. He was shot six times but was still able to walk to the ambulance.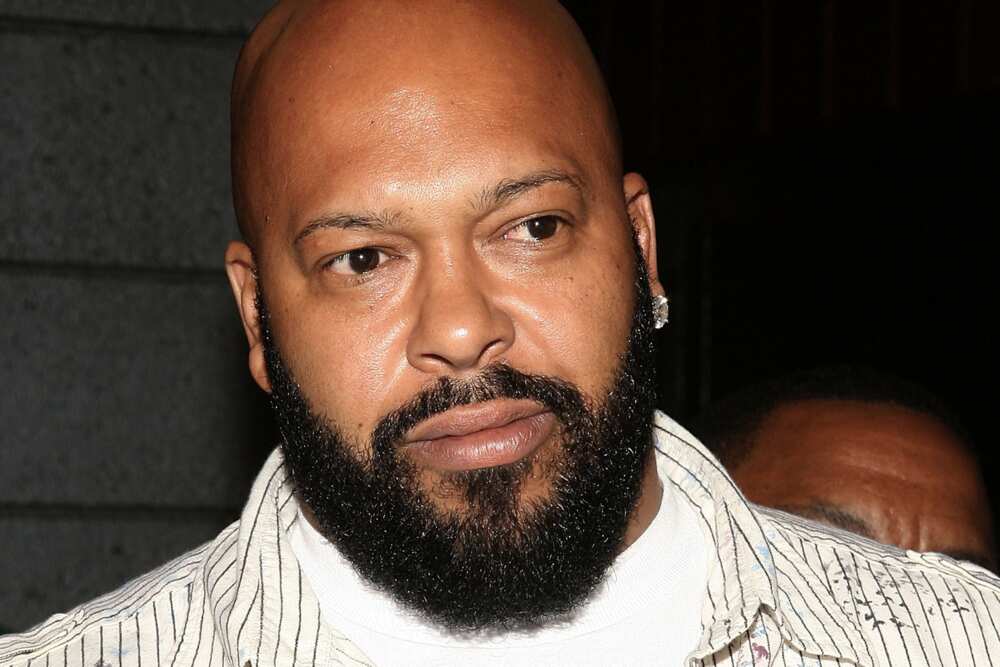 Is Suge Knight dead? He is still alive even after taking six bullets. Following the shooting, he underwent surgery.
The CCTV footage of that day showed that he was the intended target. He was discharged on the 27th of August that year.
In late October 2014, Sugar Bear and Katt Williams were arrested for second-degree robbery. They were charged after an alleged camera theft from a paparazzi photographer in Beverly Hills, California. They both pleaded not guilty.
On the 29th of January 2015, Knight ran over two men with his car. He ended up killing his friend, Terry Carter, before fleeing from the scene. The second person, Cle Slogan, sustained a mangled foot and other head injuries.
Eyewitnesses claimed that the crash was intentional and that it occurred after an argument on the set of Straight Outta Compton. Sugar Bear followed the two into a burger stand and ran over them, claiming that it was in self-defense.
In March that year, Sugar Bear was taken to hospital after reporting to a judge that his health status was deteriorating. The court set bail for his release later than month, but he collapsed soon after the $25 million bail was announced.
In mid-April the same year, his bail was reduced to $10 million. In July, his attorney claimed that he might have a tumor in the head. Even then, his bail was denied.
He remained in jail until March 2017 when he was hospitalized for having clots in his lungs, so his trial was delayed. In September 2018 his case resumed, and he pleaded no contest to voluntary m*nslaughter.
Is Suge Knight in jail? He is. After his no contest plea, he was sentenced to 28 years in prison. He is serving his term at the San Diego based RJ Donovan Correctional Facility.
In his prime, Suge Knight was one of the respected music executives. Unfortunately, both his personal life and career were affected by his violent nature. He is currently serving a 28-year jail term for voluntary m*nslaughter.
Source: Legit