Where Nigeria Stands: Top 5 Most Powerful Passports in Africa in 2021 Revealed
There are many ways to measure a country's strength in comparison with other nations and its passport is one way of achieving this.
The latest release of international passports ranking by Henley Passport Index has put paid to any argument on which countries in Africa have the most powerful passport at the moment.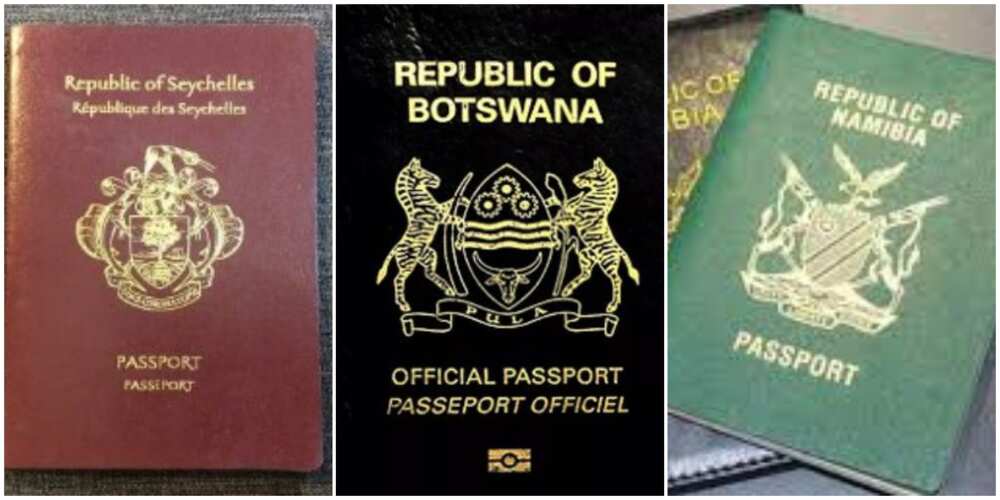 In the list that featured 199 different passports from various continents and 227 travel destinations, the Giant of Africa, Nigeria, shares 103rd position with Ethiopia.
According to the list, holders of the Nigerian passport can only visit 45 countries without visa.
Legit.ng spotlights five African countries who had better ranking in the global list, making them the most powerful on the continent as far as matters of passports are concerned.
1. Seychelles, ranked 29th globally
French-speaking African country Seychelles comes in first place after ranking 29th on the global list.
Holders of the East African country's passport get to visit 152 places without any visa. Seychelles is famed for its beaches, coral reefs, nature reserves as well as having rare animals like giant Aldabra tortoises.
2. Botswana, ranked 67th globally
Taking second spot in this most powerful passport ranking is a Southern African country Botswana.
Ranked 67th on the global list, holders of the landlocked country can set their feet in 86 places without a visa.
3. Namibia, ranked 73rd globally
Consequent upon ranking 73rd on the global list, Namibia takes the third spot.
The Southwest African country famed for its diverse wildlife avails holders of its passport the privilege of visiting 78 places.
4. Lesotho, ranked 74th globally
The second Southern African country on this list is Lesotho having being rated 74th globally.
People who hold Lesotho passport can visit 77 places without having to worry about visa.
5. Malawi, ranked 76th globally
Malawi, a country in East Africa finishes 5th after being ranked 76th by the international ranking organization.
Holders of Malawian passport can visit 73 places without visa.
Passport production in Lagos record over 38,000 in 4 months
Meanwhile, Legit.ng previously reported that passport production in Lagos had hit over 38,000 in the space of 4 months.
The Passport Control Officer (PCO) of the office, Mr Ibrahim Liman, who is a deputy controller of immigration, made the disclosure in Lagos on Monday, October 18.
According to the PCO, 29,984 of 32-page passports and 8,246 of 64-page passports were produced in the period under review.
Liman, while appreciating the officers who sacrificed extra time to enable the passport office to meet the demands, said such commitment would not go unnoticed. He said that the officers worked 24 hours, all the days of the week to ensure the demand of the applicants was met.
Source: Legit.ng