"Dejected, Sad, Condemned": Video Clip of Chief Adedoyin's Reaction After Death Sentence Emerges
The courtroom where Chief Rahman Adedoyin was sentenced to death by hanging was filled with tears and agony following the court's verdict
In a viral video, Chief Adedoyin sat in shock and looked dejected by the court's verdict
He was seen in the video being consoled while others shed tears and wailed after the close of the court session
Justice Oyebola Ojo, the Chief Judge of Osun State, on Tuesday, May 30, sentenced Chief Rahman Adedoyin, owner of Hilton Hotels in Ile-Ife, to death by hanging for the murder of Timothy Adegoke, a postgraduate student of the Obafemi Awolowo University, Ile-Ife.
As reported by Vanguard, Chief Adedoyin was sentenced alongside six of his hotel staff — Magdalene Chiefuna, Adeniyi Aderogba, Oluwole Lawrence, Oyetunde Kazeem, Adebayo Kunle and Adedeji Adesola.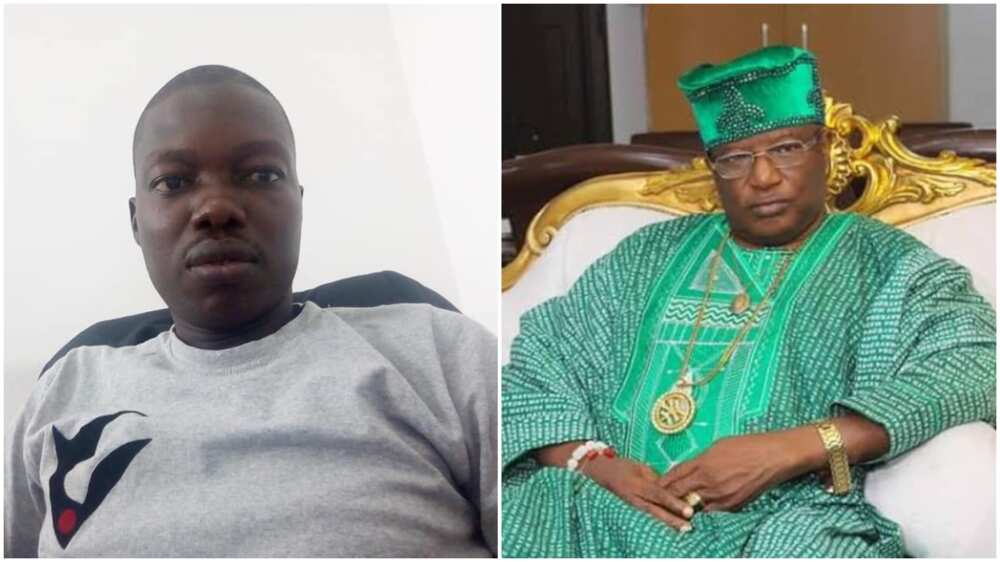 All six of them were docked on an 18-count charge, including conspiracy to commit murder and unlawful killing of Adegoke.
In a viral video sighted by Legit.ng on Wednesday, May 31, the convicted Adedoyin was seen sitting on a chair looking surprised and dejected after the close of the court session.
Watch full video below:
He looked in amazement and was dumbfounded at the judgement issued by Justice Ojo as sympathisers walked up to him to console him.
Others were seen crying and being consoled by his legal team following the close of the court session.
Earlier during the court session, Justice Ojo also gave a ruling ordering the acquittal of three defendants, Magdalene, Chiefuna (2nd defendant), Oluwole Lawrence (4th defendant) and Adebayo Kunle (6th defendant).
Meanwhile, Adedoyin was found guilty of seven out of the 18 charges against him.
Similarly, Justice Ojo convicted the third defendant, Adeniyi Aderogba and the fifth defendant, Oyetunde Kazeem, for six out of the 18 charges against them.
Video Shows Moment British Judge Sentences Ekweremadu, Wife, Doctor to Prison
In another development, a viral video of the sentencing of Senator Ike Ekweremadu, his wife, Beatrice Ekweremadu and their accomplice Dr Obinna Obeta has emerged.
This was hours after the court sentenced the former Deputy Senate President to 10 years imprisonment.
In the viral video, Beatrice was handed a four-year jail term while Dr Obeta was handed 10 years.
Source: Legit.ng