PhD Student Trained by Top US Legislators Contesting for House of Assembly Position in Nigeria
Micheal Onu Emmanuel from Mburubu has revealed his reasons for wanting to represent his people
The PhD student who was trained by some legislators in the United States of America says his wealth of experience will stand him out
Meanwhile, he insisted that Enugu state can lead in the production, processing, packaging, and exportation of wheat
Running under the Young Progressive Party (YPP) Micheal Onu Emmanuel from Mburubu, is a PhD Student/Candidate in Criminal Justice and Homeland Security, USA with a Master's Degree in Public Policy and Public Administration from Liberty University, USA.
A security contractor and consultant in the United States, Onu Emmanuel believes that with his wealth of experience working with notable legislators in America, he would be able achieve make very major breakthroughs if elected to represent Nkanu-East.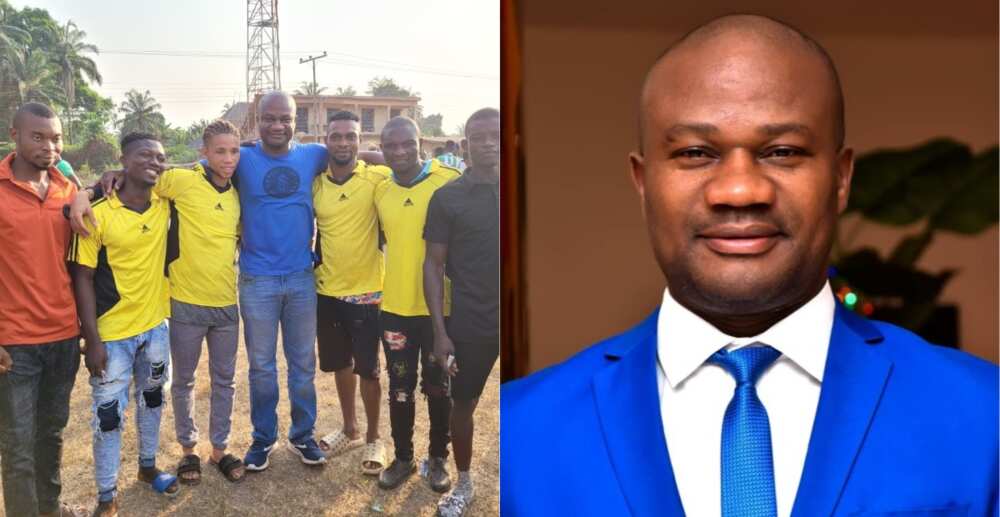 In this exclusive interview with Legit.ng, he unveils who he is, and reasons why he is the best person to hold the job at this point in time.
Speaking on why he is running to represent the people of Nkanu-East state constituency in the forthcoming elections, he said:
"I have tremendous experiences in lawmaking process having had the privilege to work for and with Jamie Raskin representing Maryland 8th Congressional District vital to be an effective legislator. I will work hard and make sure Nkanu-East citizen's voice is heard through legislative transformation.
"Secondly, I am vying for office of State House of Assembly Enugu State because it is another way to give back to my community by influencing public policy. Having travelled to 85% of Nkanu-East Constituency, there is no iota of doubt that we are behind in terms of socioeconomic development. Having travelled to four continents (North America, Asia, Europe, and Africa), Africa is behind, Nigeria is performing poorly compared to other African nations, while same thing is applicable to Nkanu-east compared to other Local Governments in Enugu state.
"It is an opportunity for me to replicate what I have learned traveling around the world both for leisure and other activities. Thirdly, the incumbent and ruling party have failed woefully to challenge the executive governor and explore legislative oversight whose purpose is to hold the government accountable on pressing issues."
Going further, he said that he believes that Enugu state can lead in the production, processing, packaging, and exportation of wheat.
Speaking on his experience, he added:
"I had the opportunity to work with and for some American politicians such as the current Maryland Lieutenant (Deputy) Governor Boyd Rutherford, Jamie Raskin currently representing Maryland's 8th Congressional District in the USA House of Representatives, Dan Cox (He is currently the Maryland Republican gubernatorial candidate for 2022 elections). I gained a wealth of experience working as intern for and with Lee Havis (he is currently Republican candidate for Maryland State Senate Legislative District 21) and so on.
"In this capacity, I provided astute political strategies during their campaigns and engaged in get-out-to-vote political mechanism. I served as the deputy field organizer in Prince George's County. In addition, I was a designated Challenger, Watcher and Election Observer in some polling units for Hogan/Rutherford Campaign in 2018.
"Furthermore, I worked for and with Lieutenant (Deputy) Governor Rutherford for a few months at the Annapolis, which is the State Capital of Maryland, thus I gained a wealth of executive experience. Similarly, I learned profound legislative skills and knowledge from Jamie Raskin both during his campaign and in the Capitol. I gained tremendous experience and skills while I was with Dan Cox."
PDP Crisis: "Arrogance, impunity, mischief, will not really help matters", G5 leader blasts Atiku, Ayu
Meanwhile, Samuel Ortom, the governor of Benue state, has blasted the leadership of the Peoples Democratic Party (PDP) for lack of sincerity in reconciling with the aggrieved governor.
The governor also said that Iyorchia Ayu, the PDP national chairman and Atiku Abubakar, the party's presidential candidate, should be held responsible if the reconciliation failed.
Ortom made this known while speaking with journalists in an interview on Thursday, January 19.
Source: Legit.ng