2023 Elections: Bishop Oyedepo Releases Outcome of Polls, Reveals What Nigerians Should Expect
Oyedepo professed God's choice and an­nounced candidate will emerge at the end of the 2023 general election to govern Nigeria
The respected cleric prophesy that the 2023 elec­tion in Nigeria, in all its ramifica­tions, shall be peaceful
Oyedepo is the found­er of the Living Faith Church Worldwide (Winners) and presid­ing Bishop of the Faith Taberna­cle in Ota, Ogun state
Nigerians have been told what to expect in the coming general election. This is the position of Bishop David Oyedepo of the winners church
According to the respected cleric, the 2023 election will be peaceful, and free of bloodshed.
Secondly, he assured that the winner of the election will be God's candidate, PM News reports.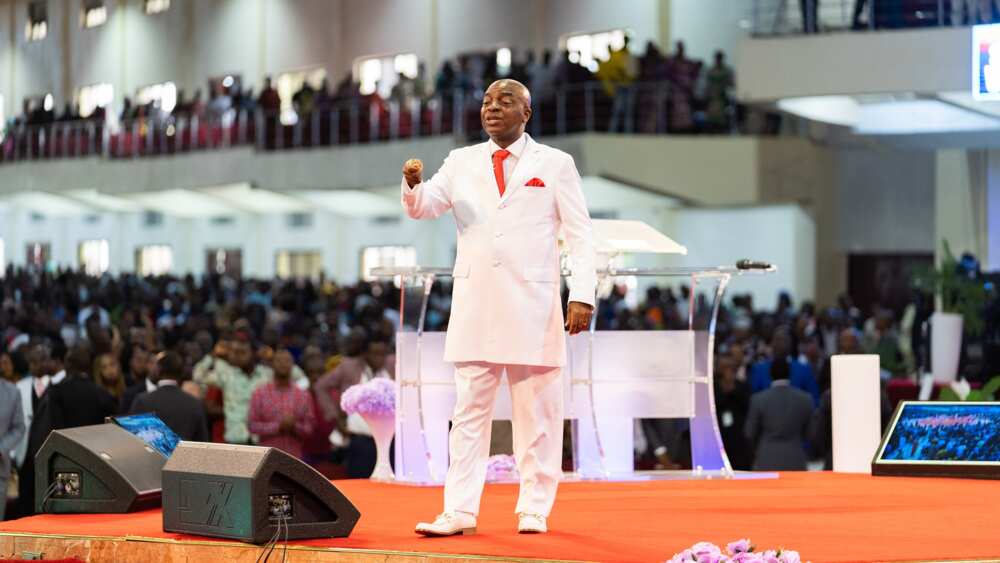 Thirdly, he noted that Nigeria will enjoy good security again after the elections, Independent added.
He prayed:
"Nigeria's forthcoming election will be peaceful. There shall be no blood¬letting, no blood will be shed. There shall be peace and God's voice candidate will emerge to rule Nigeria.
"Nigeria will enjoy good security again. There shall be peace on the land, at sea, in the air, and everywhere. You will never lose the track of heaven in your life. I pray that none of you will cause heartache for your parents. I pray for your ultimate success in life. I pray for your ultimate settlement in mar¬riage. You will be happily settled. None of you shall die young, your days shall not be cut short in the mighty name of Jesus Christ, Amen."
Pastor Adeboye shares stunning details of what he did when EFCC probed him for buying private jet
Meanwhile, the general overseer of the Redeemed Christian Church of God (RCCG), Pastor Enoch Adeboye has recounted his encounter with the Economic and Financial Crimes Commission (EFCC) after he bought a private jet.
Speaking during the Holy Ghost Service of the church, Adeboye said the purchase of the private jet years ago brought about a lot of noise and criticism from people. The cleric disclosed that EFCC officials came after him and he had to return to God for a solution.
"Traveling out of Nigeria not the best", Oyedepo tells youths
A message has been sent to Nigerians. The message was sent by the chancellor of Covenant University, Ota, Dr David Oyedepo.
He urged Nigerian youths not to see travelling out of the country as the most important thing in the world.
Oyedepo made the appeal while speaking with the News Agency of Nigeria on Saturday in Ota, Ogun, where he said everyone needed to stay in Nigeria and fix the country.
Shiloh 2022: Did Bishop Oyedepo endorse Peter Obi? Fresh details emerge
Meanwhile, following the visit of Peter Obi, the Labour Party presidential candidate to the 2022 Shiloh program at the Living Faith Church Worldwide on Thursday, December 8, socio-political analyst and human rights activist, Deji Adeyanju has reacted.
In a tweet sighted by Legit.ng on Friday, December 9, Adeyanju revealed that the general overseer of Living Faith Worldwide, Bishop David Oyedepo did not endorse the former Anambra state governor.
Adeyanju further disclosed that the Labour Party flagbearer was not given the mic to speak despite being introduced by Bishop David Abioye. He, however, berated obi for bringing politics to the church, noting that the house of God is not a platform for political campaigns.
Source: Legit.ng