Update on Clerics at Shettima's Unveiling: Christian Group Finally Takes Powerful Step to Avoid Repeat
A religious group known as the Christian Association of Clergies in Nigeria (CACN) has announced the decision to issue identification cards to clerics in Nigeria
The group revealed that the decision was influenced by the reaction and embarrassment from persons in bishopric regalia at the unveiling of APC vice president candidate
The CACN argued that the professional body, NBA and even the native doctors have identification numbers; thus, nothing should stop clerics from having the code
Onitsha, Anambra - The Christian Association of Clergies in Nigeria (CACN) has completed plans to start issuing identification numbers to all Christian clerics in the country.
According to The Punch, the group maintained that the decision became necessary as some persons in bishopric regalia appeared at the All Progressives Congress (APC) unveiling its vice presidential candidate, Kashim Shettima.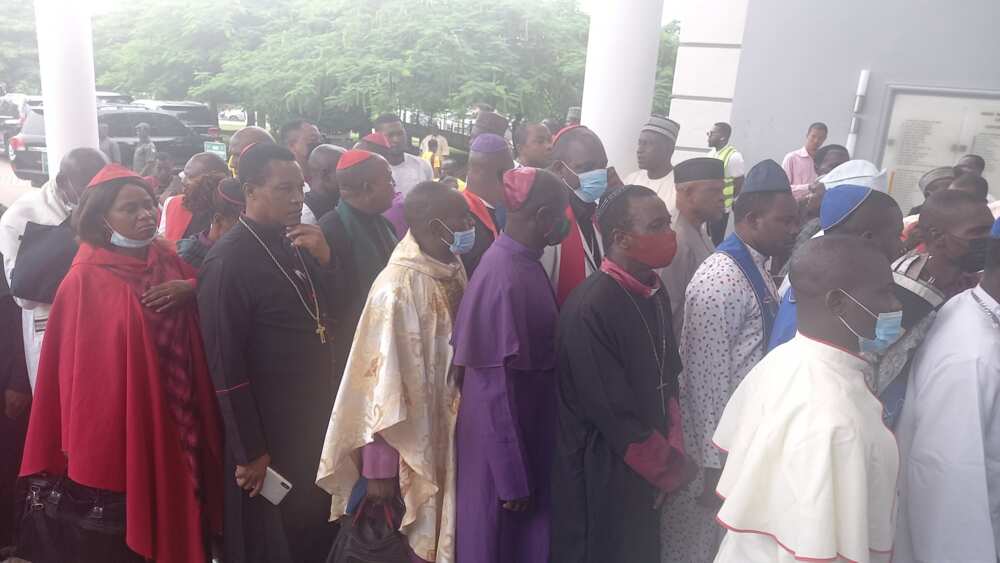 Why we are issuing identification numbers to Christian clerics - group reveals
This was influenced by the reactions and embarrassment the development caused the Christian Association of Nigeria. As a result, it began to issue identification numbers to clergies in Nigeria for proper identification.
The national coordinator and secretary of the CACN, Alpha Ikpeama and Joseph Ajujungwa said this on Wednesday, August 4, in a press statement they made available to journalists in Onitsha, Anambra state.
The statement added that the Bible Family Christian Media would do the exercise.
Christian group defends issuance of identification numbers to clerics
They argued that professional bodies such as the Nigerian Bar Association and native doctors have identification numbers, saying the clerics should have too.
"All the professional bodies, particularly the Nigerian Bar Association, even the native doctors are being identified with identification numbers," the statement read in part.
Muslim-Muslim Ticket: Again, Atiku attacks Tinubu, says memory loss is affecting the APC Leader
In a related report, legit.ng reported that the Peoples Democratic Party (PDP) 's presidential candidate, Atiku Abubakar, has attacked the APC candidate, Bola Tinubu, on memory loss.
In an earlier report, Atiku claimed that Tinubu had asked him to nominate him as his running mate when they were both in the Action congress in 2007. Still, he rejected him because of the religious configuration of Nigeria.
In reacting to the claim, Tinubu said Atiku was lying, saying he was offered the position, but Atiku had countered the denial, saying Tinubu's memory had failed him.
Source: Legit.ng