"Coward": Iyabo Ojo Slams Lizzy Anjorin, Threatens Lawsuit for Dragging Her Over Mohbad
Iyabo Ojo has made a video to respond to Lizzy Anjorin, who has been calling her out over Mohbad's death
In the clip, Ojo dared Anjorin to mention her name directly and stop disguising by using a fake social media account
The mother of two promised to sue her and said she would not settle out of court even if her late parent begs her
In an exclusive chat with Legit.ng, Biola Joshua, a fan of the two Nollywood actresses said Iyabo Ojo should have ignored Lizzy Anjorin and allowed her to continue disgracing herself on social media.
Nollywood actress Iyabo Ojo had made her grievance known to her colleague Lizzy Anjorin, who has been indirectly taking a swipe at her over Mohbad's death.
Legit.ng reported that Ojo had been championing justice for the late singer who died in his prime.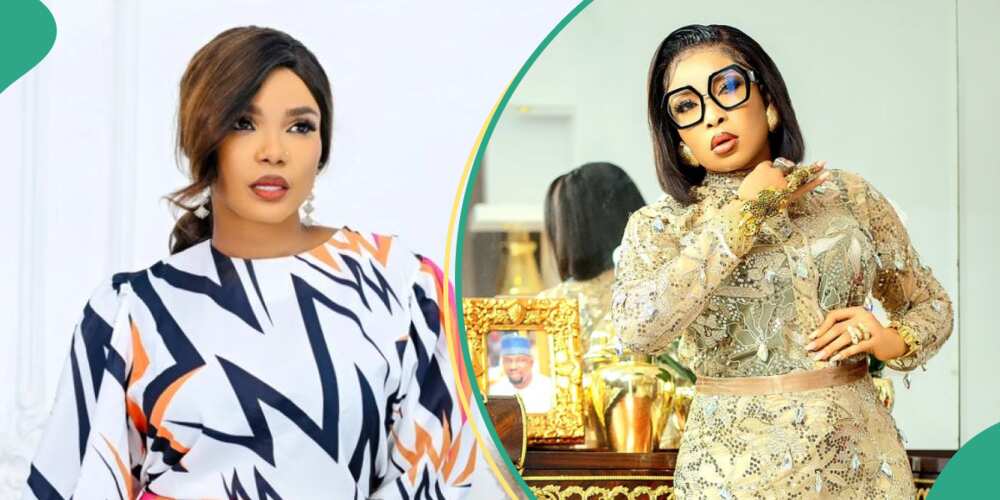 Anjorin initially learnt her voice in fighting for justice for late Mohbad by asking Nigerian mothers to protect their children.
However, she made a U-turn later and started making allegations against Ojo.
She once claimed Ojo was dating Naira Marley and noted that informed her concern about the investigation into Mohbad's death.
In response to the name-calling, Ojo made a video and asked her fans to tag Anjorin and tell her to mention her name directly.
Iyabo Ojo threatens to sue Anjorin
In the clip on social media, Ojo said she was ready to sue Anjorin for defamation and would not settle out of court.
She added that even if her late parents should wake up from the death and beg her, she would not listen to them.
The actress and entrepreneur further alleged that Anjorin had tried to be on good terms with her by sending people to beg her.
She also claimed Anjorin still owed her for the last film she produced, which she featured in.
See the clip Iyabo Ojo made here:
Fans react to the video made by Iyabo Ojo
Reactions have trailed the clip made by Iyabo Ojo in response to Lizzy Anjorin. Here are some of the comments below:
@bukke_nzo:
"Have been expecting her to come out good one, Lizzy have been doing too much."
@Talktoshe_ng:
"As they no mention your name, leave matter na.
@oyecap_theplug:
"Una no listen to all what lizz said oo... Cos she replied now, una dey say she dey always fight? Ment."
@nanavie11:
"This woman has tried ignoring Lizzy for so long. Lizzy sets camera to say things about her weekly. I support iyabo on this."
@mizaleezah:
"Always fighting."
@olafunke_1:
"Them plenty way hate this woman just because she is far above them. Waiting for her Anjorin's response."
@arikeeee_:
"Make we no lie Lizzy self get for hand , she don fight everybody finish like she no dey tired ."
@queen__tobby:
"That Lizzy can find trouble Omo her family and friends dey try cuz of what? You people saying iyabo own is too much lol you haven't met Lizzy."
@naijagirlconfession:
"Una get strength o, people de look for food, una de fight. Where una see food chop? Them need to investigate una."
@lanremoh:
"It is the conscious English for me."
Biola Joshua believes exchanging words on social media is not ideal for celebrities
In a chat with Legit.ng, Biola Joshua said shouting and disgracing each other on social media should be avoided.
Her words:
"I don't expect  Iyabo Ojo to respond to Anjorin. They are not in the same class. Ojo is more enlightened, polished, and refined. Silence is golden, she shouldn't have reacted at all. Anjorin has never shown a sign of remorse even if she has an issue with anyone. Since she is stopped acting, she has been doing all manner of things on social media to trend."
Iyabo Ojo says Mohbad's remains has not been released
In a previous report by Legit.ng, Ojo gave update on Mohbad's corpse.
She noted that the case had been transferred to the minister of justice, and the toxicology report was still expected.
Ojo also stated that Mohbad's wife had been interrogated two times, and the CCTV in the late singer's house had not been disconnected.
Fans thanked the actress for the update and praised her for fighting for justice for the late singer.
Source: Legit.ng