Timeless Album: Wizkid, Eniola Badmus, 7 Other Nigerian Celebs Who Stormed Social Media to Show Davido Love
Much loved Nigerian singer, Davido, released his highly anticipated Timeless Album on March 31, 2023
Shortly after its release, the body of work started to make waves online and drew a series of impressive reactions from his celebrity colleagues
A number of top Nigerian stars such as Wizkid, Eniola Badmus, Rema and more, reacted to Davido's album online
Top Nigerian singer, Davido, has continued to remain a trending topic on social media over his recently released album, Timeless.
In the early hours of March 31, 2023, the music star dropped his highly anticipated body of work and it spread like wildfire in many parts of the world.
Shortly after the Timeless album was released, a number of Davido's celebrity colleagues took to social media to show him some love and support.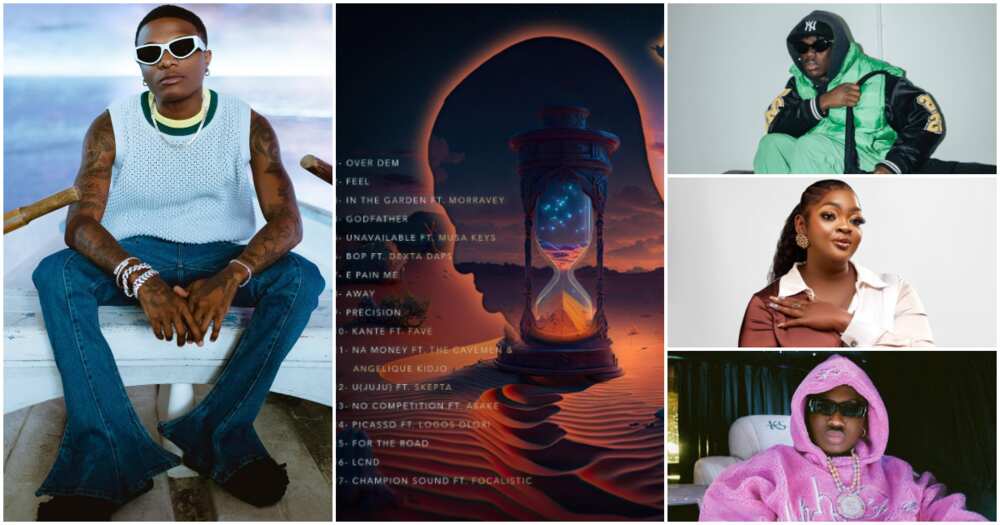 Today, Legit.ng will be taking a look at some of the top Nigerian celebrities who showed Davido love over his new album either by posting, celebrating him or encouraging others to stream his music.
1. Wizkid encourages fans to listen to Davido's Timeless album:
Grammy-winning Nigerian singer, Wizkid, quickly started to trend alongside Davido after the Timeless album was dropped. This was because some of his fans started to put both artistes against each other and compare their work. However, Wizkid quickly shunned all the haters when he himself acknowledged Davido's Timeless album. Taking to his Instagram stories and his Twitter page, the Star Boy posted Davido's track list and encouraged fans to listen to it.
2. Eniola Badmus congratulates Davido over Timeless album:
Despite rumours that actress Eniola Badmus and Davido had fallen out, the movie star did not let that affect her love for the music star. Shortly after the Timeless album was released, she took to her Instagram page to congratulate the DMW boss and even went ahead to tell fans to stream it.
3.Rema puts Davido's Timeless album on repeat:
Young Nigerian music star, Rema, also made sure to show love to Davido's Timeless album. Taking to his Instagram stories, he posted a screenshot of the DMW's boss' tracklist and noted that he had it on repeat.
4. Soso Soberekon chills with Davido and his team to celebrate Timeless:
Nigerian socialite and talent manager, Soso Soberekon, took to social media on the day of Davido's album release to celebrate the music star's team. He posted a video of them drinking and having a good time as they celebrated the Timeless album.
5. Falz the Bahd Guy celebrates Davido's return:
Nigerian rapper and activist, Falz, dedicated a post to Davido on his Instagram page. He celebrated the Timeless album star for his return to social media and his body of work.
6.Omoni Oboli tells fans to stream Davido's Timeless album:
Nollywood actress, Omoni Oboli, proved herself to be a die-hard fan of Davido as she showed love to his new Timeless album. The movie star shared a post on her Instagram page where she encouraged people to make the body of work number one on all platforms by streaming it aggressively.
7. Zlatan Ibile hails Davido's Timeless album:
Nigerian rapper, Zlatan Ibile shared a series of posts on Davido's Timeless album on his Instagram stories. The music crooner posted the album's tracklist and also shared videos of himself working out to different songs from the body of work.
8.Tobi Adegboyega congratulates Davido on Timeless:
Popular UK-based Nigerian pastor and close friend of Davido, Tobi Adegboyega, took to his official Instagram page to celebrate the music star's Timeless album. He went ahead to describe what the album was and called it an embodiment of hard work, dedication, craft, evolution and progress.
9. Real Warri Pikin:
Almost immediately after Davido's Timeless album dropped, popular Nigerian comedian, Anita Asuoha aka Real Warri Pikin, took to her page to share a post inviting fans to stream the body of work. Later in the day, she also posted a series of videos where she revealed her favorite song on the album and even promised to shake her big backside in appreciation.
Davido's Timeless album has no doubt touched the hearts of a number of celebrities and fans in different ways and some of them have expressed their feelings on social media.
Davido's Timeless album tops Apple Music chart in 17 countries in less than 24 hours
Much-loved Nigerian singer, Davido's Timeless Album has continued to receive massive love from different parts of the world shortly after its release.
According to reports, Timeless Album became number one on Apple Music charts in 17 countries.
It was gathered that Davido's work topped Apple charts in Qatar, United Arab Emirates, the United Kingdom, Uganda and other countries.
Source: Legit.ng