Tems: 10 Stellar Things You Probably Didn't Know About Nigeria's Latest Grammy Award-Winning Singer
It has been a moment of joyous celebration since Tems bagged herself a Grammy Award with her international feature on American rapper Future's song Wait For You
The Nigerian singer is an embodiment of creativity and mastery, but it was not always so as she used to be insecure about her voice
For many who do know, Tems' journey into music was a spiral road filled with halts and certain setbacks
Nigerians are still basking in the splendour of Tems' global recognition with her Grammys victory.
While the congratulatory messages keep pouring in, Legit.ng is keen on letting fans and music lovers know more about the Afro-soul rising star.
A brief dive into the spectacular events in the Grammy Award-winning artist's life that geared her into the greatness she is living now shows Tems has always had it in her.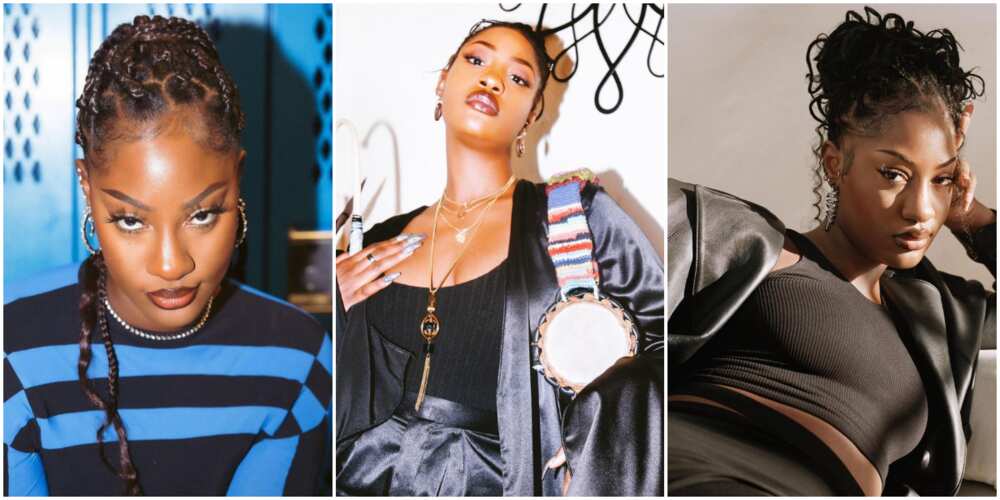 1. Tems is of British decent
The Afro-soul stunner has British blood running through her veins from her patrilineal lineage. Tems was born in Nigeria's largest city, Lagos, to a Nigerian mother and a British-Nigerian father.
She moved to the UK shortly after birth before returning to Nigeria at age five, after her parents divorced.
2. Tems used to be insecure about her voice
The Try me breakout star revealed in an interview with Fader that she used to be unsure of her vocals because she thought her voice was too heavy for a girl.
3. She learnt how to sing well at age 12 using Alicia Keys' songs
Tems also noted that the first song she ever scored properly in her life was Alicia Keys' "If I ain't Got You," at the age 12. Then, as time passed, she started listening to Burna Boy, Asa, and the rest.
4. A self-taught producer
Tems forced herself to learn how to make her beats after producers demanded more than she could offer at that time.
The young lady explained that she learnt the skill of music production by watching YouTube videos.
5. Tems quit her job as a marketing executive for music
The Nigerian soul artist decided to quit her job as a digital marketer after she realised that music was her true calling instead of doing a 9-to-5 job that frustrated her so much.
6. Tems' mum is her biggest fan
This can be seen in Tems' debut Extended Play For Broken Ears. In one of the songs, Témiládè Interlude, the singer's mother gives an account of how she was so sure that she was going to give birth to a special female baby whose name was destined to be Témiládè Openiyi. Temilade translates to the crown is mine.
7. Singer hosts Leading Vibe radio show on Apple Music
On March 31, 2022, Nigerian singer and songwriter Tems launched a biweekly radio show in conjunction with Apple Music, called Leading Vibe Radio.
The first episode of the show went live on April 2, 2022.
8. Aside Grammy Awards, Tems has bagged herself other international nods
Apart from the just concluded Grammy Awards, the higher crooner has a collection of international trophies on her shelf.
Tems has received many accolades, including two NAACP Image Awards, two BET Awards, two Soul Train Music Awards, two American music awards and one Hollywood music award.
9. American rapper Snoop Dogg publicly begged Tems for a collaboration
On January 20, American ace rapper Snoop Dogg literally begged our Tems baby for a music collaboration in a video.
"Tems, you know I'm a fan... Let's make a fvcking hit record, girl. You have been having my whole family dancing to your shii... I need one with you," Snoop Dogg declared on the call.
10. Tems wishes to collaborate with Afrobeats Global star Burna Boy
In a video making the rounds on social media, Tems disclosed her earnest desire to work with her senior colleague Burna Boy because he is one of the many Nigerian artists she can relate to well.
Watch the video of Tems speaking about Burna Boy below:
Tiwa Savage and other top female stars congratulate Tems
Following her first win at the prestigious 65th Grammy Awards, Nigerian singer Temilade Openiyi aka Tems was celebrated both at home and abroad.
Tems made history as the first female Nigerian afrobeat singer to win a Grammy with her feature on rapper Future's Wait For You track.
Waje, Tiwa Savage, and Omawunmi, pioneers of female stardom in the country took to their Instagram story channel with congratulatory posts as they hailed Tems.
Source: Legit.ng