Justice for Mohbad: Iyabo Ojo Wears Bonnet, Drags Naira Marley, Charges Davido, Others to Rise Up
Nollywood actress Iyabo Ojo has finally joined the train of Nigerians demanding justice for the late singer Mohbad
Speaking on the matter, the mum of two called out Naira Marley for looking on as the late singer got bullied on his account
The actress also affirmed that Mohbad will be given a befitting burial, and celebrities who have climbed their way to the top have to speak up
On Nigerian celebrities being at the forefront of the demand for justice for Mohbad, Cool FM OAP, Gucci says it is good that they are putting their influence to use
Iyabo Ojo donned her famous black bonnet and finally weighed in on Mohbad's issue as she joined millions of Nigerians in demanding justice for the late singer.
In a viral video online, the actress called out Naira Marley for looking on as Mohbad, whom he called his brother, got bullied.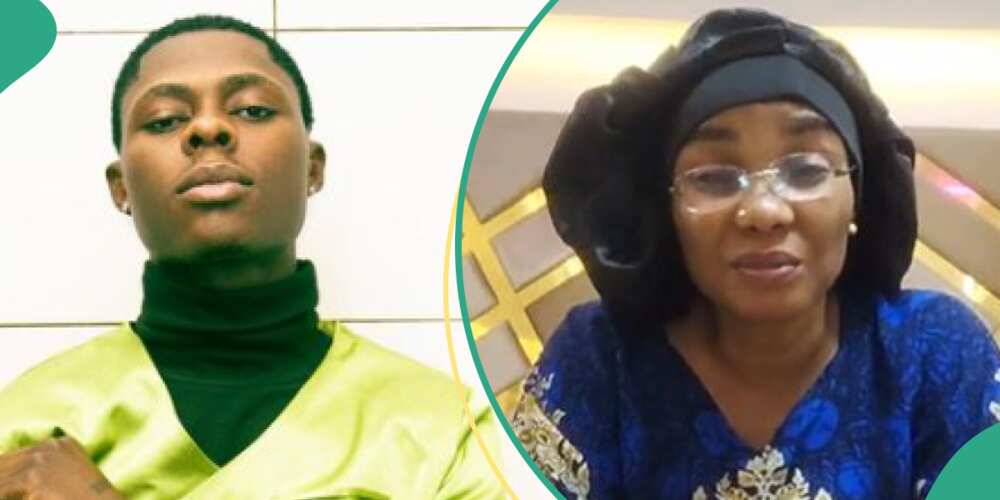 Iyabo Ojo noted that even if Naira Marley claimed he didn't send anyone after Mohbad, he should have spoken up against Sam Larry and others who were bullying the late singer.
She further said she spent some time with Mohbad, and she noticed that even when he was supposed to be relaxing, he was cowering in fear.
Iyabo also called out Mohbad's dad for looking on as his son was buried shabbily. She called on Davido, Burna Boy and others who have made it in the industry to ensure the late singer is given a befitting burial for the sake of his son.
Watch more videos below:
Netizens react to Iyabo Ojo's video
@officialmrdeen:
"Trouble Dey sleep, yanga go wake am."
@khanofkhans11_:
"Iyabo ojo is a team on her own. One woman mopol."
@SherifUsman7:
"Una no dey respect wiz for this country. He's dealing with his own too… that one no concern you people."
@theoga_nelson:
"Ask them oo. They said he is their brother but they a bullying him and they did nothing."
@_Vennie:
"Posterity will continue to remain kind to her and her offsprings."
@symply_kim:
"Same wizkid who just lost his mom? Hah witchcraft."
@ChuksEricE:
"As I see that black bonnet,Wetting I shout nah "say no more"."
@Ghost_Valhalla_:
"Same industry that tried to sabotage burna boy's growth? There is a reason he left them alone and moved to Ghana and Sa that time na. What about the self acclaimed 001 that the same industry has assisted ??"
@amaraobiloh:
"She is right but it is left to the celebrities to make this decision collectively."
Are Nigerian celebrities demanding justice for Mohbad just to look good?
In an exclusive chat with Legit.ng, Gucci opined that celebrities lending their loud voices and influence to movements is important, and according to him, evil will continue to thrive if good people do not speak up.
He said:
"Everyone celebrity or not should alright condemn evil and demand for Justice. However as we know, some voices are much louder than others. A good example was the End sars craze of 2020 where only Falz and Macaroni led the charge from a place of Influence. The Moment Wizkid tweeted "End Sars" everyone else (celebrities) started coming out from their hiding place to tweet same, to post pictures to post videos and what not. These individuals weild a huge following and their voices go far. For various reasons many will stay silent or look the other way because of reprisal from government, undecided fans or industry sponsors, but it is always important to remember that evil will thrive when good people do nothing. So are they celebs or are they good people? I think we can have both."
Mohbad's dad shows where he lives
Legit.ng earlier reported that some boys helped Mohbad's dad cry out on social media over the condition of the house the late singer allegedly built for him.
The sitting room, room and kitchen looked unkempt and rough with old furniture as the boys urged Nigerians to come to Mohbad's father's aid.
The exterior of the building still retained most of the paint, showing that it had seen better days.
Source: Legit.ng