"Radio Will Forever Be Around Despite Evolvement": OAP Kolade Dominate Speaks on the Media and Internet
Kolade Dominate is one of the notable voices in the Nigerian broadcasting space. Having built a force in his career for over 10 years and worked closely with some of the country's incredible music talents, he spoke with Legit.ng on the nostalgia and progression of radio entertainment, as well as how every citizen may benefit from the 'Afrobeats to the world' movement
Victor Akolade, popularly known as Kolade Dominate, is one of the country's finest media broadcasters with Inspiration FM 92.3 Lagos, where he hosts one of the most-listened-to shows in Lagos State.
With a media agency under his belt, Kolade has used his expertise to collaborate with brands and top Nigerian music artists such as Olamide and Wizkid, to name a few.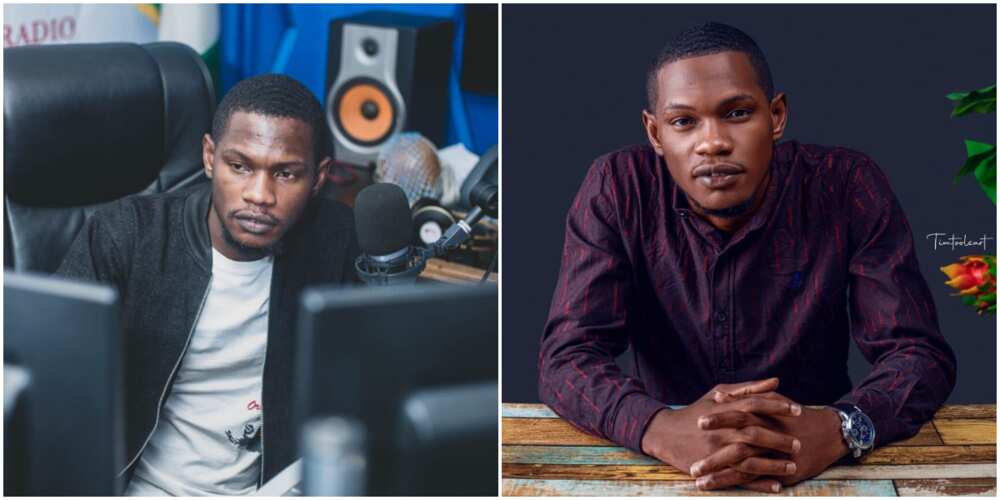 In an interview with Legit.ng's Chinasa Afigbo, he discussed his rise in the media, the challenges and relevance of radio in the face of technology and streaming platforms, and the future of the 'Afrobeats to world' movement.
Being a popular media figure and how he found interest in the radio business
Kolade is a national diploma holder in digital multimedia, with a degree in mass communications from the Université Protestante de l'Afrique de l'Ouest in Porto Novo, amongst other media certifications.
PAY ATTENTION: Сheck out news that is picked exactly for YOU ➡️ find the "Recommended for you" block on the home page and enjoy!
His journey into the media started casually in 2006 due to his familial influences but kicked off officially in 2010 at Star FM Lagos.
"So in 2010, I got a gig to work with Star FM Lagos, where I met the veteran Segun shy shy, who ignited my underlying spark for broadcasting. I knew I always wanted to be in the radio space, but I had my mind somewhere else. I wanted to make music first before considering that. Segun kept commending the way I spoke and the texture of my voice, which launched me to get training at the Federal Radio Cooperation of Nigeria, now known as the National Broadcast Academy. 
After his broadcasting training at the National Broadcast Academy, Kolade was given the opportunity to present radio shows with other veterans at that time in Star FM Lagos. But his quest continued: 
"Then I left Star FM for Ray Power Lagos and then to its Ibadan station, 95.1, when it was just setting up. I stayed at Ray Power Ibadan for four years, where I rose to the level of Programmes Head. My afternoon show became the most listened to in Ibadan, and I began to get applications from other FMs. Somewhere along the line, I resigned to join Splash FM in 2018. After my 2 years at Splash FM, I got an offer to work with Inspiration FM 92.3 Lagos 
What the experience has been like over the years, from 2010 to this very moment
"A lot of things have changed; the audience has even changed. 
"How people listen to the radio and why they listen to it have changed. People want more entertainment; they want to enjoy more music. If the conversation is not really giving, listeners will move on. The expectation of what people want now, compared to about 10 years ago, is way different.
The challenge of entertaining listeners in this era of handy internet gadgets
According to the mic junkie, radio used to be the first source to get the latest jamz and album snippets, unlike before. These days, the system now merges social media with radio to keep up with the trend.
"This has helped to position the OAPs in such a way that they now keep track of the trend,'" he said. "That's the beauty of it all; programming is evolving, and the style of presentation is evolving. Listeners used to be comfortable with slow-paced talkers, not anymore; that would bore them, and they might not want to stick to that for a long time."
"The news deliveries too are brief, a maximum of 5 minutes, and everyone is done," he added.
How OAPS and the radio system are handling the pressure
Before, OAPs were comfortable behind the microphone. Now everybody is doing something extra, Kolade hinted.
 "You see them doing sides like podcasts, Youtubes, and all. They are now interested in their personal brand building.
"The media houses too are leveraging social media. Look at how almost every radio station has an account on social media. They are also connected to the internet for streams, where they get listeners from different parts of the world.
Juxtaposing traditional media and social media
"You can't erase TV; you can't erase radio as well," he emphasised.
"The western side has always had these things (internet and media), and none overlap the other. Radio will forever be around; the workforce and chunk of money might shrink based on technology and all that, but radio will always be around.
Kolade, on the other hand, feels that the internet can only make radio more accessible. Radio, he claims, "can remain topnotch with what they bring to the table."
"They are beginning to go target-based with their audience. Before that, they were trying to serve everyone. Now you see them focusing on age brackets."
Explicit and developmental content like investigative journalism can help put radio on the map, he revealed.
"Listeners are intrigued by stories, like what them Kola Olawuyi used to do back in the day. If more investigative journalists do more research and produce rounded radio content, that will go a long way towards buzzing the internet."
As an artist, Kolade believes radio will always be a tool to help push their music to a larger audience.
 "You can blow up on social media and not get to the roots when you neglect the influence of radio," he said. 
"For example, there are certain places where Portable can perform that some artists will not be able to perform because the topography does not vibe with their records."
What Kolade foresees for Nigerian music and artists as the Afrobeats explore the forefront of international entertainment
"One thing about Nigerians is that we know how to modify things and run away with them." We need to educate ourselves and understand that this Western buzz might not be around for a long time," he noted.
"It boils down to what we can make of it right away and build a structure around it. I look at how Westerners request deals, licences, advanced payments, etc. People are selling their catalogues at a very ridiculous price."
He noted that to ensure the buzz stays longer, we need a strong statement and education around it that will help us structure, give credit, identify our sources, and base and keep our history.
"For example the Billboard US Afrobeats chat, is it really updated with the number of tunes we put out every day in the market. It focuses more on Afrobeats songs that are, hitting up in the US. 
The Billboard US Afrobeats compiles its charts based on streams from the most prominent music streaming services in the United States, including Apple Music, YouTube, YouTube Music, Deezer, Spotify, Amazon Music, Audiomack, and Booplay.
"Look at the amount of music that comes out daily from Afrobeats alone. Our music should be exported better. We don't have a structure that works here, and that's why everyone tries everything, from TikTok to Instagram, and all just find the spark.
"But beyond finding the spark, we need a certified body; we shouldn't rely on Apple Music Top 100 alone to know what song is popping.
Kolade argues that the Nigerian music/Afrobeats shouldn't be regulated by a system owned by external brands.
"Shout out to Turntable and what they are doing for the industry. They don't solely rely on the metrics of these digital service providers (DSPs). It's only a source for them. They reach out to radio monitors to track how a song is being played, which helps with their statistics.
"Because if you look at Apple Music, Nigerian users are less than 1 million. 
The OAP noted that a song topping Apple Music doesn't mean that it is the biggest in the country.
With over 200 million people in the country, Tech Cabal recorded that in 2020, Apple Music Nigeria had 140,000 subscribers. This was before the Nigerian government suspended international transactions on Naira cards. Only God knows how many subscribers the foreign platform has lost since the restriction.
"International streaming platforms should not be the only metric. Many factors must be considered before saying an artist has the number-one song. For example, Billboard US uses metrics like gains and performances; if a good number of people are performing the song more, that adds to the artist's growth. They also look at radio plays, the number of units sold, and all other determinants used to certify a song on the top list."
"Unfortunately, we don't have that in this country. That's what "Turntable" is trying to do," he added.
In the tradition of the Billboard Hot 100 charts, Turntable plans to create Nigeria's first indigenous chart, which would be rated using a variety of measures, including digital streaming and TV and radio airplay.
How upcoming acts can tap into the goldmine, given that the majority don't get the top payouts
The media host feels the industry is not favouring upcoming artists because it usually requires a lot of finances to hit the spotlight. 
"The big dogs spend a lot of money to push their artists. The up-and-coming artists too will need to meet up if they want to be heard in the competitive market," he said. "There is no easy room for newbies, other than to keep pushing and building up their fanbase."
Traditional media in competition with streaming platforms: What is the future of radio?
"The streaming platform will do its duty to make the music available. Radio will make listeners more familiar with the music, which will make them go back and stream it.
"The more you randomly hear a song on the radio, the more you are prone to it and perhaps go back to streaming it," he said.
Challenges in the music industry and possible suggestions for them
"There should be a pathway for upcoming artists. The big dogs shouldn't pay back for how they were treated back in the day. That is why people like Olamide and ID Cabasa cannot be erased; they made a lot of people," Kolade said. "If someone like JJC Skills didn't give an opportunity to a D'banj and Don Jazzy, where would they have been. Brands also should channel into working with upcoming artists too.
A look into 'Afrobeats to the World' and how the movement has created employment in the country
"There are rooms opening up for different people in various fields," he said.
"Remember, this is a global movement. Many tech guys are employed, down to media executives, music creators, photographers, content producers, podcasters, and lawyers. Now Tiktok has a firm in Nigeria. There is a lot more to 'Afrobeats to the world'."
Source: Legit.ng