"It Took 2 Months, Hilda Be Patient": Lata Tondon Shares How Long It Took Guinness to Officially Declare Her
Indian chef Lata Tondon has stirred emotions online as she shows the most humane support and love to Nigeria's Hilda Baci
Lata recently went on Instagram Live to thank Nigerians for all the love they showed her throughout Hilda Baci's Cook-a-thon challenge to surpass her record
Also, during the live session, Lata showed off her Guinness World Record certificate while calling for patience as she revealed that it took two months before her record was declared
Guinness World Record holder for the longest cooking marathon, Lata Tondon, recently went online to thank Nigerians for love shown to her since Hilda Baci started the Cook-a-thon challenge.
During an Instagram Live session, Lata revealed that it took approximately two months before her record was declared and a certificate was presented to her by Guinness World Records.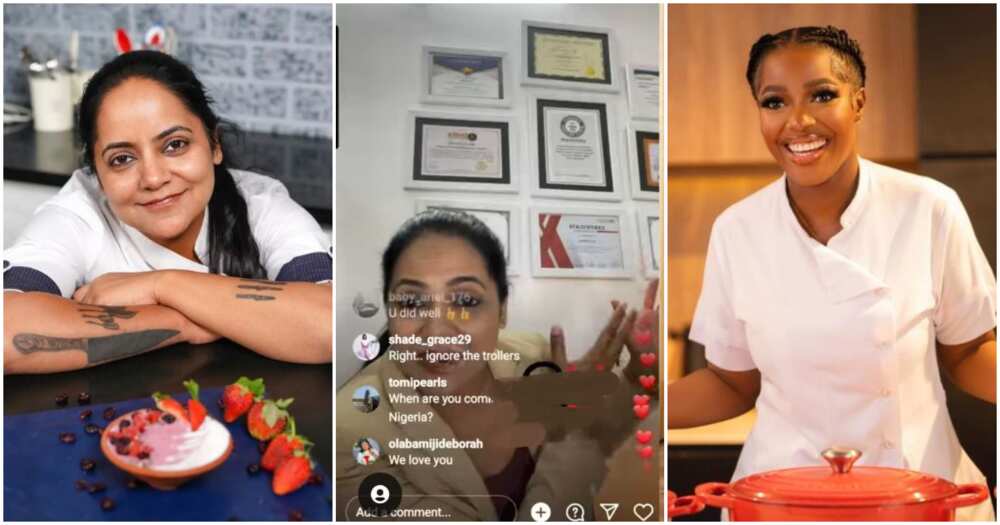 Lata also said during the IG live that she is super proud of the feat Hilda Baci accomplished because of how difficult it is to do what she did.
The Indian chef even prayed for Hilda to get the certificate and be the next holder of the record. Lata also encouraged the Guinness World Record to follow through with the due process and hasten Hilda's certification.
Watch Lata Tondon's IG live session thanking Nigerians for love shown to her:
See how netizens reacted to her clip
@ogidi.jennifer:
"Nice woman. See as full certificate wall. The only certificate I have is the one I won for best in bible recitation in primary 1."
@princeszmoneyz:
"We didn't even know her before but Hilda made u popular still…thanks still."
@doris_ninno:
"She's really enjoying the followers increase and attention she's getting from a lot of Nigerians. Also I think she really has a good heart. But Nigerian people wey get bad uncles for village will think she's trying to be two faced!"
@_ekundharyor:
"This woman sef get time oo.. if dem no fit get patience, make dem go drag the award from GWR by force… HILDA herself is not in hasty as much as this online wahala people."
@gloreelyn:
"This woman is a nice person ..I love her already….upon all the bashing and insults she is getting from some jobless Nigerians youth..she still remain calm and sweet."
@alorug.ng:
"No matter how she tries to be nice, Gter living with Indians I will tell u for a fact they are the most pretentious humans u will ever meet the energy is fake! She's looking for fake love and leeching on Hilda to grow her following."
@joyamaka_carino:
"No publicity is bad publicity, I love how she is using the publicity Nigerians gave her this few days to also grow her platform. Go queen."
@hadeydayorfabrics:
"She is showing her other awards so you can all get it straight."
Lata Tondon begs Nigerians attacking her as Hilda Baci smashes her record, post trends
While the wait is on for the Guinness World Record (GWR) to confirm if celebrity chef Hilda Baci holds the new record for the longest cooking marathon, the current holder, Indian chef Lata Tondon speaks out against the constant attacks from Nigerians on her page.
Tondon, in a post shared on her page, begged Nigerians to please maintain peace and sheath the attacks hurled at her on her page while they wait for GWR's confirmation.
In her public plea, the Indian chef noted that she is peace-loving and sees no reason for the attacks.
Source: Legit.ng